American Airlines flight 383 had to abort takeoff at Chicago O'Hare this afternoon due because of a blown tire, according to multiple reports from the scene. Images uploaded to social media show the plane catching fire on rollout—and flames were hot enough to melt its wing.

The passengers were able to safely evacuate, reports ABC. Confusingly the fire happened the same day as a practice fire drill.
From a photo uploaded by WFAA, it appears that the plane's right wing has melted.
G/O Media may get a commission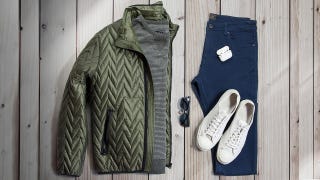 60% off
Jachs NY Fall Sale 60% Off
UPDATE 4:23 p.m. EST: Passengers were able to deplane via a chute, reports NBC. There are no reports of injuries as of yet. There were 161 passengers and nine crew members on board.
American Airlines told NBC that the plane "experienced an engine malfunction."
The Federal Aviation Administration is investigating the matter.
UPDATE 4:42 p.m. EST: A Facebook video has surfaced, showing the evacuation from inside the plane.
UPDATE 6:20 p.m. EST: Eight people are reported to have sustained minor injuries. Seven were passengers and one was a flight attendant, reports the Chicago Tribune. The were taken to the hospital for evaluation.
Here is a radio conversation between the plane's pilot and the controller, via the Tribune:
"American 383 ... stopping on the runway," the controller said.

"Roger, roger, fire," the pilot radioed.

"You see any smoke or fire?" the controller asked.

"Yea, fire off the right wing."

"OK, send out the trucks."

A few seconds later, the pilot contacts the tower again. "Chicago, American 383, we're evacuating."
"American 383, roger, trucks are on the way."