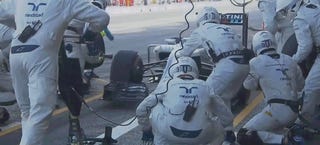 Four tires in 1.92 seconds is ludicrous even by Formula 1's madcap standards of speed.
This is the Williams team changing tires on Felipe Massa's car at the otherwise-garbage Baku Grand Prix over the weekend.
Last year's fastest pit stops were well above the two second mark. This 1.92 sec stop is just unreal, both with context and without.