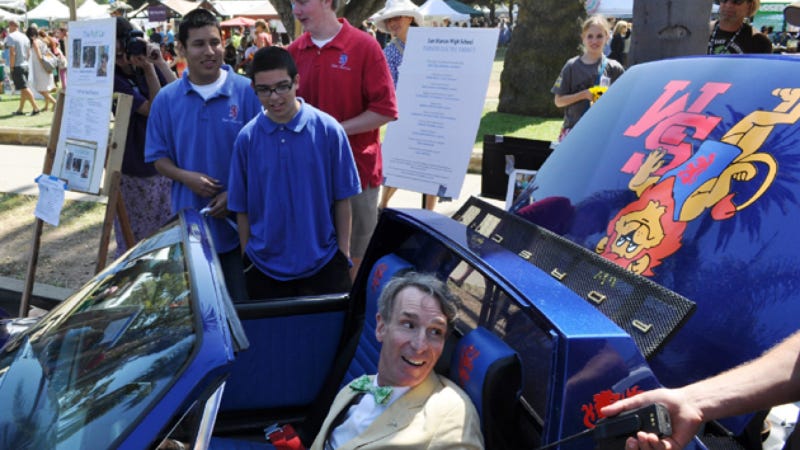 Imagine you're in high school shop class and you and your group get together to electrify a Porsche. That's a far cry from the Chevy Impala out of a scrapheap you normally had. Then what if Bill Nye The Science Guy saw your EV Porsche and liked it? Oh. My. God. Amazing.
That's pretty much what happened to some San Marcos High School students at an Earth Day festival last weekend in Santa Barbara. For anyone who grew up in the '90s, that's one hell of a seal of approval.
Nye was a speaker at this year's Santa Barbara Earth Day Festival and wandered by the students showing off the car near a whole raft of new Leafs and Volts and hybrids.
Various high schoolers in the automotive technology class have been working on electrifying a donated 1971 Porsche 914 for the last six years and usually cart it out to local events. It's been painted and upgraded mechanically also with the help of companies around that area and guided students replacing the original, broken flat-4 with a load of batteries.
It's definitely a cool project and one of the most awesome EV conversions I've seen, even if it probably doesn't have the same verve as a normal 914. Different, but still cool. And now it's Bill Nye-approved.
Photo: San Marcos High School via Noozhawk.com