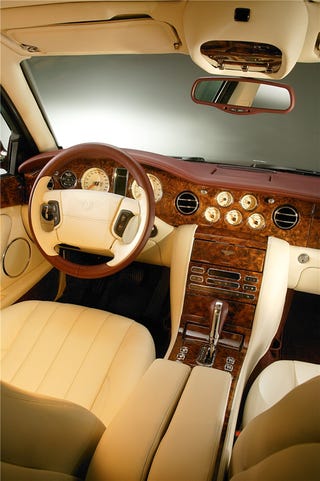 More often associated with acres of Scotland's finest leather and enough walnut inlay to deforest most of France, Bentley is nevertheless serious about cleaning up its act. In an interview with Autocar, Bentley chief Franz-Josef Paefgan said, ""If we have to reduce fuel consumption by 20 per cent, we will do it. But we have to satisfy our customers and build a proper Bentley." The magazine reports that plans could be underway to build a hybrid version of the company's venerable 6.75-liter V8. "Meeting the 2009 EU5 emissions limits with this V8 can be done," Paefgan added. "We are now working on the proposed EU6 limits for 2013-15. All our engineers want to keep the engine alive."
Autocar goes on to report that Bentley could use an adapted version of the hybrid system Audi debuted at the Frankfurt show in September. By incorporating the electric motor into the gearbox, that system could eliminate any potential packaging issues.
According to Autocar, the hybrid power train could form a part of the Arnage's replacement, due in 2010. That vehicle will share a significant number of parts with its Audi stable mates, including their Quattro four-wheel drive system. The first evidence of this new eco-friendly approach is due to appear at the 2008 Geneva motor show.
Paefgan is quick to assuage any doubts that this could mean a dilution Bentley's traditional values, telling Autocar ""This will be a totally independent car. It will not be like the Continental, a derivative of a VW Group product, although it will use components from the group."