Bentley Continental Supersports is the "the fastest, most powerful and greenest Bentley ever" and has the 621 HP twin-turbo W12 to prove it. How does a top speed of 204 MPH on E85 sound?
G/O Media may get a commission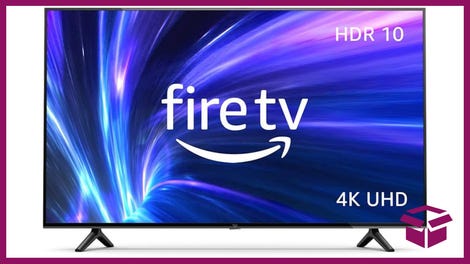 42% Off
Amazon Fire TV 50" 4K Smart TV
This Bentley has been on the teaser circuit for the last few weeks and now we've gotten the full monty. What we see on the outside is a more aggressive interpretation of the Bentley Continental GT Speed trimmed in a stark white paint job over giant black chrome wheels and a blood red interior. The looks may be one thing, but the powertrain is on a whole different level, besting even the GT Speed's previously mind-blowing figures.


Under the bonnet of the Supersports lurks a stonking 6.0 liter twin turbocharged W12 capable of sucking down regular fuel or E85 ethanol, allowing for Bentley to tout their green credentials, which is nauseatingly de rigeur these days. No matter, as it sucks down enough of whatever fuel you throw at it to develop 621 HP, 590 lb-ft of torque and boast acceleration figures in the realm of ridiculous for a car this size: 3.7 seconds 0-to-60 MPH and 8.9 seconds 0-to-100 MPH.
All the power gets backed up with gigantic ceramic brakes and weight reduction which trims 243 lbs off the curb weight, they even tossed out the superfluous rear shelves seat. It still comes with an automatic transmission, but it's been tuned to return 50% faster shifts and allow skipping gears when downshifting.
Think of it like a Lamborghini Reventon for guys who don't wear gold chains and display forested chest hair. Look for the Continental Supersports to be revealed next week somewhere in the massive halls of the Geneva Motor Show.
BENTLEY ANNOUNCES CONTINENTAL SUPERSPORTS – THE FASTEST, MOST POWERFUL AND GREENEST BENTLEY EVER
Several weeks ago we showed you an advance photo of our newest product and announced that it would be the fastest and most powerful Bentley ever created. Today we'd like to provide you with an advance look at the full design and specification of the vehicle that will be called the Bentley Continental Supersports.

This new model importantly will be the first Bentley capable of running on both gasoline and biofuel, pioneering the use of FlexFuel technology in the luxury sector.

A copy of the full press release on Continental Supersports is attached as background. Key aspects of the new Continental Supersports include:

• 6-liter W12 twin-turbocharged engine now produces 621bhp and 590 lb ft of torque
• 0 – 60 mph in 3.7 seconds / 0 -100 mph in 8.9 seconds
• Top speed of 204 mph
• Capable of running on gasoline and E85 biofuel or any combination of the two
• Offers a reduction in CO2 emissions of up to 70% (well-to-wheel), a measure of a fuel's net contribution to the atmosphere, not just tailpipe emissions
• Revised transmission with 'Quickshift' system that cuts shift times by 50% and enables double downshifts
• Standard-fit carbon-ceramic brakes – the largest and most powerful brakes ever fitted to a production car
• 243 lb weight saving compared to Continental GT Speed
• Unique driver-focused, two-seater cabin with rear seats replaced by stowage deck with carbon fiber luggage retaining beam
• New flared rear wings that accommodate the 2 inch wider rear track
[Source: Bentley]