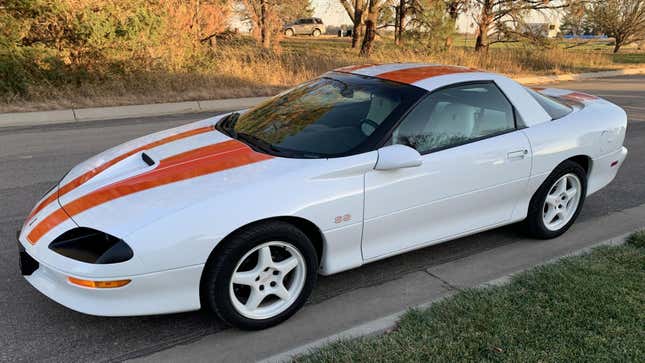 A lot of times, an anniversary edition is nothing special. Sure, you might get a special paint color, unique wheels, and some different leather for the seats, but most of the time, who cares? They're something only the most dedicated fans care about, and few people would be willing to pay a premium for one. But that's decidedly not the case with the 1997 Chevrolet Camaro SS 30th Anniversary Edition.
That's because the 30th Anniversary Edition Camaro got a whole new engine. SLP Engineering pulled out the regular Camaro SS's LT1 V8 and replaced it with a more powerful LT4. With a new 5.7-liter V8 under the hood, the 30th Anniversary Edition made 330 horsepower. That's not a lot today, but back during the Clinton administration, it definitely was.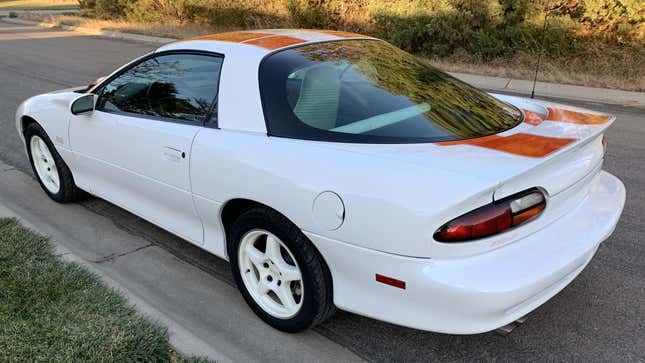 Only 100 30th Anniversary Editions were ever built, making it an incredibly rare car. But there's one currently for sale on Cars & Bids that's just begging to be bought and driven. It may not make that much more power than a new Toyota Camry V6, but it's also at least a thousand times cooler than even the coolest Camry. And no, it's not going to be practical or fuel efficient, but it's awesome, and that's what matters most.
With that white paint, those orange stripes, and those white wheels, you're going to stand out everywhere you go. And when someone in the know sees what you're driving, they're going to lose their mind. After all, it's one of only 100 ever sold here.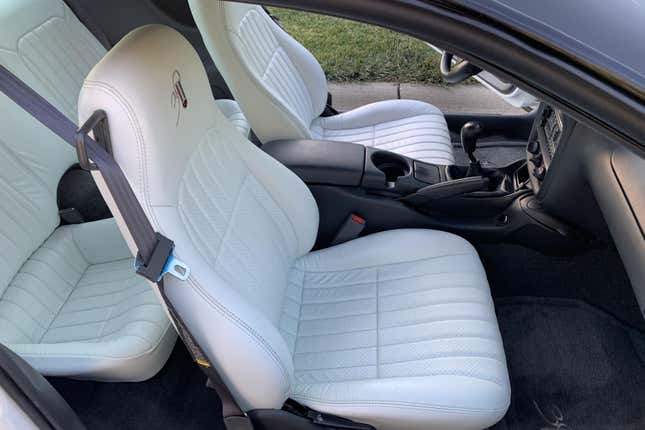 I just hope you're a fan of tallboys, though, because that's all you're legally allowed to drink now. Twelve-ounce cans are for people who are significantly less cool than you, a new 30th Anniversary Edition Camaro owner. And you better make sure you have a hefty tire budget because regular burnouts are a requirement.
Just be careful you don't spill anything on those white leather seats. They look absolutely pristine. Then again, they probably should be since this one's only been driven 27,300 miles over the last 25-ish years. Time to roll down the windows, crank some Whiskey Myers, and put some real miles on this baby. You know you want to.