There are numerous awful vehicles resembling Cylon Raiders from Battlestar Galactica. Fortunately for humanity, an amusement park mechanic has built this sweet, V8-powered homemade street legal Colonial Viper to protect us from them.
You may have seen this car in io9's "Gallery Of Pimped-Out Battlestar, Star Wars Cars", and now we have the backstory from Jalopnik reader Troskysghost who was there to witness its creation and explain the genius behind converting a Postal Service Jeep into a a robot-fighting car with a small-block Chevy V8:
The car was built by Dean Shorey, the master ride mechanic for Seabreeze Amusement Park in Rochester, NY. I worked there as a systems engineer for one season on a custom pump house control system for their waterpark. Dean and his crew have that park in such good working order, that he has a lot of free time on his hands, especially in the off seasons (when the park isn't building custom antique style carousels for other parks). So he restores and collects cars. Last I talked with him, he had over 20 something vehicles in various states of restoration. He's a big fan of the original BSG, so he decided to build himself a STREET LEGAL Viper Starfighter. From what I remember, the front end is off of an old postal Jeep, it has chevy small block engine (cause Dean is a GM guy and he has lots of small blocks lying around the shop). It seats one person and has a cassette deck. No A/C.

The Viper is seen here parked near the rides maintenance shop during the spring of 2006. The lift hill for the historic 1924 "Jack Rabbit" wooden roller coaster can be seen in the background.

He's currently in the process of restoring four '57 Chevys: sedan, coupe, station wagon and a delivery sedan.

Dean is a great guy who helped teach me welding and many other metal skills, which I will forever be thankful for.
G/O Media may get a commission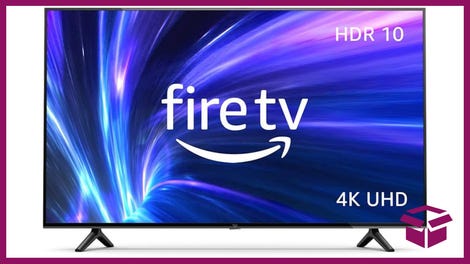 42% Off
Amazon Fire TV 50" 4K Smart TV
Dean S? Wait, do you mean Dean Stockwell? DON'T TRUST HIM!