Whether you're an early Corvette fanatic or just someone who stares at the average closed garage and wonders if it is hiding an automotive treasure it's hard not to get excited about the pictures of this recently unearthed 1961 'Vette.
Currently for sale on Ebay, this later C1 has been sitting where you currently see it since the car's second owner parked it in 1968. While it wasn't quite perfect when parked, we can only guess at the motivation for leaving a (presumably) functional Corvette languishing undisturbed in your garage for 44 years.
After sitting for so long this Corvette "needs complete and total restoration" and obviously does not run or drive. Apparently the car also lost its convertible top mechanism at some point and will be sold without it.
It impossible to deny how cool it is to see this car sitting where it's been for the past four plus decades. Even so, the current top bid of $36,700 has us wondering what plans the next owner has for the car once it's dusted off and relocated. Certainly it will take more to restore the car than to buy an already completed example.
We'd guess someone either has a checkbook waiting for the right early 'Vette with an interesting story or the next owner plans to just restore the car mechanically to the point where it can be driven. Hopefully it's the second scenario.
G/O Media may get a commission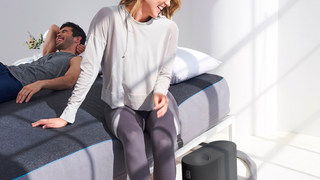 Eight Sleep Pod Cover
[Ebay]