The USS Vicksburg, many of the ships seen here, and an expanded flotilla of allied ships from the region took part in BALTOPS '15, which ended on Saturday. The elaborate exercise, which reinforced strong NATO and allied bonds, has led to increased tensions with Russia as historically neutral parties in the region may seek NATO membership.
There is zero doubt that this year's BALTOPS exercise had much more international meaning than in years past, with Russian-U.S. and NATO tensions at a low point since the Cold War. Some participating nations have even come right out saying that the exercise was a clear warning to Russia, like Dutch Foreign Affairs Minister Bert Koenders, who stated:
"There are NATO member states in Eastern Europe that feel threatened by what is happening in eastern Ukraine. These drills are also a warning to President Putin. This is not an aggressive approach. This is a combination of pressure and dialogue, rather than a lack of judgment when dealing with Putin."
Statements like these come at a time when Sweden and Finland, two countries that consider themselves historically neutral in 'east versus west' power struggles, are actively debating joining NATO. Such an expansion is exactly what enrages Moscow. Putin himself has warned of dire consequences if such an act actually comes to pass.
Obviously, such statements probably do more to push these countries towards NATO membership than the opposite.
You can see the exact makeup of maritime units that participated in BALTOPS '15 in the graphic below, once again courtesy of our good friends over at CIGEOGRPHY. These do not include the air assets involved in the exercise, which were numbered in the dozens.

G/O Media may get a commission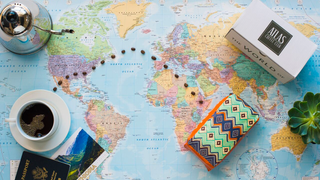 First Bag Free
Atlas Coffee Club - Free Coffee
Explore global coffee
With each bag, Atlas includes details on the coffee's tasting notes and a postcard about the region and its coffee history. And when you subscribe, you have options to tailor frequency, grind size, and roast preference of your beans, so you'll always be brewing the perfect cup.
Contact the author at Tyler@jalopnik.com.