I just returned from Romania, where I fell in love with the country's tough, squared-off workhorse, the ARO 24 Series. I also developed deep feelings for the Dacia 1300 series, as well as for a bunch of Russian sedans. Here are the machines that stole my heart.
I'll get straight to it and tell you that the greatest vehicle I saw in Romania, by far, was the ARO 24 Series—basically Romania's version of the Land Rover Defender. Just look at that raised hood and the sharp lines on the front clip; there are few vehicles out there that look this tough without oversize tires, light bars, enormous badges and bright tow hooks. The ARO is a badass without even trying.
Most of the AROs I saw were 320 flatbed pickup trucks, which were being used to haul serious loads, mostly in rural parts of the country. Built on the 24 Series platform, which has been around since 1972 and continued all the way up until 2006, 320s were made to be beaten on—one look at the underpinnings make this abundantly clear.
G/O Media may get a commission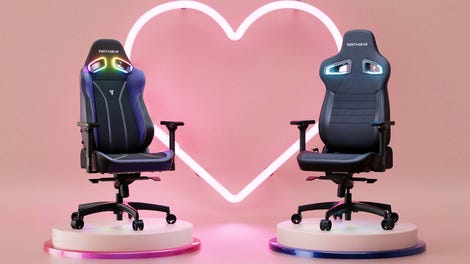 Up to $150 off
Vertagear Gaming Chairs
These things were built on boxed ladder frames, and used rear leaf springs to suspend that frame from a solid rear axle (which had an optional locking diff). The powertrains in the ones I saw tended to be 2.5-liter gas inline-four engines mated to four-speed manuals or 3.1-liter diesels mated to five-speeds. In either case, power got sent to either the rears wheels, or all four via a cast aluminum transfer case with low range.
Up front is an independent suspension setup with upper and lower control arms—the former of which holds a coil spring perch and a privision for a shock absorber.
The steering setup looks rather strange, as it uses what looks like a dual pitman-arm setup, in which one pitman arm actually pushes the other via a center-link. Similar to the steering system you'd find in old American pickups with independent suspension and pitman arm-style steering, the setup gives the ARO quite a bit of ground clearance in the center.
The same cannot be said about that front differential, which appears to be made of cast aluminum, and which sits awfully exposed to whatever terrain may lie below. Maybe that's why the one in the picture above was leaking so badly (though it's worth noting that many of these ARO 24 Series trucks came with skid plates up front).
The halfshafts coming out of that low-slung differential use beefy u-joints instead of vulnerable CV-axles, and the manual locking hubs up front just add to the ARO's old-school, rough-and-tumble theme. I saw these trucks all over Romania doing hard work in remote areas; they all looked thoroughly beaten, and that's what gave them character. I want one badly.
So the Romanian ARO 240-Series captured my heart, but not too far behind was the Dacia 1310—a classic sedan with awesome obtuse angles between the windshield and the hood, as well as between the rear glass and the decklid. Just look at this thing:
They were everywhere:

Also ubiquitous were Dacia 1410 wagons and sedans:
Here's a look at the front:
What surprised me was that, even though it doesn't look as tough as the ARO, 1300-series Dacia's are actually tough little sedans. I saw pickup truck versions with their telltale hood-bulges all over the place, with beds loaded to the brim. I wasn't able to snag a picture, but here's how they look:
I also spotted some great Russian cars like this mint Moskvich 412:
I have to show you the back end. It's too pretty to omit from this article:
Another Russian car I often spotted in Romania was the Lada Nova, basically a Soviet adaptation of the original Fiat 124.
As far as newer cars go, there were Dacia Logans everywhere. Even the police cars were Logans. Here's one in slammed form:
Mmm:
There also seems to be a strange infatuation with Daewoo Matizes in Romania. I can't explain it (and to be honest, I'm a fan of the little cars), but they're just everywhere:
I was only in Romania for three days, and I spent most of my time in Cluj and in the mountains near Sibiu, but in those few days, I saw more AROs, Dacia 1300s, Dacia 1400s, Dacia Logans, Ladas, Moskviches, and Daewoo Matizes than I'd ever seen in my life. And that's a good thing, because I dig each and every one of those cars.
Even better than its cars, though, were Romania's roads, which were incredible. I wrung out a Diesel Manual Mazda6 Wagon on them and let's just say my life will never be the same. More on that later. For now, here are some more pictures of some AROs and Dacias: