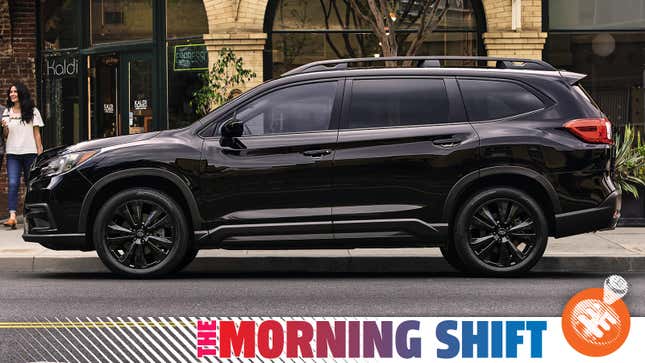 Not all midsize SUV back seats are created equal, Volkswagen is making moves to matter in the U.S. and China, and Tesla and BYD swear everything is fine between them. All that and more in The Morning Shift for Tuesday, March 14, 2023.

1st Gear: Remember the Second Row
According to the Insurance Institute for Highway Safety, the four midsize crossovers with the safest backseats are the Ford Explorer and Mustang Mach-E, Subaru Ascent, and Tesla Model Y. The group added a rear passenger to its moderate-overlap front crash-testing protocol, which revealed some rather profound differences in safety performance across the 13 models evaluated. From Automotive News:
"All these vehicles provide excellent protection for the driver," IIHS President David Harkey said. "But only a handful extend that level of safety to the back seat."

The risk of fatal injury is 46 percent higher for belted occupants in the rear seat in vehicles model year 2007 and beyond simply because restraint technologies have improved in the front seat only, a release said. IIHS updated its test after seeing back seat safety improvements trail behind those for front-seat occupants.

The back seat isn't getting more dangerous, but rather safety advancements haven't kept up with front-seat advances, Arbelaez said.

The new test uses a dummy that represents a small woman or 12-year-old to focus on avoiding injuries typically seen in back seat occupants.

To earn a good rating, sensors must not indicate excessive risk of head, neck, chest, abdomen or thigh injury. Video footage and greasepaint on the dummy's head are used to showcase that restraints prevent the head from hitting the interior or the front seat. Restraints must also prevent the body from sliding underneath the lap seat belt. Pressure sensors monitor the belt on the dummy's torso to gauge chest injury risk.
So what of the SUVs that didn't pass the test with flying colors? The Chevrolet Traverse, Toyota Highlander, and Volkswagen Atlas received "marginal" results, while the Honda Pilot, Hyundai Palisade, Jeep Grand Cherokee and Wrangler four-door, Mazda CX-9, and Nissan Murano earned "poor" ratings. Surprise for the Jeep Wrangler there — it just projects such a safe image.
The good news is that "solutions that are already proven to work in [for front-seat passengers] can successfully be adapted for the rear," according to IIHS Senior Research Engineer Marcy Edwards. In other words, it shouldn't be too difficult or time-consuming to apply those same principles to second-row seating. The hard work has already been done.
2nd Gear: Volkswagen's About to Spend a Ton of Money
About $200 billion, to be precise, all in the name of expanding its electric vehicle and tech feature offerings in the United States and China over the coming five years. From The Wall Street Journal:
The move is the first major strategy announcement by Chief Executive Oliver Blume since he took the reins at VW in September after the board ousted his predecessor, Herbert Diess. With the company's new five-year investment plan, Mr. Blume is now starting a spending war with rival auto makers as he tries to claw back market share in China and make the company's U.S. business relevant after decades of failed attempts to build significant market share.

The big spending by Volkswagen—totaling 180 billion euros, equivalent to $193.2 billion—comes as governments around the world shell out subsidies to encourage companies to invest in technologies that speed up the transition away from greenhouse-gas emitting fossil fuels. VW is relatively flush with cash after reaping billions of euros in proceeds from the listing of sports-car maker Porsche AG last year.
The brand's issues in the U.S. and China are quite similar, though the responses to address them will likely differ greatly. For the U.S., Volkswagen is likely banking on the success of Scout, its all-electric utility and off-road brand that will be built at its manufacturing in South Carolina.
In China, VW sort of has the product already in the form of its I.D. line, but nobody seems to pay much attention with BYD and Tesla stealing the show. I don't know how you overcome that — EV buyers in China are spoiled for choice, and Volkswagen's offerings are "just fine" at a time when just fine isn't really good enough anymore.
3rd Gear: Hello Ontario
But wait — there's more Volkswagen news, because the company has finally decided on the site of its first battery plant outside Europe. It'll be in Ontario. From The Wall Street Journal, once again:
Volkswagen has previously outlined broad plans to build battery factories in both Europe and North America, and is already building plants in Germany and Spain. Ahead of Monday's announcement, Thomas Schmall, VW board member in charge of technology and components, had warned European officials that the company would likely push ahead with its planned investments in North America before breaking ground on its next plant in Europe. He blamed what he called the slow pace of European bureaucracy and lack of financial aid to help jump-start new green technologies.

The Wolfsburg, Germany-based company has been negotiating for months over building a battery plant in Eastern Europe, but hasn't made a final decision. The company says it is waiting for the European Commission to firm up its own subsidy program to level the playing field with the U.S. in the wake of President Biden's IRA.

It isn't clear how much—if any—assistance Volkswagen is getting from the IRA, or Ottawa, for its new plant in Canada. "Made In America" conditions attached to the IRA subsidies in many cases apply to investment in Canada and Mexico.
Volkswagen expects the Ontario facility to be operational by 2027, and reportedly chose it for its proximity to vital stores of raw materials. A lot of these decisions to raise battery plants in North America have of course come as a result of Inflation Reduction Act-related incentives, and after much objecting, Europe seems to be on the brink of working out its own. Some analysts believe Europe may have come around too late, but the fact is we're going to need more batteries than anyone can fathom over the coming decades. It's just that North America is the place to be, for now.
4th Gear: Tesla and BYD
Some Tesla models produced in Germany use BYD's cost-effective "Blade" batteries. A recent story out of Korea citing industry sources claimed that Tesla was prepared to end its relationship with BYD over concern about the safety of its technology. This has been shot down by both the Chinese automaker and Elon Musk — where else but on Twitter. From Reuters:
"That media report is false. Relations between Tesla and BYD are positive," Musk said in a tweet on Tuesday.


In a statement to Reuters, BYD said that the report "is not in line with the actual situation."

BYD Executive Vice President Lian Yubo in June told Chinese state-owned broadcaster CGTN that BYD was preparing to supply Tesla with batteries "very soon". Neither company have publicly disclosed any deal since.
In one sense it's kind of weird to be using batteries pioneered by your most threatening rival, but then that sort of thing isn't terribly uncommon in the tech realm. Apple and Samsung do it all the time. Eventually, though, there tends to be a breaking point, followed by a drawn-out legal scuffle that coincides with a growing desire to part ways. Relationships in business tend to be "positive" until they aren't.
5th Gear: The Accord Is Headed for Indiana
That's where production of Honda's sedan will move once its Marysville, Ohio plant transitions fully to EV manufacturing. Courtesy Reuters:
Honda began assembling the Accord at its Marysville in November 1982, making it the first Japanese automaker to produce cars in the United States. It has since produced more than 12.5 million Accords at the Ohio plant.

In 1989, the Accord was the first Japanese model to hold the title of best-selling U.S. car, with 362,700 vehicles sold.

In recent years, Americans have been moving away from sedans to sport utility and crossover vehicles. Honda sold 154,600 Accords in the U.S. last year, down 24% from 2021.

Honda said Accord production will be transferred to its Indiana auto plant, which builds the Civic Hatchback and CR-V.

Honda's transmission plant in Georgia will dedicate one production line to e-axle production - a key EV component - and its Anna, Ohio engine plant will shift production of some engine components to a Honda engine plant in Alabama to prepare for production of battery cases for EV models, the company said.
The Marysville facility will begin consolidating two of its existing production lines into one for EVs in January 2024. Earlier in March, Honda broke ground on its $4.4 billion battery factory joint venture with LG in Jeffersonville, Ohio.
Reverse: Prosper L'Orange
On this day in 1909 — 114 years ago — a guy whose name truly belongs in the Name of the Year Bracket (is that still happening anymore?) was awarded a patent for inventing the diesel precombustion chamber. From 365 Days of Motoring:
Prosper L'Orange, Benz engineer, was issued with a patent for a pre-combustion chamber type diesel engine that led to the manufacturing of diesel-powered automobiles. The precombustion chamber connects to the engine cylinder via a restricted passage, or burner. In operation, a narrow cone of fuel is sprayed down towards the burner by the single orifice injector nozzle. At this time the technology did not exist to manufacture nozzles with multiple orifices and diesels used high pressure air to spray the fuel directly into the cylinder. L'Orange also discovered that indirect injection diesel engines ran more smoothly and quietly than direct injection engines. Use of a precombustion chamber also reduced stress on the engine's structure, so that it could be made less heavy than a direct injection engine. However, indirect injection engines require higher compression ratios, about 20:1, to compensate for the greater surface to volume ratio causing more heat loss from the cylinder charge. They are also more difficult to start when cold, therefore the precombustion chambers are fitted with electrically heated glowplugs.
Neutral: The March Snow is Falling
Where I am in PA is a bit too far south to receive frankly any snow this season, but north of here is getting walloped, I hear. Stay safe and warm.