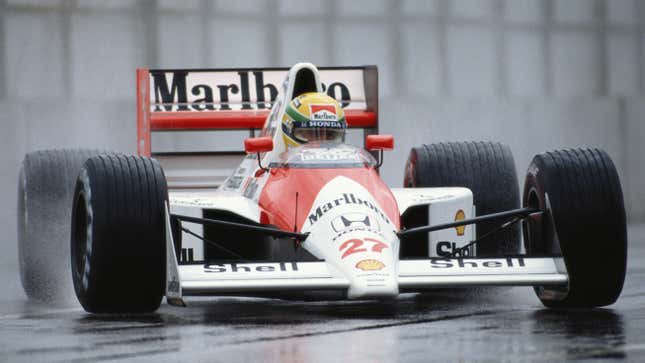 Ayrton Senna is the epitome of what we think of when we imagine a racing driver. Charismatic with a near-religious fervor for the sport that etched his name into the history books, Senna gave viewers a taste of sheer excitement packed into the space of a lap. He was incredibly quick and precise behind the wheel. He was involved in one of the most compelling rivalries in F1's history. One of the all-time greats, he stands firmly among the likes of Jackie Stewart, Jack Brabham, and Niki Lauda as a fellow three-time world champion.

Which is what made his death 25 years ago today so shocking.
There are plenty of accounts of that hellish weekend at Imola, poignant enough to make you give you the same stomach-dropping sensation as if you were there at the track, not 25 years removed. There was Rubens Barrichello's bad accident during Friday practice. Roland Ratzenberger's death on Saturday. Senna breaking down in tears, being told by Professor Sid Watkins, the head doctor at all the F1 races, that he should retire on the spot, protesting that "There are things we can't control. I cannot stop. I have to go on." Senna's death on Sunday. The subsequent harrowing breakdown of race fans around the world.
At that time, it had been twelve years since a fatality at a Grand Prix. Riccardo Paletti was killed in the 1982 Canadian Grand Prix—only his second start in Formula One, just over a month after Gilles Villeneuve was killed.
In the intervening years, racing had changed. In 1985, the first-ever crash tests were performed on F1 cars to understand how they sustained a frontal impact, as F1 recalls in its own history. In 1986, medical helicopters were required at tracks in case of emergencies. In 1988, crash tests for the car's safety pod and fuel tank were introduced. In 1989, track safety walls were required to be at least one meter tall. In 1991 came roll bar crash tests. In 1992, the safety car. And in 1993, better head protection around the cockpit was mandatory.
Where death in Formula One had once been a disturbingly prominent feature of the sport—a near-guarantee that you or a few of your peers wouldn't make it through the season alive—modern technology had brought with it a stark reduction in fatalities. There was the sense that the disastrous, mind-numbing deaths of the 1960s and 70s just didn't happen anymore.
But when Ratzenberger and Senna died, F1 officials and race fans were forced to look the truth of the matter direct in the face. If we could lose two men in one weekend—if we could lose one of the sport's legends, its shining stars—then something was wrong. Something desperately needed to change.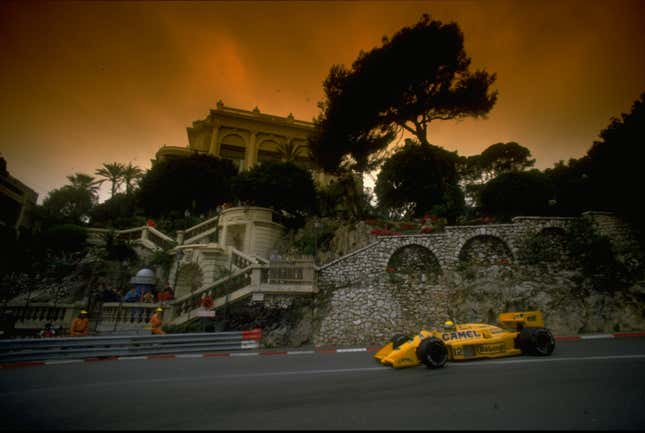 Because F1 races had only started being broadcast on international television in the mid 1970s, when the sport's rapid-pace fatalities were beginning to wind down, Senna was one of handful of drivers whose death was captured on the screens of fans across the world. And, as one of the most popular drivers at the time, the reaction was swift.
Blunt-force shock quickly gave way to anger and grief. Fans wanted to know what happened and why. They needed to know that they weren't going to watch another of their heroes die when they turned on the TV on Sunday.
While just as stunned as the fans at the loss of such a key figure in their sport, F1 officials acted swiftly. That isn't to say that they had become complacent prior to Senna's death—but their efforts to improve the safety of the sport became far more proactive than reactive. Burgeoning safety technology was growing more advanced everywhere you looked, and it was time to start actively seeking out how to implement those standards into open-wheel racing.
Immediately after Senna's death, the FIA announced a handful of safety measures to be implemented at the next race in Monaco—such as forcing cars to slow down on pit entry and exit. Niki Lauda and Gerhard Berger re-formed the Grand Prix Drivers' Association, which is essentially a driver's union dedicated to improving racing conditions. Senna had actually been in conversation with them about getting it back going just before his death. It was the Drivers' Association that demanded the reduction of downforce for the Spanish Grand Prix later that month. For the Canadian Grand Prix, the structural integrity of the F1 cars themselves was improved, specifically with the aim of keeping drivers' heads and necks safer inside the cockpit<.
The changes for the rest of the 1994 season weren't quite as dramatic as those implemented in the three races immediately following the San Marino Grand Prix. But that didn't mean the FIA was done.
In the following years, crash tests became far stricter, with FIA requiring each car to have an accident data recorder installed in it for precise accident analysis starting in '97. Prior to this, accident data could be difficult to obtain.
There are countless theories on why Senna's accident happened. Nelson Piquet hypothesized emotional stress as a result of issues in Senna's love life. Williams technical director Patrick Head argued that Senna was simply not as infallible as people believed and made a driver error. Adrian Newey, who designed Senna's car that year, felt that it had been a tire puncture. The official team of judicial investigators tasked with analyzing the accident deemed it a steering column failure.
To put it simply, nobody knew for sure what had happened. We still don't. Racing accidents were like that back then. Unless you could clearly tell that something had gone wrong, it was a guessing game, and in many of the worst cases, the only person who could tell you what happened—the driver—didn't make it back to the pits to discuss it.
The accident sensors were crucial to preventing these seemingly unnecessary crashes. For the first time, engineers could actually understand what parts of their car were failing, where they most needed to make changes, and could provide feedback to F1 officials to inform future baseline safety requirements.
At the tracks themselves, Professor Sid Watkins required medical cars to be stationed around the track with paramedics on board so that, in the event of a bad accident, a medical professional was no more than thirty seconds away. While tracks had long been equipped with medical centers, they now became more like mini-hospitals, requiring an operating theater and resuscitation equipment, always with a surgeon, anesthetist, and six paramedics while there are cars on track.
Big changes were made to the car itself, too. The "survival cell" was required to include a layer of kevlar to prevent any kind of intrusion, ruling enacted after Michael Schumacher crashed at Silverstone in 1999 and had his leg broken by the car's suspension piercing into the cockpit. Protective padding was added to the cockpits, which had been raised to protect a driver's head. Roll bar sizes were increased. Tires were tethered to the chassis. The HANS device was officially introduced. Crash tests constantly improved. Helmets got stronger.
Stricter penalties for dangerous behavior were implemented. Tracks were redesigned to include asphalt runoffs instead of gravel. Pit lane speed limits were reduced. Three race stewards must be on hand to investigate all racing incidents.
The list of improvements goes on and on. What started as a push to prevent anyone from dying as senseless a death as Senna and Ratzenberger became a full-fledged safety revolution, the likes of which F1 hadn't seen since the early 1970s.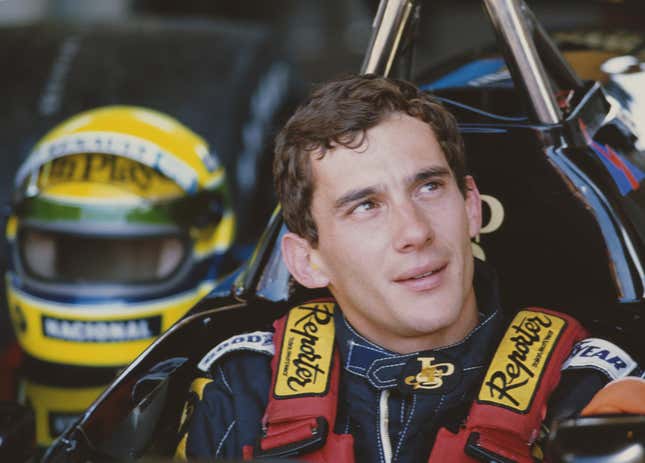 Since Senna's death, F1 has only lost one other driver during a Grand Prix—although there have been plenty of accidents that could easily have taken lives in other eras. Jules Bianchi died at the Japanese GP in 2014, twenty years after Senna. And in the wake of Bianchi's passing, we've seen other sweeping implementations of safety equipment, such as the halo.
It's been 25 long years since the harrowing San Marino Grand Prix weekend, but Senna's spirit still persists as almost a key feature of modern F1. A legend in his day, he's been elevated to a near-godlike status in the wake of his needless death—a hero to all the drivers on the grid, an inspiration for race officials to keep pushing to protect the drivers who risk their lives and their glory on tracks around the world.

For each of those 25 years, F1 has pushed the boundaries of safety consciousness to ensure that Senna's death was not in vain, and they've done well to honor his memory by sending countless drivers home to their families, alive. They've protected the heads, necks, and bodies of our modern drivers so that they'll have a chance to carve out their own legacy, one race at a time.

Ayrton Senna is undoubtedly missed, but F1 has ensured that he will not be forgotten.