I got all fired up when I saw "Range Rover To Add 'Stealth Pack'" in my inbox this morning; hoping for a kickass security-spec variant or something. But nope; the special edition Range Rover that will be on display at the Goodwood Festival Of Speed is just a regular Range Rover with some extra AutoZoney accessories.
Don't get me wrong, the Range Rover Sport is a sweet looking SUV (or has it been melted down into a "crossover" classification yet?) but man, I feel like the "Stealth Pack" moniker could have included some radar-gun deflecting paint or bulletproof windows or tacks that drop out of the rear bumper.
From Land Rover's press office:
"a set of exterior design enhancements, including satin black front grille and grille surround, fog lamp bezels, bonnet and fender vents, upper mirror caps and tailgate finisher. Stealth finish on non-reflective headlamp and tail lamp surfaces along with a choice of 21" 9-spoke, or 22" 5-spoke wheels, in satin black finish with wheel nuts in gloss black, further distinguishes the vehicle."
G/O Media may get a commission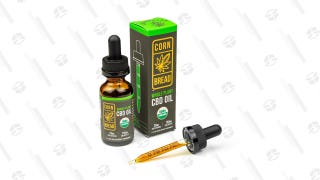 Certified Organic CBD Oil
Wheel nuts. In gloss black. FINALLY.
Any guesses on what this Plasti-Dip job will cost if you order it at the Land Rover dealership?
Images: Land Rover