Good morning! Welcome to The Morning Shift, your roundup of the auto news you crave, all in one place every weekday morning. Here are the important stories you need to know.

The Ford Taurus Is Reborn — But Only For the Middle East
1st Gear: MobilEye Signs Deal For Eight Million Cars But The Partner Remains Unnamed

Remember MobilEye, the autonomous-driving tech company that split with Tesla a while back? Well, they have a new partner in the auto industry, announcing a deal for eight million cars. Which cars? Oh ho ho. You think you deserve to know? Not so fast, as Reuters reports:
Financial terms of the deal and the identity of the automaker were not disclosed.

Smart. I don't know what I would do with this information. I'm not good enough to deserve it, really. I'm just some schmuck.
At least MobilEye did give out some details of what the tech will entail, looking like it's going to be a bit of a measured roll out and not a straight-to-full-autonomy kind of thing, per Reuters:
The deal for the advanced driver assisted systems will begin in 2021, when Intel's EyeQ5 chip, which is designed for fully autonomous driving, is launched as an upgrade to the EyeQ4 that will be rolled out in the coming weeks, said Erez Dagan, senior vice president for advanced development and strategy at Mobileye.

[...]

The future system will be available on a variety of the automaker's car models that will have partial automation — where the car is automatically driven but the driver must stay alert — as well as models integrating a more advanced system of conditional automation.

G/O Media may get a commission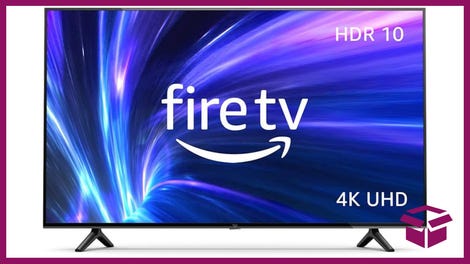 42% Off
Amazon Fire TV 50" 4K Smart TV
Honestly, I'm becoming less and less thrilled with partial autonomy with each passing day. The intermediate zone we're in now can't end soon enough.
2nd Gear: Germany Is Pissed About Geely Surprising The World With Daimler Ownership
Remember when the billionaire who runs Geely, the Chinese automaker, came out of the blue earlier this year to say "oh yeah I own a bunch of Daimler it's gonna be a great when they work together globally with, uh, you know, companies." (That's not an exact quote.)
Anyway, Germany is pissed.
The German government keeps a close relationship with its automakers and its auto industry, probably because without it all anyone would think of Germany would be beer, pretzels, the Disney castle and Nazis. They feel a bit of a need to keep their luxury auto exports thing going smoothly, and they get protective, as Reuters notes:
German markets regulator BaFin is reviewing whether to impose fines after it determined Geely Chairman Li Shufu's transactions to buy a 9.69 percent stake in Daimler should have been disclosed earlier.

Li disclosed on Feb. 23 that he had amassed a $9 billion investment in the German carmaker using banks, shell companies and derivatives, prompting questions in Berlin political circles about the adequacy of German disclosure rules.

Li, who controls carmaker Volvo, revealed he had control over almost 10 percent of rival Daimler, parent company of luxury brand Mercedes-Benz, even though German rules require investors to reveal if their stake exceeds the 3 percent, 5 percent and 10 percent thresholds.

Honestly, I think the German regulators are just mad that somebody outsmarted their bureaucracy. How dare someone not go to the proper bureau at the proper time! This is an outrage.
3rd Gear: China's Largest Train Maker Is Getting Into Cars
Everyone always says that there's no room for new car companies, that startups always seem to go bust, that it's just too difficult to enter the car industry now, unlike in the early days of the automobile. Well, I guess that news hasn't filtered down to CRRC Corporation Limited, "the largest rolling stock manufacturer in the world," as Car News China notes. CRCC is getting into cars, and it's going with EVs, per Car News China:
Everybody wants to join the electric car revolution in China. Everybody. The latest entrant is none other than CRRC Corporation Limited (CRRC), the largest rolling stock manufacturer in the world.

They make hundreds of different locomotives and railroad cars, selling quite successfully all over the world. And now this great company wants to diversify into electric road cars.

Their first car will be an electric sedan, it will hit the market in 2019. It looks far too much like an Audi, mixing elements of the B6 and B7 Audi A4, and topping it all off with a big black grille.

I don't know why I'm so excited for a train company's idea of what a car should be, but I am. See the full thing here.
4th Gear: Ford's Lack Of New Models Has Been Hurting It In China
Ford is in a "sales skid" in China, as Automotive News China has dubbed it, and it's been a lack of new models that's been the cause:
Ford Motor Co.'s sales skid in China is continuing due to a lack of new or redesigned models, with volume slumping 26 percent to 69,503 in April.

The decline in deliveries was led by Changan Ford, Ford's passenger vehicle joint venture.


[...]

In the first four months, Ford's China deliveries fell 21 percent from a year earlier to 276,642.

Ford did launch redesigned Ford Focus and Ford Escort sedans last month as part of a new 50-vehicle product offensive, but that won't be done until 2025. If I was Ford, I'd be looking at this and wondering if killing all of its cars in America was a good idea. Car buyers love new shit.
5th Gear: The Ford F-150 Comes Back On Friday
This isn't so much news relevant to you as it is relevant for Ford executives still flop sweating since a supplier factory burst into flames and shut down production on their most profitable line. In any case, after a magnesium fire at a factory the other week, Ford expects F-150 production to start back up on Friday, as the Financial Times reports.
Reverse: I Guess This Is A Landmark In History. I Guess?
Neutral: Is The Ride-Sharing App Model Sustainable?
Are ride-sharing companies all going to screw themselves out of business and we'll all go back to cabs, or is the model so strong that it will weather all of these individual failings? What's your take?