Good morning! Welcome to The Morning Shift, your roundup of the auto news you crave, all in one place every weekday morning. Here are the important stories you need to know.

1st Gear: Nothing Makes Sense Please Help
We live in the Greatest Country In America On Earth Amen, which means that sometimes our federation of individual states creates good laws that best suit the needs of their own respective citizens. And sometimes, they very much don't, creating a 50-headed legal hydra in which some things are legal in some states, some things are illegal in some states, and some states don't say anything at all. That latter scenario is happening to autonomous vehicles right now, and it's all a bit of a mess.
Does a human driver need to be at the wheel? Does there even need to be a wheel?
Who the hell knows. Ask your local governor.
Stepping into the breach is the federal government, which is finally getting around to setting some laws that sound, thankfully, pretty permissive, according to Reuters:
Last month, a U.S. House of Representatives Energy and Commerce subcommittee held a hearing on a Republican draft package of 14 bills that would allow U.S. regulators to exempt up to 100,000 vehicles a year per manufacturer from federal motor vehicle safety rules that prevent the sale of self-driving vehicles without human controls.

[...]

The draft measures would bar states from setting self-driving rules and prevent the National Highway Traffic Safety Administration from pre-approving self-driving car technologies.


Democrats say the NHTSA must play a more aggressive role in mandating self-driving car safety.
G/O Media may get a commission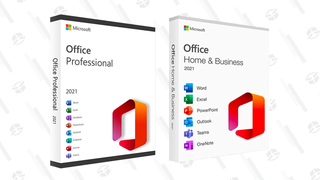 95% off
Cyber Monday - Lowest Price Ever - Microsoft Office Lifetime License
And this is good! It's incredibly dumb to issue blanket statements like all regulations are bad or everything must always be strictly regulated, but in this case, a lack of regulation genuinely can be good.
Because we've seen what happens when car companies try to reign their own self-driving tech in (by forcing you keep your hands on the wheel like some sort of jamoke, ahem, Volvo), and what happens when they don't and things just work (for the most part, ahem, Tesla).
The truth of the matter is that some day, we'll probably need more regulations. You know, the sort of regulations that say "your car can't go and actively kill people," much like we've got for regular cars today. But we're not there yet. We just don't know enough about the tech to start coming up with laws for it.
And by having a uniform set of rules, it'll help everyone know what the lay of the land is.
2nd Gear: New Rules Allow You To Sue
Buried in the fine print of a lot of loans—including auto loans, which look to be the next bubble to pop—is language that stops you from suing the lending company if you get screwed. Instead, you're forced into "mandatory arbitration," where the deck is often stacked in favor of the lender.
This often screws regular people over even further, so the Consumer Financial Protection Bureau is stepping in to stop it, the New York Times reports:
The nation's consumer watchdog adopted a rule on Monday that would pry open the courtroom doors for millions of Americans, by prohibiting financial firms from forcing them into arbitration in disputes over their bank and credit card accounts.

The action, by the Consumer Financial Protection Bureau, would deal a serious blow to banks and other financial firms, freeing consumers to band together in class-action lawsuits that could cost the institutions billions of dollars.

"A cherished tenet of our justice system is that no one, no matter how big or how powerful, should escape accountability if they break the law," Richard Cordray, the director of the consumer agency, said in a statement.

Of course, because nothing good in this world can just stay good, Republicans are trying to stop the CFPB from issuing rules like this.
3rd Gear: Nissan's Mississippi Plant Might Unionize
The United Auto Workers has forced a unionization vote at Nissan's Mississippi plant, which builds everything from the Nissan Altima to the Titan to the Murano, according to the AP:
The union has long struggled to organize foreign-owned auto plants across the South, working for years to build support for a vote among the 6,500 employees at the Mississippi complex. Monday's move sets the stage for a key showdown.

Nissan Motor Co. spokeswoman Parul Bajaj reiterated the company's stance that workers get to choose whether they have a union but management opposes the move.

"While it is ultimately up to our employees who will represent them, we do not believe that UAW representation is in the best interest of Nissan Canton and its workers," Bajaj said.

Management opposes the move because worker protections and better wages are strictly at odds with the vampiric hunger for ever-increasing profits at the expense of workers.
4th Gear: Porsche Being Investigated For Fraud, False Advertising
German prosecutors, the only good prosecutors in the world when it comes to pursuing companies that have done bad things (modern times only), are looking into Porsche in relation to the whole Dieselgate thing over allegations of fraud and false advertising, Reuters says:
The Stuttgart prosecutor's office said on Monday employees at German sports car maker Porsche AG and a U.S.-baseubsidiary were being investigated for suspected fraud and false advertising related to diesel emissions.

The probe is the latest twist in a sweeping investigation of automakers and their emissions after Volkswagen (VOWG_p.DE), which owns the Audi, VW and Porsche brands, admitted systematic cheating of diesel engine tests in 2015.
I remember writing this post in 2015.
5th Gear: The Motorcycle Industry Is Dying
That's because if Millenials want real danger, we just go on the internet. RIP motorcycles.
Reverse: And Without The Federal Government Our Highways Would Still Be Garbage
On this day in 1916, in a ceremony at the White House, President Woodrow Wilson signs the Federal Aid Road Act. The law established a national policy of federal aid for highways.
Neutral: What Should The Self-Driving Car Rules Be?
Rule No. 1: All occupants must wear a big silly hat.