One of the most prestigious auto shows in the world, the Geneva Motor Show, starts in a few days. That show will have noticeably fewer female booth models standing near cars in heels and tight clothing, according to Bloomberg. Three cheers for not using women's physical appearance to help sell products!

Switzerland's Geneva Motor Show announced it will have about 180 exhibitors on its show floor this year, which will be the 88th Geneva show since it began in 1905. The show expects more than 700,000 people to visit and 900 cars to be on display, but a lot of those cars won't have something we've been accustomed to seeing: women commonly referred to as "booth babes," often in high heels and revealing clothing near the cars and technology on display.
Among companies not using traditional booth models in Geneva this year are Nissan, Ssangyong Motor Co., Lexus, Fiat Chrysler Automobiles, PSA Group, Renault SA, Pirelli and Lamborghini. Most of those companies plan to have various people who have been trained in talking about the vehicles at the Geneva booths in more toned-down clothing, according to Bloomberg.
A spokesperson for the show told Bloomberg exhibitors' promotional choices won't be regulated, and that they're free to use more traditional models if they would like.

G/O Media may get a commission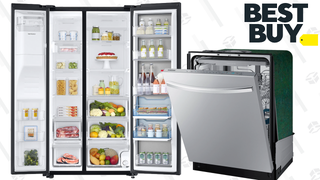 Up to 50% off
Best Buy - Samsung Major Appliance Sale
Bloomberg reports that unlike last year's women in short silver dresses and black heels in Geneva, South Korea's Ssangyong Motor Co. will have people in sportswear promoting the cars. Lamborghini and PSA Group, which is over brands like Peugeot, Citroën, DS, Opel and Vauxhall, will do similar things. Unnamed sources said FCA canceled several model contracts for the upcoming show, too, Bloomberg reports.
Renault SA hasn't had models in Europe for years, according to Bloomberg, and uses "car explainers" instead. The only appearance requirement is that they're tall enough to be noticed. Pirelli will have models in black pantsuits instead of the short dresses they wore to the Geneva show in 2016.
Phasing out the use of booth models whose appearances are used to grab attention and sell the products is a good move, in the same sense that phasing out "grid girls" at racing events is—having female models in clothing that purposely and obviously draws attention to their appearance, while male executives mainly fill speaking panels and vital roles, not only reinforces the stereotype that men are the main focus and women are the ornaments on the side, but it also puts forth the bad, outdated message that cars are mostly for a heterosexual male audience.

That's bad for automakers in that women take a main role in making most car purchases, yet with the use of booth models and the lack of female executives, they're not being catered to like a heterosexual male audience is. Rather, with widespread use of women models accompanying men at sporting events, press photos overwhelmingly showing men in driver's seats, the tendency for people to talk about cars' "curves" and "appeal" as if they're attractive women, and almost every other engrained practice in the automotive industry, women are often made to take a backseat—or, rather, stand outside of the car altogether.
They were also subject to assault and harassment. One booth model at the Consumer Electronics Show, who was in support of monetizing her looks, told USA Today a man grabbed her butt as she took a photo with him. Bloomberg also mentioned the prevalent nonverbal cues booth models have during shows, like putting hair behind their ears to call for help in intercepting "overly eager patrons."

That isn't the kind of thing people should find acceptable, nor should others should have to be subjected to it. That's part of what makes it so relieving to hear that companies are starting to get it—no matter what or how genuine the reasoning is behind their actions.