The best part of every auto show is the corporate espionage, and no show in America has more of it than Detroit.
The point of an auto show isn't merely to clump a bunch of car writers together to stuff them full of shrimp and promise that yet another concept car will show design details to be seen in future models blah blah.
The other point of an auto show is to gather all of the carmakers under the same roof, with all of their newest models sitting side by side. So the Mercedes pavilion sits right next to the Audi pavilion, which stands in very stark contrast to Lincoln right next to it. A quick walk shows any car journalist the different attitudes of each company.
G/O Media may get a commission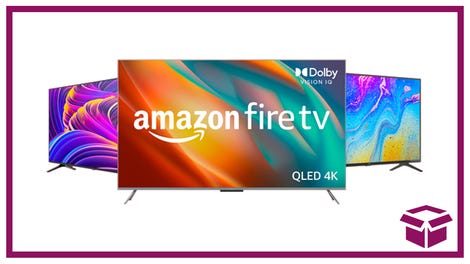 Ooh. stunning.
New Amazon Fire TVs
Mercedes trucked out nothing but production cars, conservative and profitable as ever. Audi had the same old production cars they've been bringing to auto shows for years, with a few eco-crossover "concepts" to show that they're at least trying to get past the diesel mess. Lincoln, meanwhile, stuck out their new Continental and virtually nothing else. That's what the brand has going for it right now.

But these contrasts aren't reserved for car journalists to notice. The car companies themselves spend much of the auto show peeking at what their neighbors are up to.
"This is our chance to check out everyone else's cars," one unnamed auto executive told me at a competitor's stand, "without getting hassled."
You see tons of executives high up and low down striding across the show floor. Take a careful look at the name tags at flashy new car unveils and you'll see that much of the big crowds are made up of junior German car execs, mostly making snide comments about how hard their rivals are trying to look eco friendly or whatever. And after these presentations die down, you'll find those same bosses sitting in their competitor's cars, often making snide comments about fit and finish. There are lots of lines about how panel gaps at Company X would be unacceptable at their Company Y.
The most famous instance of this is when the now-ousted boss of Volkswagen berated his staffers about the quality of a rival Hyundai at the Frankfurt Auto Show a few years back.
These exchanges are never meant to be heard by car journalists, and are very quickly dismissed as off the record if anyone catches an earful.
Most of the time these interactions are quite chummy, though. I watched Audi give an entire tech presentation to Mercedes bosses Erik Hauppenberger and Mahmoud Malek. I talked with Hauppenberger, who used to work on Maybach back in the day, and he was extremely casual about the interaction.
He'd been poking and prodding Audi's dashboard of the future, running his fingernails along the edges of the touch screens, testing to see if the same swipe motion that worked on the volume also worked on the phone controls. (It didn't.)
But still, he was quite keen to say that what Audi showed him was far from secret. They'd wheeled out this demonstrator to be used, and they were using it. The auto show is a show for them, too.
And there's tons of this. Here's the legendary Peter Schreyer and the rest of his top Hyundai design team checking out the new Lexus LC 500. Lexus was thrilled to have them, and their head of design at CALTY happily told me that he'd spent the whole day showing off his pride and joy to other companies.
And here's Hyoung-Keun Lee, CEO of Kia Motors, happily pointing out design details of the new Lincoln Continental to his staff. I later spotted him striding across the show floor with a dozen people in tow, going from stand to stand. I asked him if any car caught his eye and he mentioned the Toyota Mirai before one of his staffers whisked him away from me before he said anything too dangerous.
There are two kinds of these corporate espionage moments: there are chummy interactions from executives like the ones I have just described, and then there are the benchmarkers.
Car manufacturers need all of the information they can get on their competitors. Now, each carmaker publishes their own specs, but it's understandable that a rival would want to get their own verification of those numbers. A carmaker could measure one statistic differently than a rival might, and they might doctor a photo to look more favorable in a certain light.
Auto shows are really the best chance an automaker has to get its own information on length, width, tire size, interior material choice, and whatever else they find relevant.
Maybe more important to a benchmarker than verifying specifications is looking for interesting packaging solutions in a rival company's design. Maybe these little baffles in the wheel liners improve aero, a benchmarker might discover on the auto show floor. They can take that information back to their company for testing. Or, as one car company representative told me, they might physically take that piece back to their lab. After the press shuffles out of the show, the Detroit Auto Show hosts industry-only days, when car companies have to watch their cars lest benchmarkers steal little pieces of trim from their floor models.
If not at auto shows, carmakers can try to get this kind of stuff by spending money to go to an outside dedicated benchmarking company, like A2MAC1. They're about a 40-minute drive from downtown Detroit, and they buy and tear down cars and sell their information on parts to other carmakers. Good as that is, the cars will never be as new there as they are right as they are being unveiled at an international auto show like Detroit.
Other options available to carmakers are taking out rental cars or checking out models on dealership lots, a former employee of an auto manufacturer I will not name told me, but these trips just give little glances with little information. And new cars aren't always available.
"I don't even think there's a Maybach dealer in Michigan," an employee of a car company who wished not to be named told me at the Mercedes stand. He was sitting in the back of a new S Class Maybach, taking pictures with his phone, making note of how Mercedes put the interior together, and what kind of leather and carpet they used. I later saw a coworker of his doing the same with a new Genesis G90.
This is the real work that carmakers do at auto shows. Small teams of staffers check out each new car on the show floor, taking pictures and busting out their tape measures to get detailed data on the competition. I spotted two pairs of workers from a rival Japanese carmaker getting the exterior dimensions of the new Honda Ridgeline and getting up-close pictures of the hood hinge on the new Civic.
"What are you measuring, if you don't mind me asking?" I said, walking up to them. One of the guys looked up at me, at first confused. He paused, and warmed. "It's secret!" he replied to me with an ear-to-ear smile.
Photo Credits: Raphael Orlove/Jalopnik
---
Contact the author at raphael@jalopnik.com.