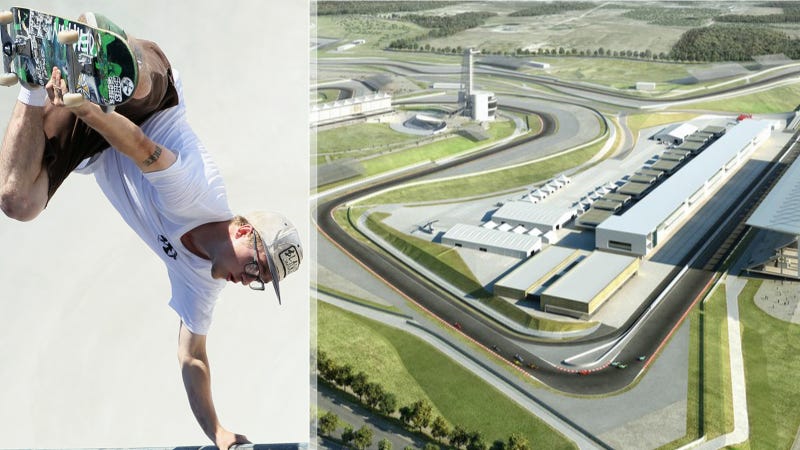 When Austin's Circuit of the Americas was being planned and built, many people wondered how it would be sustainable if it only hosted a Formula One event, some track days, and a handful of other races every year.
So circuit officials have looked into hosting other sporting events, including boxing, tennis and volleyball. But while those sports are fun, they aren't exactly... extreme.
That could be remedied if the circuit gets the contract to host the X Games for three years starting next summer, reports the Austin American-Statesman. They've thrown their hat in the ring to get the extreme sports event along with venues in about 20 other cities, including Fort Worth's Texas Motor Speedway and the Charlotte Motor Speedway in North Carolina.
A Circuit of the Americas spokeswoman told the American-Statesman that the 1,100-acre site "has the space and facilities to host all of the events, including a 15,000-seat amphitheater that could hold concerts associated with the games." Its amphitheater remains under construction.
Today, the newspaper reported that both the dates of the 2014 X Games and the finalist cities haven't been selected yet.
The Circuit of the Americas would certainly be an interesting choice to host the games, which include motorsports events like RallyCross. When we covered the inaugural U.S. Grand Prix there last year, we found it to be a pretty world class facility that lived up to the hype around it. And as a former Austinite, I could see people there getting into the X Games. Events like BMX may even placate some of the car-hating crowd in that city too.
A lot of you guys probably attended the F1 race in Austin, and I know some of you live there (or you live nearby.) Do you think the X Games would be a hit in the ATX?