I can't be alone in thinking this, that modern Audis are damn-near indistinguishable from each other. The A4 looks like the A6, which looks like the A7. It's only when you get around to the back of the thing and see the badging can you really discern which model you're puzzling over. Thankfully, though, it seems like Audi has recognized this and will soon change things up.
Audi's corporate grille is a familiar one. Large and hexagonal, you really can't mistake it for any other car maker. And the purpose for making its cars so similar to one another around that grille, apparently, was to make them more recognizable in "newer and emerging markets," Audi's chief executive, Rupert Stadler, told Autocar. I'm not sure I agree with this stance, but it is what it is.
Now that the company is satisfied that it's "recognizable" in other markets, it feels like it can let its hair down a bit—design something a little more, I don't know, different?
From the story:
Design boss Marc Lichte added: "We recognise that there is a place for more differentiation now. Since our cars are in production for a minimum of six years, in today's world I think each model should have its own design to be attractive for this long time."
He said that the more compact dimensions of electric powertrains means "proportions can change" for the better.

"Design will go in a very different way," Lichte continued. "[Designers] will have more material space to play with, so we'll be able to produce [vehicles with] shorter overhangs and lower bonnets. It makes for a more attractive design overall."
G/O Media may get a commission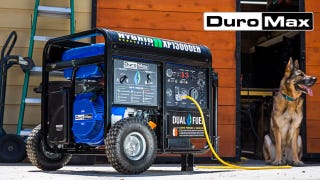 Black Friday Sale
DuroMax Generator Sale
Dude, thank God.
I'm not saying all the Audis today are ugly. No, in fact, I think they are some of the handsomest cars on sale currently. But they just look all the goddamn same, like being surrounded by a group of extremely trim people, all in the same cut and color tuxedo. It's freaky.
I was just at the Los Angeles Auto Show a few months ago. I walked through the Audi stand and was just like, meh? It was a nice place to stand, but nothing excited me.
So, yeah, some change would be very nice. And before you leap into the comments and yell that every Porsche 911 looks the same, let me just say that yes, that's a huge problem, too.