I like the Audi A7. But I've always felt that although the 310 HP 3.0-liter supercharged V6 engine is more than capable for a highway cruiser, it just makes me thirsty for terrible jokes about how the car could have had a V8. Now there's this — the 2013 Audi S7, a car designed to drive a beautiful V8-engined stake through the heart of every tomato juice joke ever made about its V6-engined brother.
Full Disclosure: Audi wanted me to drive the S7 so badly they invited me out to Germany to an airport hotel. Seriously. In Munich. Also, they bought me wiener schnitzel. Lots of it. And asparagus. Weird-looking white dong-shaped asparagus.
And what a beautiful stake it is. Thanks to an air suspension that drops it .39" closer to the ground than the A7, the S7 has a little bit more aggressive stance than the already attractive, swoopy coupe-rooflined A-badged four-door. Otherwise, it's basically the same gorgeous car with a new badge — and optional 21" wheels. Oh, and that color above is called "Rocky Mountain Brown" — and it's not even available in the U.S. WTF?
In fact, it's so good looking on the outside, it might make you forget that we're not getting the Audi S6 Avant here in the United States. Seriously.
Inside, there's the same sumptuous interior you find on the A7, with a few additional accoutrements for the S7 including contrasting-color stitching on the steering wheel and S seats for all four passengers featuring rhombic-patterned stitches come standard.
G/O Media may get a commission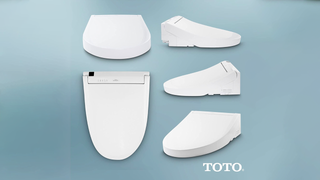 44% off
Toto Washlet Electronic Bidet Toilet Seat
But the story here is the engine. Audi's mid-size S model engine downsizing is proof that size doesn't matter (or at least that's what I keep telling myself to get to sleep every night). Even with two fewer cylinders than the 4.0-liter twin-turbo V10 it'll replace in every S model bigger than an S5, the new 4.0-liter twin-turbo V8 engine wipes the floor with its bigger-cylindered older brother. The new engine hits 420 HP, 15 fewer ponies than the V10 engine it replaces.
But when I jumped on the Autobahn here outside of Munich earlier today I found that it just didn't matter. Thanks to 406 lb-ft o' glorious torque (versus the V10's 398 lb-ft), a light-weight aluminum und steel frame and a new seven-speed S-tronic transmission, the S7's able to throw down an estimated 0-60 time of just 4.6 seconds — half a second faster than the S6 (there's even a launch control function that we've outlined the cheat code for in the sidebar below).
Better yet, thanks to the all-new "cylinder on demand" system that deactivates four of the eight cylinders at cruising speeds above 3rd gear it's able to do that while also achieving 25% better fuel economy than the last-gen S6's V10 engine. Take that greenies!
But it's that "COD" system that causes the one problem I have with the S7. It's the same problem that always makes me wary of cylinder deactivation technology — they're sometimes a bit slow on the uptake when you mash your foot down. I found the four-to-eight switchover on the S7, however, to be mostly unobtrusive (Audi says that depending on the operating point, shifting lasts between one hundredth and four hundredths of a second) as I punched the power pedal to pass a series of trucks clogging the left lane of the Bundesautobahn 92.
To counteract any concerns, Audi's developed a control-logic system to monitor the driver's steering movements and gas pedal usage. So, for example, if the system detects an irregular pattern — like while I was driving around a traffic circle or repeatedly gunning the go juice on a straight — then it won't deactivate the cylinders. That helps, but the rules for the system kicking in read kind of like stereo instructions. Suffice it to say, even with this minor issue — and believe me, it's minor — this engine power more than makes up for the sleepy six-cylinder under the hood of the A7.
How To Use Launch Control On The Audi S7

1.) Put stability control in sport (push and hold for more than two seconds).

2.) Set "Drive Select" in dynamic.

3.) Depress brake with left foot.

4.) Depress gas with right foot.

5.) Floor it.

6.) Release brake.
To stop all that power, Audi's fitted the S7 with ventilated (and perforated in the front) discs held in place by black six-piston brake calipers bearing the S7 logo on the front axle and single-piston calipers in the back. Or, you can go with ceramic carbon-fiber brake discs with charcoal-gray calipers. The ceramic brakes provided more than enough slow for the go. In fact, they're a bit touchy — often times requiring less pressure than you'd expect. But no matter, they work, and work very well.
The S7 is, thanks to the four-door's torque-vectoring quattro all-wheel drive system, just as dependable in corners despite its size — 196' long — and weight — 4,508 lbs. Under normal driving conditions, the mechanical planetary gear distributes 60% of torque to the rear-axle differential and 40% to the front. But, in the event of wheel slippage, like, for example, what happened when I hit a patch of dirt with the right rear tire coming into a place where I was stopping to take photos, the differential transfers a majority of torque to the axle which has better traction — in this case, the front axle. Audi says that the system can distribute as much as 80% of power to the rear axle and a maximum of 70% to the front.
Additionally, there's also a sport differential that comes standard on the S7 that'll help nearly all torque to flow to just one wheel. I found it helped me to better guide the car when taking more than one twisty Bavarian corner at high-speed, preventing my usually necessary (and oftentimes unnecessary) over-corrections.
So, here's the deal — the S7 isn't perfect, but it's a hell of a lot better than the A7. In fact, it's good enough that it might make even make the countless dozens of you who wanted a new Audi S6 Avant happy. Hey, we don't live in a perfect world — but the S7 makes me happy I live in the imperfect world we do live in.