The Audi Q5 is a fine example of what luxury CUVs can be. What do you need to know before you buy an Audi Q5? Don't worry, we'll tell you everything right here in our Buyer's Guide.
Crossovers are not the most exciting cars on this green and blue planet. They're cars on stilts, basically. CUVs don't handle as well as cars, they're not as efficient as cars, and they're not as capable off-road as a true SUV. They're rolling compromises.
So that might make you think there's now way to get such a compromise-mobile "right." But no, the Audi Q5 has got the CUV thing down pat. It offers good interior volume, solid driving dynamics, a slew of powertrain options and plenty of standard equipment for a reasonable price. On top of all that, it looks good, but in an Audi-ish, under-the-radar sort of way.
What's New About The 2016 Audi Q5
G/O Media may get a commission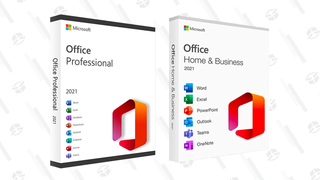 95% off
Cyber Monday - Lowest Price Ever - Microsoft Office Lifetime License
The Audi Q5 made its North American debut at the 2008 Los Angeles Auto Show. Based on the Audi A4's MLB platform the new Audi promised sportiness and versatility with its car-based suspension and high interior volume.
Those initial 2009 models were all powered by a 270 horsepower 3.2-liter V6 mated to a six-speed automatic.
The second model year, 2010 saw few changes, but for 2011, the big news was the introduction of a new 8-speed automatic transmission, which mated to the fresh new base engine: a 211 horsepower 2.0-liter turbo inline-four.
The following year didn't bring much change to the Q5, but 2013 brought a refresh, which included revised front and rear fascias and new powertrains. A new hybrid model debuted with a 2.0-liter turbo I4 combined with an electric motor, together making a total of 245 horsepower and a whopping 354 lb-ft of torque.
The other new powertrain was a new 272 horsepower 3.0-liter supercharged V6 engine to replace the aging 3.2-liter six. The new engine is mated with an eight-speed auto, making it the only available transmission choice.
In 2014, Audi introduced their new diesel model, which offered a 240 horsepower 3.0-liter turbodiesel. In addition, 2014 brought nine more horsepower to the 2.0-liter turbo, giving it a total of 220 ponies. Also new for '14 was the first S model in Audi's Q-line of CUVs: the Audi SQ5.
The following two model years, 2015 and 2016, brought very few changes to the table aside from tweaks to optional equipment packages, but in November 2015, Audi issued a stop-sale on all diesel Q5s.
Which One We'd Buy
The Audi Q5 can be had in three models: Q5, Q5 hybrid and SQ5. The Q5 comes in either Premium, Premium Plus or Prestige trims, the hybrid comes as its own trim level, and the SQ5 gets either Premium Plus or Prestige trims.
All Q5s come with electric power steering, a five-link front suspension design and a trapezoidal-link setup in the rear. Brakes on the standard 2.0-liter Q5 are 12.6 inch rotors in the front and 11.8-inchers in the back. Opt for the 3.0-liter or the hybrid, and you'll get 13.6-inch discs in the front and 13-inch pies in the back. The SQ5 has the same 13-inch vented rotors as the 3.0-liter and hybrid model, except it swaps the fronts with huge 15-inch pizzas.
If we had to buy a Q5, we'd look at a lower trim level, as the optioned-out Q5s tend to creep into Porsche Macan territory. The base Q5 Premium offers good value at $40,900. Sure, it gets the smallest engine, but the 2.0-turbo can get the small luxury CUV to 60 in a respectable seven seconds.
The base 2.0-turbo Q5 comes with leather seats, xenon automatic headlights with LED daytime running lights, a panoramic sunroof, power front seats with driver lumbar adjustment, three-zone automatic climate control, 10-speaker audio system, rain sensing wipers, and fog lights. We'd tack on heated seats for $500, bringing us to a total of $42,375 with destination fee. That's good value.
[Build Your Audi Q5] [Build Your Audi Q5 Hybrid] [Build Your Audi SQ5]

Important Facts At A Glance:

MSRP: $40,900-$60,800 Top Speed: 155 MPH (SQ5)
Acceleration: ~5.1s to 60 [SQ5]
MPG: 24 city/ 30 hwy / 26 combined [Hybrid]
Engines: 2.0L turbo I4, 2.0 turbocharged hybrid I4, 3.0L supercharged V6
Max Horsepower/Torque: 354 hp/346 lb-ft
Max Advertised Towing Capacity: 4,400 pounds
Curb Weight: 4,090-4,431 pounds IIHS Rating: Top Safety Pick +
Transmissions: 8-speed automatic
Drivetrain Layout: Front engine, AWD
Photo credit: Audi