The Morning Shift
All your daily car news in one convenient place. Isn't your time more important?
This is the Morning Shift, our one-stop daily roundup of all the auto news that's actually important — all in one place at 9:00 AM. Or, you could spend all day waiting for other sites to parcel it out to you one story at a time. Isn't your time more important?
---
1st Gear: Joel Ewanick Lands At Fisker
Automotive News (sub. required) reports that Joel Ewanick, who lost his General Motors marketing job over an expensive soccer deal, has landed at troubled Fisker Automotive. Ewanick's title is interim chief of global sales and marketing. He's replacing Richard Beattie, who announced his retirement yesterday. AN says Ewanick has been working with Fisker as a marketing consultant for at least six weeks and will fill Beattie's role until a full-time replacement is named, according to Fisker spokesman Roger Ormisher. Beattie — formerly of Ford, Mazda and Jaguar — was hired by Fisker as its chief commercial officer last December.
G/O Media may get a commission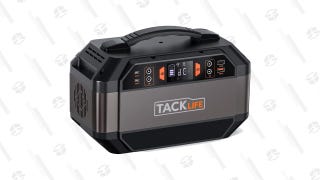 Tacklife Portable Solar Generator
Ewanick was fired in July in one of the messiest executive ousters in recent Detroit memory. GM was displeased with the way he handled a sponsorship deal with Manchester United, although it went ahead with the soccer club. If things were tumultuous for Ewanick at GM, they aren't likely to be much calmer at Fisker. Its executive floor has a revolving door, and it faces issues with reliability, quality, and its finances. Fisker is trying to speed up work on its second car, the Atlantic, in order to bring it to the market.
---
2nd Gear: Would You Buy A 282 MPG Audi?
Autocar says Audi is working on four-seat city car that would get 282 mpg. Known inside the company as "the 1.0-litre car", the super-sipping Audi would be based on the A1 platform. It's meant to be affordable and comfortable, and it will have air conditioning. The car would be made of steel, not aluminum as you might expect, and it will probably be electrified, rather than use Audi's two-cylinder diesel. According to Autocar, Audi could use a new type of injection-molded carbon fiber for some components, which can be made in just two and half minutes, like those little plastic Beetles that VW hands out at auto shows. Autocar says that the project is at least three years from the showroom.
---
3rd Gear: GM Geniuses Will Teach Us About Technology
Reuters says that GM is taking a leaf out of the Apple notebook and creating its version of Geniuses. Their job is to teach customers about GM cars' infotainment systems, and hopefully avoid bashing them on J.D. Power surveys. GM believes the issue isn't the gizmos on its cars, it's that people don't understand them. So, the 25 Connected Customer Specialists will visit 4,400 dealerships, and show customers what they need to know to make everything work properly. You might ask why car sales people aren't doing that, and they will be. By the end of the year, GM will require every dealership to have at least one person who's trained in all of its in-car systems.
"You see a lot of people get into the vehicle, and they can't figure out the damned system," Mark Harland, manager of GM's connected customer team, told Reuters. GM's specialists, who are mostly in their 20s, will communicate with GM engineers on software improvements. GM also has a dedicated team at its call center in Austin to answer questions about in-car technology. The move comes after Consumer Reports panned GM's new CUE system for Cadillac, and gave a similar scolding to Ford's touch-screen system.
---
4th Gear: Chrysler Goes Downtown With Town & Country
Reuters also reports that Chrysler will introduce a tricked out version of the Town & Country minivan in Los Angeles this week. The 2013 Town & Country S will have a standard Blu-Ray DVD player as well as a black chrome grille and a black interior. It's the third vehicle in the S lineup, behind the Chrysler 200 and 300. Chrysler calls it "downtown style for the Town & Country's upscale looks."(Downtown where, we're not sure.)
You might ask why Chrysler would bother, given that the minivan market is fading away. It's about half the size it was at its peak in 2000. GM and Ford no longer make minivans, although minivan like features are on some vehicles.. But, Chrysler still sees potential in a market that it pretty much created, and Sergio Marchionne says the company is "more or less" on track to launch a restyled minivan by 2014. The next-gen van has been undergoing consumer clinic testing for more than a year, Reuters says.
---
5th Gear: More Citroens Than There Are Stars In Heaven
The Telegraph pays a rare visit to what it calls "an Aladdin's Cave of Citroens." This is the Conservatoire, a collection worthy of Versailles that includes almost every Citroen ever made. The cars sit inside a corner of the C3 factory in Aulnay-sous-Bois, outside Paris.
There are four football fields worth of cars, some 500 in all, ranging from squadrons of 2CVs (including two prototypes discovered in a barn) to DS models to Traction Avants and Rosalies from the 1930s. There's also a helicopter, tractors, fire engines, and cars that have carried French presidents. You have to make arrangements in advance to see it, but if you love French automobiles, it's worth getting on a plane.
---
6th Gear: 2014 Chevy Spark EV: The Electric Car For Millennials
When Chevy let us take a little ride in the Spark, they really drove home one point: This is a car for young people that don't normally buy cars.
Now, there's an electric version on the way. Presumably for young, environmentally conscious people that don't buy cars. More >>
---
Reverse: Kill It Rather Than Have It Captured
On this day in 1942, the French navy sank its fleet, rather than have it fall into Nazi hands. It was an idea first floated (so to speak) by the British, who were afraid of the disaster that could result if the Germans got hold of France's navy. But the French carried out the plan, after the country surrendered. They sank two battle cruisers, four heavy cruisers, 16 submarines and 30 destroyers, among other things. Three subs got away to Algiers, and just one fell into German hands. [History]
Neutral
In keeping with our new discussion system, here's a place for you to own the floor. We're asking each day what you think about an issue that comes up in TMS.
Today, we want to know what you think of the GM Geniuses. Would you rather have someone explain a car to you, or a car that's easier to understand? And whose responsibility is it to help you, the car company or the dealer? Remember there's no right answer or wrong answer. It's Neutral.
Show us your tips!
Got tips for our editors? Want to anonymously dish some dirt on a competitor? Know something about a secret car? Email us at tips@jalopnik.com.
Lost in our new layout?
Click here for the Opposite Lock or Tips forums. Want a more "blog-like" look? Click the button up top next to "Top Stories."
Get more Jalopnik!
Want even more Jalopnik? Want to know which of your friends read us? "Like" us on Facebook, follow us on Twitter, and subscribe to our newsletter.