Everyone expected Volkswagen's two-pronged invasion of Formula 1 — Porsche by way of Red Bull, and Audi via Sauber — to be cleared and publicly announced by now. Ratification of the 2026 power unit regulations was supposed to be the final hurdle standing in Porsche's way. Those rules were approved on August 16 and yet here we are, a week later, with no noise on that front. We've known even less about what's going on with Audi, though a new report may shed light on where Ingolstadt's grand prix debut stands.

The upcoming Belgian Grand Prix this weekend could set the stage for an announcement, per Motorsport.com. Of course, we've heard such things so many times before, so perhaps it's best not to put all your faith into a joint press release from Audi and Sauber come Friday. But if it does happen, hey — at least you were prepared.
The German luxury automaker is reportedly paying the Swiss motorsport firm more for a smaller stake compared to Michael Andretti's failed bid, so you can imagine why Sauber would be more enthusiastic about its chosen suitor. No disrespect to Andretti, but as influential a figure as he is, he doesn't quite finish right behind Toyota in the power rankings of people and corporations.
Under the supposed agreement, chassis will continue to be built in Switzerland, while Audi will assume engine development in Germany. The two parties will only continue to work together more closely over several years, and there's already suggestion of Sauber being subsumed eventually as an Audi factory operation. Slow down, you two! From Motorsport.com:
There is also the promise to further develop Sauber as a factory team, very similar to how the Sauber-BMW partnership worked between 2006 and 2009.
It's interesting to note that current Audi CEO Markus Duesmann, who has pushed the brand's F1 entry, was head of development at the BMW-Sauber team between 2007 and 2009 and still knows the Hinwil operation from back then.

Motorsport.com understands that the plan includes continuing to build the chassis in Hinwil, where one of F1's most modern wind tunnels is still located.

The powertrain is to be created at Audi's site in Neuburg and thus developed and produced on German soil.

This is unlike VW Group sister company Porsche, which will develop large parts of its engine at Red Bull's Milton Keynes powertrains division.
G/O Media may get a commission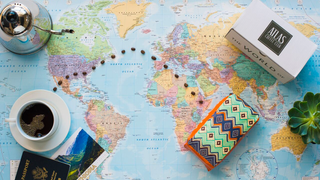 First Bag Free
Atlas Coffee Club - Free Coffee
Explore global coffee
With each bag, Atlas includes details on the coffee's tasting notes and a postcard about the region and its coffee history. And when you subscribe, you have options to tailor frequency, grind size, and roast preference of your beans, so you'll always be brewing the perfect cup.
And yet, just last year there were lingering reports of Audi and/or BMW snapping up McLaren. Audi's offer for McLaren's road car business didn't satisfy the British automaker, but Audi kept pursuing a partnership on the F1 side of things until it couldn't anymore:
Audi had originally negotiated with McLaren about a takeover of team shares, having been initially put in touch with the team and its owners through former McLaren F1 racer Gerhard Berger.

"I established the contact with McLaren," said the DTM boss. "McLaren would have been a candidate as a partner for Audi in Formula 1."

But the talks between McLaren's owners, the Bahrain sovereign wealth fund Mumtalakat, and Audi ultimately came to nothing. In the end, Sauber emerged as the preferred candidate following an evaluation of Aston Martin and Williams.
That deal, too, was in the bag; I was convinced of it. Today we are hearing similar rumblings about Audi and Sauber. It's good to know where the temperature stands on this stuff every few weeks, but let's all agree to believe it when we see it.