The Audi A4 and S4 are refined, competent sports sedans that offer good value compared to their competitors, but both are due for an update any day now. What do you need to know before you buy an A4? Don't worry, we'll tell you everything right here in our Buyer's Guide.
Take a look at an Audi from 20 years ago and you'll realize just how different the brand was back then. The cars were hopped-up Volkswagens and Audi, as a brand, was lost.
But now Audi is a big-shot. Think of it like that nerdy kid in high school who nobody really paid attention to, but who later ended up becoming a multi-millionaire. You can thank the A4 for helping Audi step up to the plate, swinging against the likes of BMW, Cadillac and Mercedes.
And in some ways, it makes contact and sends one over the left-field wall. It offers plenty of standard equipment for a good price, the interior is much more exciting than the BMW's and the A4 also holds its own on the handling course. It's a good value across the board, especially if you want all-wheel drive.
And then there are the looks. If you take a gander at the Audi A4 in a group with the rest of the Audi lineup, the car will look boring, because all Audis look the same. But isolate an Audi A4 from the rest of the herd, and the car actually looks damn good. It's got that decidedly European subtle look devoid of any offensive lines or over-the-top styling features.
G/O Media may get a commission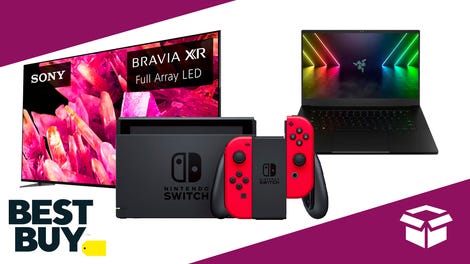 Three Day Sale!
Best Buy - 3-Day Sale
Good looks, good value, solid dynamics: that's a good recipe, and Audi hopes to keep those qualities alive with its all-new 2017 A4. The current model has been sitting on the same platform since it debuted in 2007, so it's a welcome refresh to a car that really hasn't fallen that far into obsolescence.
What's New About The 2016 Audi A4 And S4
The current generation B8 Audi A4 launched in 2007 at the Frankfurt Auto Show, but later made it to the U.S. as a 2009 model. That car offered significantly larger dimensions than the previous model. In addition, it got a turbocharged 2.0-liter turbo I4, a 3.2-liter V6, either a six-speed manual or six-speed automatic, fresh new styling and a slew of new optional safety features.
The second year of production, that 3.2-liter went away for good and an S4 came into the picture with a 3.0-liter supercharged V6. Then, in 2011, an eight-speed automatic took over the reins from the old six-speed auto.
The next few years, 2012 and 2013, didn't bring much to the table. There was some shuffling of standard equipment and the addition of electric power steering in 2013, but otherwise not much.
Audi added a few more horsepower to the 2.0-liter turbo in 2014, but from 2014 to 2016, most of the Audi A4's updates dealt with infotainment, new exterior and interior trim packages or new paint. Otherwise, the 2016 model isn't that much different than the 2009 model.
Early next year, Audi will release their new 264-pound lighter A4 to dealerships. The new model sits on a revised platform shared with its larger A6 and A7 cousins. Despite the new MLB Evo platform, the new A4 looks ridiculously similar to the current model. That's not a bad thing, necessarily, but maybe a bit unexciting.
In addition to the new architecture with larger dimensions, the next-gen A4 gets a revised interior, a more powerful 248 horsepower 2.0-liter turbo I4 (versus today's 220 hp car), more interior room, new safety and infotainment features and a revised seven-speed S Tronic automatic that replaces the B8's eight-speed auto or CVT. There might even be a diesel option available, but with all the Dieselgate stuff going on, who knows.
The 2017 S4 will lose both its manual transmission and its dual-clutch unit, leaving us with a torque-converter 8-speed auto. That doesn't sound fun, but it does get 20 additional horsepower compared to the current S4, so there's that.
Which One We'd Buy
For years now people have been saying the BMW 3-Series may no longer be the unchallenged champion in the luxury sports sedan segment, and that's very much to the credit of Audi. Choosing which is the better value depends a lot upon what you're looking for. If you want a BMW, buy a BMW and don't look back. If you want a refined sports sedan with all-wheel drive and you don't need that blue and white Bavarian flag on your hood, the A4 might the better and more affordable option.
The introduction of the redesigned Audi A3 sedan has made the A4 a better deal, with Audi adding more "luxury" through equipment and technology to better differentiate the two models, while keeping the price competitive with the segment.
The 2016 Audi A4 comes in four trims: Premium or Premium Plus on the A4 model, and Premium Plus or Prestige on the S4 model.

If we wanted an Audi A4 or S4, we'd wait until next year when the 2017 models went up for sale. If we really wanted one now, or we found a sweet deal on the current models, we'd grab an A4 Premium Plus package with a six-speed manual, Quattro all-wheel-drive, and the "Sports Plus" package, which includes sport front seats, sport suspension with Audi drive select, and those gorgeous 19-inch Titanium-finish wheels.
With the $2,500 package, the total comes to $42,175. For that kind of change, you're getting three-zone automatic climate control, heated power leather seats, Xenon self-leveling automatic headlights, 10-speaker audio system, power heated side mirrors, dual exhaust, headlight washers, 6.5-inch infotainment screen, fog lights, LED daytime running lights, rain sensing wipers and of course, all-wheel drive and a 2.0-liter turbo I4.
That's a decent amount of equipment for a reasonable amount of cash. Plus, you'll do 32 MPG on the highway and look damn good doing it.
[Build Your Own Audi A4] [Build Your Own Audi S4]
Important Facts At A Glance:

MSRP: $35,900 - $55,100 Top Speed: 155 MPH [3.0L]
Acceleration: ~4.9s to 60 [3.0L]
MPG: 24 city/ 32 hwy / 27 combined [2.0L, CVT]
Engines: 2.0-liter turbo I4, 3.0-liter supercharged V6
Max Horsepower/Torque: 333 hp/325 lb-ft [3.0L]
Curb Weight: 3,583-3,935 pounds IIHS Rating: Not Yet Rated
Transmissions: CVT auto, 8-speed auto, 6-speed manual, 7-speed DCT auto
Drivetrain Layout: Front engine, AWD
Photo credit: Audi