Today's Nice Price or Crack Pipe CJ7 is branded a Renegade and like many a stereotypical rebel, it wears denim blue. Let's see if this nicely kitted Jeep's price demands some fancier duds.
If your needs include getting yourself and six passengers up to the ski slopes or out in the desert to watch the Lyrid Meteor showers, you could do do far worse than to make yesterday's 2001 Toyota Sequoia your tool of the trade. Capacious and capable, the Sequoia's other notable facet however, is its almost complete inconspicuousness.
The seller of yesterday's truck tried to spice things up with a new thin-bar grille and some garish chrome wheels but neither of those additions seemed to sway opinion in the positive. In the end, it fell in a narrow 52 percent crack pipe loss and the inevitable return to an invisible existence.
You'd be exceptionally visible riding around in this 1976 Jeep CJ7 Renegade Levi's Edition. That's owed to the option you have to drive the blue bomber with both roof and doors removed. I don't recommend doing so au naturel though.
G/O Media may get a commission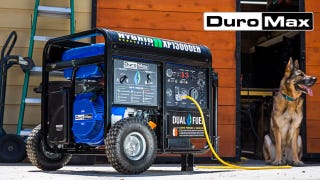 Black Friday Sale
DuroMax Generator Sale
Jeep offered the Levi's Edition CJ from 1975 through '86, during which time it became one of the most popular dress-up options for the little 4-wheeler. Checking the Levi's box got you special upholstery in either blue or tan that featured Levi's branded buttons. A blue dash cap and Levi's patterned convertible top added to the casual pants experience, with everything denoted by a special badge on the fender.
This CJ7 has been reupholstered in what the seller says is "Levi Blue" and in the front that has been wrapped around a set of high-backed buckets. The original half-height seats are included in the deal but there's no indication of their condition. Half doors off a YJ offer some privacy and there does seem to be a soft top in back for when you need a bit more. The Brilliant Blue paint under that is claimed to be original and does seem to present very well for its age.
Old Jeeps tend to rust out however, although this one appears, at least in its ad, to be a solid citizen. The interior—which on Jeeps like this barely qualifies as 'interior'—is in decent shape and is Rhino lined on the first floor. A center console housing a stereo is a nice addition here, as perhaps is the added-on Jeep Air A/C.
Sprouting from the Rhino'd floor between the console and the A/C's vents is one of the tallest shift levers you're ever likely to see. That's connected to a top loader Tremec T150 3-speed manual. On the back side of that is a two-speed transfer case with manual actuation, while on the other side sits an AMC 304 V8. With the 2BBL carb as noted by the air cleaner decal, that engine was good from the factory for 150 horsepower and 245 lb.-ft. of torque.
This one may be down on that right now. The seller says it starts every time and can drag the Jeep to over 60MPH, but also says it needs some tinkering to do better.
A good bit of work has already been done on the Jeep, represented by a new alternator, gas tank and steering kibbles and bits. The brake master also looks like a recent addition. All that sits on a modest 2.5-inch lift.
There's almost 100,000 miles on the clock and a glance under the hood indicates that an additional un-loomed wire may have been added to the engine bay every 10K of that. It's a bit messy in there and could stand a little sorting.
Before you could delve into that you'd have to dig into your wallet to the tune of $9,500. That's a good bit of bank for any mass produced car or truck from the '70s, but as you all very likely know, the market for Jeeps is particularly robust these days and so we can't immediately dismiss that.
What we can do is vote, and I'm now asking you to take the time to do so. What do you think, is this Levi's wearing CJ7 worth that $9,500 asking? Or, for that much, would demand designer jeans?
You decide!

Austin, TX Craigslist, or go here if the ad disappears.
H/T to FauxShizzle for the hookup!
Help me out with NPOCP. Hit me up at rob@jalopnik.com and send me a fixed-price tip. Remember to include your Kinja handle.