Are you an extremely wealthy Chinese oligarch and/or party official? Is a Ferrari FF too loud and garish for your liking? Do you long for the good old days when Mao was in charge and people knew their place? Have we got a car for you!
This is the Hongqi (Red Flag) L5, the latest luxury limousine from China's oldest automaker, FAW Group Corp. It was recently unveiled at the Beijing Motor Show, where the company announced a wealthy businessman in Nanjing ordered one for 5 million yuan, or about $803,300. That would make it the most expensive vehicle made in China, according to Bloomberg.
You may recall Hongqi as the manufacturer of glorious retro-Communist limousines like the L9, which debuted at last year's Shanghai show. The L5 is the newest car in that series, and this version is aimed at rich, patriotic civilians who want something more homegrown than a Rolls or a Bentley.
It's powered by a 6.0-liter V12 with 408 horsepower, is 20 feet long, weighs nearly 7,000 pounds, is loaded down leather and wood and tablets, and has those old-school good looks its owners crave.
G/O Media may get a commission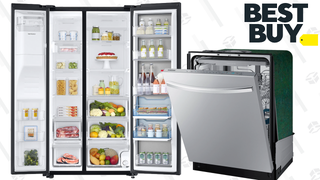 Up to 50% off
Best Buy - Samsung Major Appliance Sale
Here's a shot of the inside, care of our pals at Car News China. Looks pretty nice to me.
There are no plans to export the L5 outside of China at the moment, which is deeply depressing. I wanted to order three of them.
Photos credit Getty Images, FAW