Today's Nice Price or Crack Pipe Beetle has been made longer, lower, and wider, and if you look hard enough, you'll see elements of Porsche 959 in its design. Will that, and its price, have you choosing the Bug Life?
Man, you guys really hate automatic transmissions. We've had two slushers in a row, and both were castigated for what is honestly nothing more than a labor saving feature, one intended to improve your lot in life.
In the case of yesterday's crazy rare 1990 Holden Commodore Maloo, that was just one issue. Another was its price, which at $19,900 proved too high for fully 83-percent of you, sending it back down-under in a Crack Pipe loss.
Do you have any idea how many Beetles Volkswagen built? Now, I'm not talking about those modern FWD, Golf-based cars. Feh! No, I mean the rear-engined, related to Hitler, real-deal originals. It's something like 22-million! That's a lot of Bugs, making them at one time so ubiquitous and cheap that people took to all manners of fancying them.
It could have been something as simple as painting a giant flower on the door, and then never bathing, both attributes of '60s-era hippies. Some more ambitious types went as far as to unbolt the hunched-over body and replace it with something pointy and exotic-looking.
G/O Media may get a commission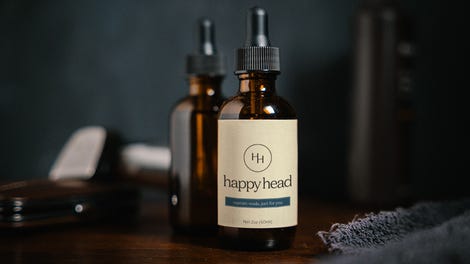 Today, those old Beetles are remarkably rare, and the oldest editions can bring considerable bank. That hasn't stopped some people from keeping the Beetle personalization brigade alive. One such person built this custom 1969 Volkswagen Beetle, and whoa nellie, it's got it goin' on like it's Stacy's mom.
There's nothing offered in the ad to explain how this Bug got the way it is. It's just presented on Craigslist like a cat presents a dead bird at your feet with no explanation or context.
I kind of like that sense of mystery and intrigue. I mean, you could make up your own history of the car and no one would be able to challenge you. Maybe it's an amazing spy tool designed by Q for James Bond and now decommissioned. Or, perhaps it's a rare secret prototype of a VW/Porsche crossover that predated the 914 and 924. You see, the world is your oyster with this beauty.
And what a beauty it is. The ad describes the car as having Porsche front and rear bumpers, and while I'm not immediately identifying which Porsche they may be attempting to emulate, I'm guessing if I squint hard enough I'll figure it out. Maybe a Porsche Junior tractor?
Other mods to the Beetle body include headlamp visors, a chopped and targa-equipped roof, and a huge vision-obscuring whale tail out back. Scoops on the sides ensure proper rear tire temperature control while another aero aid just above the massive rear bumper directs rainwater into the engine compartment for wet weather cooling.
Under the lid sits what looks to be a 1500-cc single port pancake, a mill that was good from the factory for about 44 horsepower. It looks to be pretty tidy and I do like the electrical connections on the firewall with their hand printed POS and NEG. What I don't like is the taped-off heater heater pipe on the fan shroud.
The interior has been stripped down to just two seats and carries a custom dash. A carpeted platform replaces the back seat and offers placement for some stereo speakers. Instrumentation is limited to the original Beetle combo speedo/fuel gauge, however an add-on underdash dial is ready to provide more info and slice knees. A Grant four-spoke wheel classes up the joint.
The ad says the 'Brakes and suspension are in very good condition.' Honestly each is made up of like four parts on these cars so it's reasonable that little has gone wrong with either. There is a top, however no word is given on where that lives when removed. Behind the seats would be my guess. The title is clean and the odo shows 64K and change for mileage. Steel wheels underpin, and one of those is missing its phony knockoff center cap. Out back, later tail lamps balance out the baboon butt in size.
Now, I know that many of you are sitting there quivering with anticipation to hit the reply button in the ad and just drop a wad on this beautiful beast. However, before you create a stampede and a bidding war, we need to talk about the price. After all, we're all about the fiscal responsibility here.
The asking is $8,900 and yes, that is a good bit more than you might pay for a bone stock Beetle of this era. But then, who wants bone stock? No, we want something that's more bone than stock, and this custom is all bone, if you get my drift. What you need to decide is whether or not its price would mean a good deal, or would mean getting boned.
You decide!

Central New Jersey Craigslist, or go here if the ad disappears.
H/T to Jeremy Malvin for the hookup!
Help me out with NPOCP. Hit me up at rob@jalopnik.com and send a me a fixed-price tip. Remember to include your Kinja handle.