Remember when Top Gear attempted to kill a Toyota pickup and they couldn't? Today's Nice Price or Crack Pipe 4X4 gives you the chance to try. Let's see if it's priced well enough to stave off those attempts.
Some say that killing a Range Rover is a fairly easy task. It's rumored that all it takes to off one of Britain's best is to drive it around a bit while skipping one or more oil changes or perhaps just ignoring that flashing engine symbol on the dash.
Okay, so the marque isn't that fragile. As evidence of that reality, the 1997 Range Rover Vitesse HSE we looked at yesterday had done over 200K while still looking brand new. That's pretty amazing. Less remarkable it seems was the car's $7,500 asking price. That seemed too dear for most, and a few of you pointed out the coil-spring retrofit as being a bad take, suggesting a reduction in the price was warranted to revert that change and make it right. In the end, you voted it a 65 percent Crack Pipe loss, and then we all went on with our lives.
Or did we? Here's the thing—that Range Rover may have had the rep (deserved or not) for being genetically predisposed for unreliability, but it still looked pretty cool. And even though its air suspension had been swapped for steel coils, it would still be a formidable off-roader should it be called to the task.
G/O Media may get a commission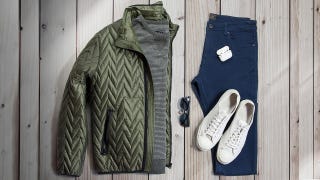 60% off
Jachs NY Fall Sale 60% Off
What if we looked at something that was equally at home off the beaten path, came in at the same asking as that tidy P38, but was nowhere near as luxurious or clean? What if further, it was—like the COVID-19 bug—seemingly unstoppable?
Here we have a 1980 Toyota 4X4 Pick Up truck and man, does it ever play country mouse to the Range Rover's city mouse.
Toyota trucks built in the '70s and '80s have been revered over the years for their simplicity, durability, and longevity. Today's Tacoma trucks are vastly more civilized and hence have tons more to go wrong with them, but these old school bruisers spackle over whatever civilities they lack with never-die gumption and unfailing durability.
That's plainly evident with this 174,000-mile truck, as at first blush it looks a bit beat to hell. It's not so much so that you might think it ready for the scrap heap, however. With its leaf-sprung 4-wheel-drive chassis and beefy 31-inch knobbies it might in fact just climb that scrap heap.
The truck is painted a medium blue with black rattle can accents where perhaps some road rot once attempted an outpost. The body is lumpy beneath that, but those minor issues reflect off-road adventures rather than seeming carelessness.
The front bumper has been replaced with a substantial bull bar, while out back there's a tubular unit that meets the same aesthetic but probably hampers the departure angle a bit. A 4-point roll-over bar brackets a tool bin in the bed and is topped with a pair of auxiliary driving lights for late night action.
The interior has been spruced up a bit too. It features new carpet and seat upholstery, as well as some add-on gauges and a Walmart-looking stereo. This being a standard cab there's not much room for you and your stuff so make sure to plan accordingly.
The truck is powered by Toyota's legendary 22R SOHC four. That 2.4-litre, 97-horsepower engine was introduced in the Pickup in 1981 so perhaps this is a very late '80 or, as it's noted that the engine was rebuilt 4K ago, it received a nice upgrade.
Behind the 22R are a five-speed manual and RF1A transfer case feeding the live axles front and rear. The truck has been raised on those big-ass-tires and the front shock mounts have been extended accordingly so there's plenty of angle in the dangle when the going gets all rocky raccoon.
Other plusses here include a new radiator, alternator, and Weber down-draught carb. The range has been extended with the addition of a 5-gallon spare tank and there's a tow hitch so you can pull lesser vehicles out of trouble when the need arises. Lastly, the title is clean and it appears to carry current tags.
So, we have a truck that, conceptually is a very different path to the same solution as yesterday's Range Rover. Remarkably, it asks the exact same $7,500 price. Yesterday's P38 didn't pass muster at that asking. Do you think this Toyota will?
You decide!

San Francisco Bay Area, CA Craigslist, or go here if the ad disappears.
H/T to Jim Beatty for the hookup!
Help me out with NPOCP. Hit me up at rob@jalopnik.com and send me a fixed-price tip. Remember to include your Kinja handle.