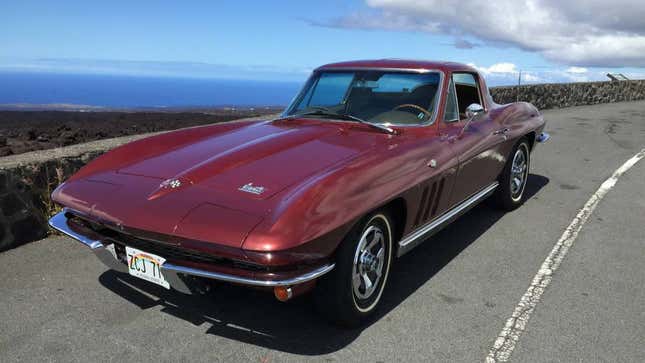 You'll have to travel to the big island of Hawaii to enjoy today's Nice Price or Crack Pipe C2 'Vette in person. Yeah I know, boo-freaking hoo about that. Could its price however, be cause for some real tears?
As I noted in my commentary on yesterday's 1988 Suzuki Samurai "show car" the thing I really love about the little off-roader is its wonderful sisal-style floor coverings. When it came to the car's restoration, those were an excellent choice. When it came to sell the little Suzuki however, it seems its $13,500 asking wasn't so choice. That ended up in a massive 89 percent Crack Pipe loss which shows that either we, or the seller is without a firm grasp of the current Samurai market.
Speaking of markets, imagine shopping at a Trader Joe's in Hawaii. How the hell would you be able to differentiate the employees from the customers there? The Aloha shirt has long been the stock and trade at TJ's everywhere. It's a little bit of corporate kitsch that helps imbue the specialty grocer's stores with a sense of the exotic. After all, who wouldn't want to imagine they're on a South Seas paradise?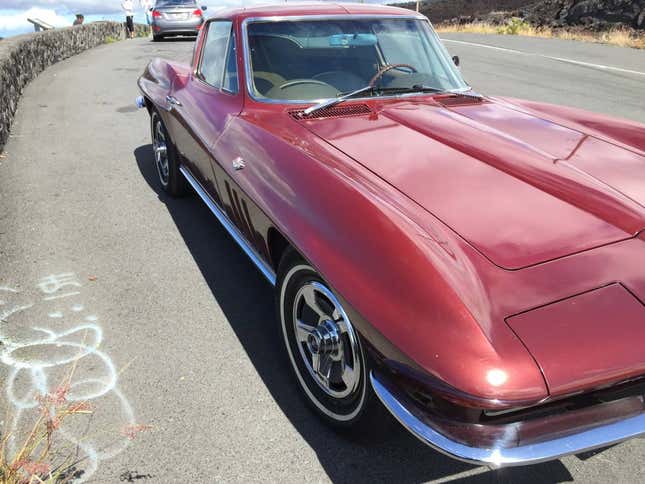 You wouldn't have to imagine it if you were to buy today's 1966 Chevy Corvette Sting Ray. That's because the car is presently located on the Big Island at the south end of Hawaiian archipelago.
G/O Media may get a commission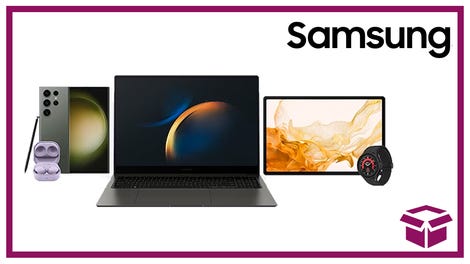 24 hour deals
Discover Samsung - Daily Deal
Sure, I guess you could buy the car just from the pics in the ad and arrange to have it shipped to you like some dumb eBay socks, but where's the fun in that? Even if you're not jonesing to own a classic bubble back 'Vette, wouldn't you at least like a trip to Hawaii just to take a test drive?
Either scenario might prove problematic though, as the seller states emphatically in the ad that he will not acknowledge any out of state callers. That seems pretty limiting to his buyer base, but what are you going to do?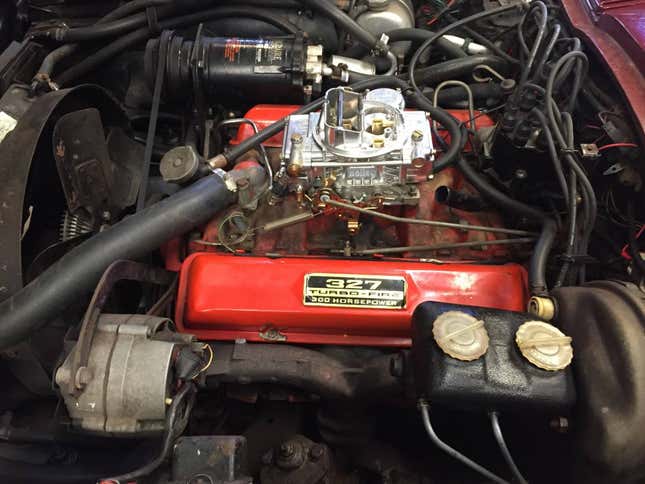 That sucks for the rest of us too. The car itself is described as original and unrestored and looks to be in pretty nice shape. It comes with a 327 CID V8 which has been topped with a new Holley 4BBL double pumper. The rest of the engine bay looks as it's described in the ad—original and unrestored. The L75 327 was the smallest and least powerful—300 horses—engine offered in the '66, and here is backed up by a two-speed Powerglide automatic. Yes, two-speed, get over it. The set up is said to run and drive and even the ancient A/C seems to to be working. Maybe they made things better back then?
Paint appears to be the factory Milano Maroon and the fiberglass under that seems, at least in the photos, to be in perfectly serviceable shape. All the trim looks to be intact and all the chrome bits shine appropriately. Factory wheel covers with three-ear faux spinners mask steel wheels.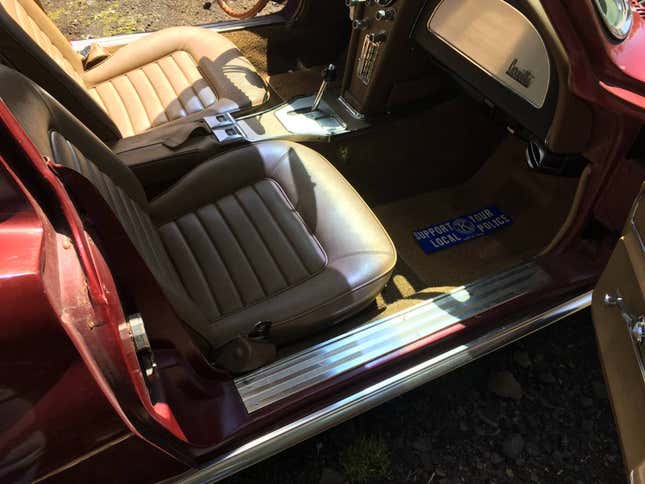 Inside things are just as nice. The dual cowl dash is all original with gauges and pull switches seemingly everywhere. Manual windows—and vent wings—provide ventilation when that working A/C is not called for. Behind the twin cranks for those sits the chrome knob for the door latch which is a cool bit of C2 schtick.
The beige upholstery appears to be in great shape as does the carpet and the nice and skinny wood-rimmed wheel. The odometer behind that wheel reads 30814 but as there are only five barrels reporting the news, that could have rolled over once already. Other factors here are a clean title and lots of paperwork including the original owner welcome letter from GM.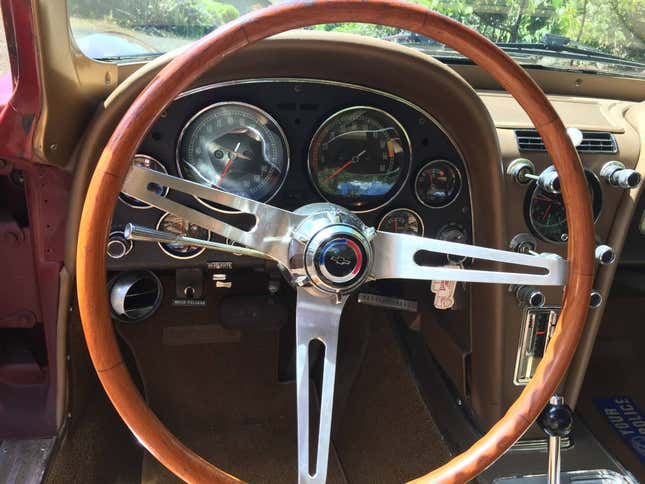 The 1966 Corvette saw few changes from its '65 predecessor, the most notable of which was the introduction of the 427 V8. This was supposed to be the C2 model's swan song as the new Mako Shark emulating C3 'Vette was due for the '67 model year. For various reasons the C3 was held back until '68 and the C2 soldiered on for another year with a few more modest updates.
This one has a lot going for it. It's appreciably clean, hasn't been mucked with, and is a later car so it offers many of the appended C2 upgrades. On the down side, it has what could easily be considered the least desirable drivetrain combination. It's also on an island in the middle of the vast Pacific Ocean making it little more than a pipe dream for many.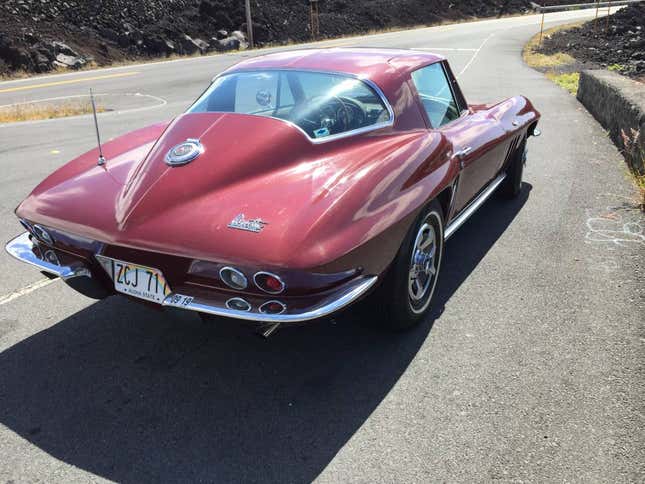 For the few however, the asking price is $49,000 and it's now time for us all to decide if paying that, and a trip to an active volcano with limited escape routes is the right move to take over ownership of this Corvette.
What do you think, is $49,000 a fair price in today's wild classic 'Vette market? Or, does that price have you saying mahalo but no mahalo?
You decide!

Honolulu, HI Craigslist, or go here if the ad disappears.
H/T to Tom Myers for the hookup!
Help me out with NPOCP. Hit me up at rob@jalopnik.com and send me a fixed-price tip. Remember to include your Kinja handle.