The GTA in today's Nice Price or Crack Pipe Trans Am GTA stands for Grand Touring Americano, not the more common usage that's also the title of a popular video game. Let's see if this 'Bird's price makes it that other kind.
Last Friday we learned two things. The first was that a lot of you like that dish style pizza—the that's so deep its sauce could be called Mariana. The second, and perhaps more important revelation, was that the 2006 BMW Z4 M Roadster we proffered as a candidate was priced right. Its $12,500 asking took home a solid 57-percent Nice Price win, and that was despite its height and some seriously wild wheels.
Wheels are an import part of a car since they offer both a prominent contribution to the overall aesthetic, and handily provide a way to keep all those expensive tires from just rolling haphazardly down the street.
The wheels on this 1987 Pontiac Firebird Trans Am GTA are gold basketweaves, which on these models were the go-to for the factory. The non-GTA Trans Ams got slotted silver alloys as standard fitment. That was just one of the differences between the standard Trans Am and the GTA. The option package also offered a slate of luxury accoutrements dropped on top of the base TA's go-faster bits.
G/O Media may get a commission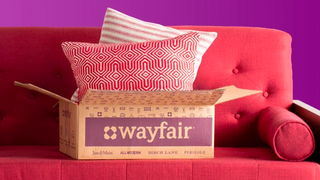 Big deals
Wayfair Surplus Sale
One thing not carried by any of the hot Firebirds this model year was a screaming chicken decal on the hood. That lurid pastiche may be missed on this Flame Red over grey leather car, but it does sport the highly desirable—by people who desire them—T-tops. Those look to be in good shape and the seller even includes a rainy day shot to seemingly show that they don't leak.
The rest of the bodywork looks to be in fine fettle with no peppering of the nose, nor any apparent damage or rot anywhere else.
Pop open one of the extraordinarily long doors and you'll find an interior that's equally up to the task. The only issues in here are a broken seatbelt snood, a carpet dash cap that may be hiding some wavy gravy on the crash pad, and an aftermarket stereo. Perhaps making up for those transgressions, it does have manual wheel mileage reminders in the overhead console and a pouch in place of a glovebox. Both of those are nice bits of '80s throw-back kitsch.
Power for this F-body is provided by the 305-CID tuned port injected (TPI) V8. That 5-litre mill was factory rated at 205 horsepower and 285 lb ft of torque. Now, that's less than the 210/315 offered by the available 5.7, but the 305 when equipped with a stick was actually quicker than the auto-only 350. Unfortunately, this car sports the four-speed automatic. Oh well, you can't win 'em all.
There's 180,000 miles on this GTA and it comes with a clean title. It's a dealer-offered car so it's unlikely to have sawdust in the slushbox or have actually been made from two different cars. Any used car is a mystery wrapped in an enigma and served on a plate of uncertainty, but at least with a dealership you can retaliate with a sternly worded Yelp review if you get royally screwed over.
Hopefully the buyer of this 'Bird won't get screwed over and it's now time for you to vote on its $4,950 price in determining that potential.
What do you think, is this seemingly clean but aged GTA worth that kind of cash? Or, is this Trans Am just not worthy of transferring that much bank?
You decide!
Blacksburg, VA Craigslist, or go here if the ad disappears.
H/T to Fauxshizzle for the hookup!
Help me out with NPOCP. Click here to send a me a fixed-price tip, and remember to include your Kinja handle.