You never forget your first time driving a classic Citroën, and if you never have then today's Nice Price or Crack Pipe CX might just be a great opportunity to do so. That is, if its price doesn't make you say, aww, forget it!
Last Friday's 2007 Jeep Commander was representative of the historic marque's last heroic attempt at a three-row SUV. That attempt wasn't all that successful, and not even some side-wood could generate much enthusiasm even now. At $9,995, its middle of the market price proved equally unpalatable, and it fell in a decisive 73-percent Crack Pipe loss. If only it had sported a single spoke steering wheel perhaps things might have been different.
Have you ever driven a REAL Citroën? I don't mean one of those watered down post Peugeot-purchase cars, I mean the all-in, wackadoodle hydropneumatic tour de force cars of the fifties, sixties, seventies, and early eighties.
Radically innovative, Citroën's executive class cars of those eras were like nothing else on the planet. Well, save perhaps for the awesome rides of the Lowrider community.
G/O Media may get a commission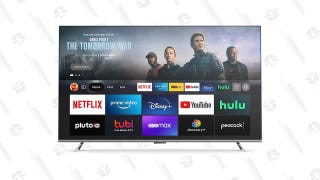 Save 46%
Fire TV 55" Omni Series 4K UHD Smart TV
Here we have a 1982 Citroën CX Pallas IE, and it's crazy for cocoa puffs with unique styling and amazing hydraulic systems. Well, it's one system actually, as a single high-pressure pump provides the motivational speaking for the self-leveling suspension, speed-sensing, self-centering (DIRAVI) steering, and the braking, which on the earlier DS models was effected via a magic mushroom on the floorboard.
Those brakes are so unique in their activation that the general rule provided to neophyte drivers is to hold you foot just above the 'sroom pedal and think "stop." The CX has a proper pendulum pedal but the brakes do still require accommodation.
The hydropneumatic suspension offers a ride quality that's otherworldly smooth but which may require Dramamine over undulating roads should you suffer from motion sickness. I'm totally being serious about that.
There's nothing sick bout this CX, and I had to have a laugh upon seeing the ad since I walked by this very car at last week's Best of France and Italy car show here in L.A.. I even noticed the For Sale sign inside. Not only that, but one of the pictures the seller offers in his Flickr portfolio shows the windscreen corner covered in ash from our recent fires, so it's a homeboy.
The car is a Pallas edition which was the top of the line back in the day. That means leather upholstery inside, plus power windows and unique badging. The dead cow in here looks a little worse for wear, but is at least intact. Door cards show a good bit of the car's years, but the dash is at least free from cracks. It's also free of a radio, but who cares when you've got an amazing single spoke steering wheel—that magically self-centers when the car's running—as well as the totally hip barrel gauge "half-moon" instrument pod to ogle.
The exterior shows a good number of war wounds, including a sizable scratch that's bleeding rust on the left-rear quarter panel. There's more rust bubbling up on the door edges and in the A-pillar base where the door switch hits it. None of it seems to be too terrible, or to have actually broken through any of the panels, it's just all presents as a little rough around the edges. I can attest that the car looks okay in person.
Mechanically, things are likewise a mixed bag. The ad says that the car is daily-driver capable, and has benefited from a number of recent replacement parts, including rebuilt injectors, some suspension bushings and bits, as well as a recharge of the suspension spheres.
In the negative column sits the need for a new motor mount, non-working A/C, some electrical work for that funky instrument cluster (!), and the need for a new headliner.
Powering the car is a 136-horsepower 2,499-cc inline four with Bosch fuel injection. That's paired with a three-speed automatic transaxle. That should provide for adequate performance for the 3,050-pound car. The ad claims 11,000 miles on the clock, however those are most likely kilometers and I'd guess it's made one trip around the horn..
The seller also claims the car to be currently titled in California and to be smog exempt in that state.
Now, loathe be it for me to call into question the veracity of one of my fellow Southern California car enthusiasts, but I can't see how that is possible. This car does seem to feature sidemarker lights which indicates that it may have undergone some sort of federalization at some point in its life. It also sports a California license plate dead center on its bootlid.
The thing of it is, while the car falls well outside the Federal 25-year rule, there's no such exemption in California for emissions. We don't have any regular safety inspections here, but all gas-powered cars built after 1975 have to pass a bi-annual emissions inspection. How this gas-powered grey market import has seemingly bypassed that regulation has me intrigued. Let's just hold the seller to their word and expect that you could daily drive this Cit no matter where you like to call home.
If you wanted to bring home this worn but still seemingly worthy CX you'll need to come up with $4,800, as that's the asking, and you'll now need to decide if that's a deal for the car as it's presented.
What's your take, is this classic Citroën worth that $4,800 asking? Or, does that price engender French inaction?
You decide!
Los Angeles (Burbank) Craigslist, or go here if the ad disappears.
H/T to Mark Helmuth for the hookup!
Help me out with NPOCP. Click here to send a me a fixed-price tip, and remember to include your Kinja handle.