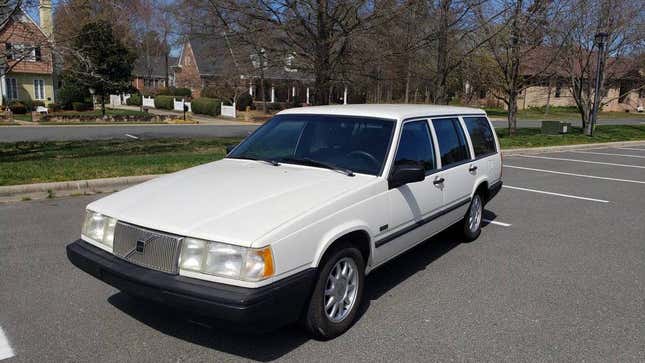 With a turbocharged red block, a long roof, and a trip to the moon under its belt, today's Nice Price or Crack Pipe 940 turbo certainly has some interesting aspects. Let's see if its price can keep you interested.
Cristo Fernandez Is Playing His First Car In The New 'Transformers: Rise Of The Beasts'
Are you one of those people who goes to the trouble of wrapping gifts? Alternatively, do you prefer the route of burying the token of your esteem in pastel tissue paper that's been shoved into a ribbon-handled bag?
Yesterday we looked at a 1999 Porsche 911 Cabriolet that someone had gone to the trouble to wrap in a bright blue vinyl top coat. Few of you may have liked that wrapping, but based on the description and the $16,999 price tag, a lot of you still liked the car. In fact, 65 percent of you thought it would make a fine present, gifting the Porsche with a Nice Price win.
Let's go hypothetical here. What car do you think might best compliment an older Porsche as the second half of your dynamic driveway duo? I'm going to aver, owing to its contrasting utility and similar venerated origin that a Volvo wagon would be an extraordinarily fitting counterpoint.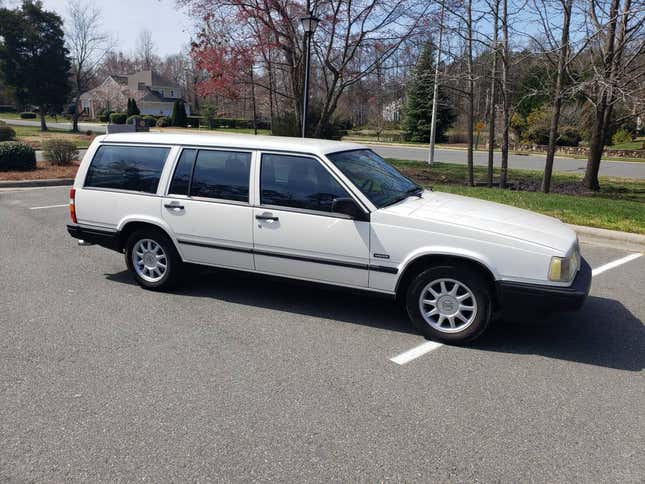 Here we have a 1992 Volvo 940 Turbo Estate, and while it may not offer the same level of kick in the ass as yesterday's 911, I can assure you that these cars have their own unique allure. I know that because I used to have a '99 V90—a later version of this very ride, and it was wonderful.
This 940 comes with Volvo's 2.3 litre SOHC four, to which, appreciably, has been applied a turbocharger. That makes the mill good for a modest but reasonable 162 horsepower which is enough to cart around the car's 4,365 pounds suitably if without much drama. Yes, there's a bit of turbo lag here, but that's more than made up for by the whiiiiiiiisssshhh of that turbo which is discernible from the cabin.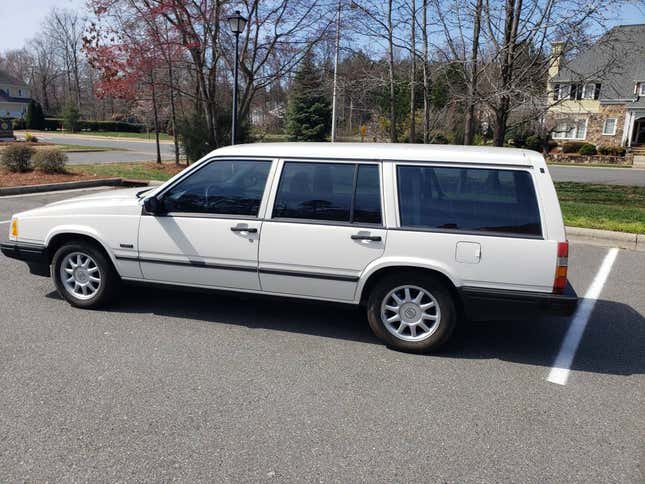 Backing up the pressure cooker four is a Aisin/Warner-sourced four-speed and power gets sent from there to a coil-sprung live axle in back. Yes, a stick would be the preferred intermediary here but you play the card's you're dealt, okay?
The ad notes that the car has been "well maintained" by a shop called V-12 Motorsports, a place that I like just because of the name. Apparently their most recent work was the replacement of the new timing belt. That's likely this car's fourth or fifth one since the car rocks an amazing 279,000 miles on the odo. Of course, this being a RWD Volvo, that could mean it's just getting started.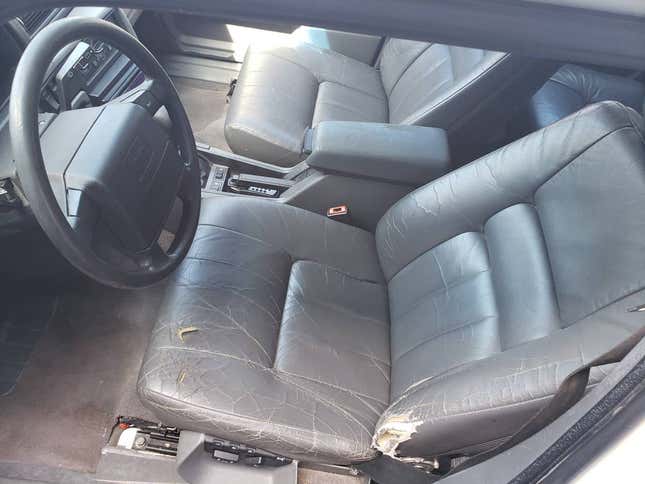 The body doesn't seem to evidence those miles. The white paint shows no telltale signs of road rot nor notable dents on any surface. The factory alloys are equally clean and unmarred and each still carries its plastic center cap. This being the lower echelon 940 series, the bumpers are black on both ends, a benefit if you park near the Braille store.
The interior seems to have borne the brunt of the miles with the driver's seat seemingly being the part that took one for the team. The grey leather covering that throne is crazed like an elephant's ass and there are places where it's gone AWOL entirely. It all still looks serviceable, but does detract from the rest of the space which still looks to be in pretty good nick.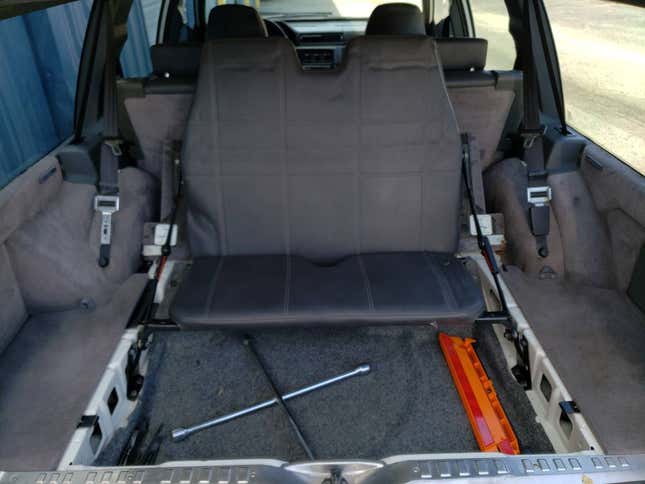 These are quite spacious cars and this one even has the desirable third row that folds into the floor just above the spare. When hidden, the carpet on its cover looks reasonably free from stains or fading. The seller seems to have prepped the car for its classified ad photoshoot too, as there are vacuum patterns on the carpets, and a decided lack of crap inside. Good on ya', mate!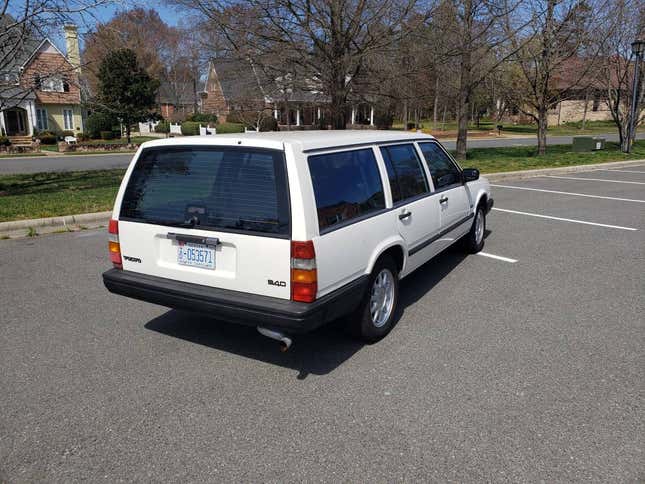 This Volvo is claimed to have history free of accidents, and comes with a clear title. Yeah, it does have more miles than we'd normally consider but then again this is a car that has the rep for setting them up and then laying them down. At a $3,500 asking, it's now time for you to decide if it should be doing so for a new owner.
What do you think, is this three-row turbo hauler worth that kind of scratch? Or, is this 940 station wagon priced well above its present station in life?
You decide!

Charlotte, NC Craigslist, or go here if the ad disappears.
H/T to 323GTXtra for the hookup!
Help me out with NPOCP. Hit me up at rob@jalopnik.com and send me a fixed-price tip. Remember to include your Kinja handle.