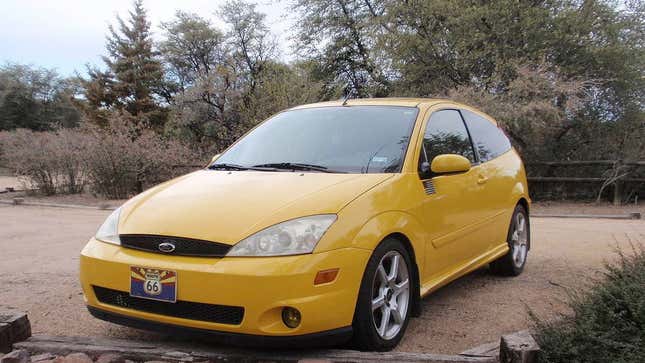 The ad for today's Nice Price or Crack Pipe Focus SVT does an excellent job of pointing out the car's ups as well as its downs. Let's decide if a seller who's an honest Abe deserves all his requested Benjamins.
2024 Nissan Z NISMO | Jalopnik Reviews
With a new mid-engine Corvette nascent I think it a prime opportunity to reflect on some of the lesser mid-motored cars that have come before. It shouldn't take too long as there aren't all that many. There's the Porsche 914 and Boxster, Pontiac Fiero, Toyota MR2, Acura NSX and the Fiat X1/9. That's been pretty much it here in the States. Of those, only the 914 and NSX seem to have seen a significant appreciation in their values over time. With time and attrition affecting their numbers I'm thinking that those others might just follow.
Well, perhaps not today.
That is at least if yesterday's 1974 Fiat X1/9's results are to be taken at face value. That little marvel of packaging and handling performance was presented by its seller as being the "best year" and in a "desirable color." Neither of those was able to sway the vote in the $7,499 car's favor and it fell in a 58 percent Crack Pipe loss. Oh well, someday its time will come.
You know another cool older car that doesn't exactly get the level of respect and esteem it perhaps deserves? That's right, the Ford Focus SVT.
Point of fact, I'll bet many of you are wondering just what the hell is so special about this 2003 Focus SVT, and tangentially, why should it rock so damn many stickers?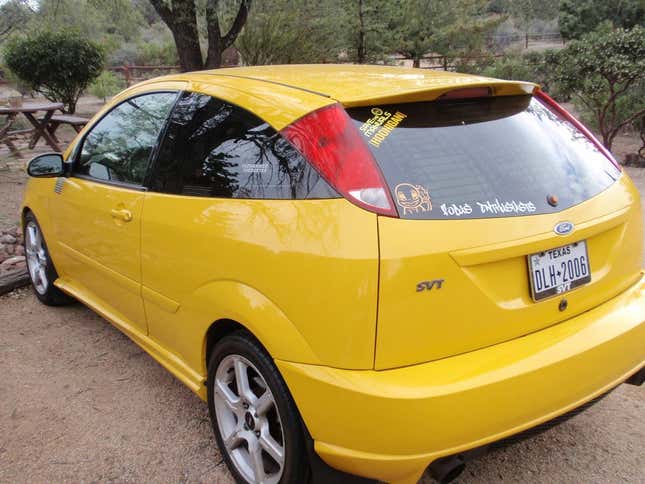 To preface the answer, let's delve back a bit into Ford's performance car history. The Blue Oval has long been keen on flexing its muscles in the performance car market. In the 1950s the Thunderbird was their weapon of choice on the drag strip while the Fairlane dueled it out on the ovals. The '60s saw significant partnerships with the likes of Carrol Shelby and Cosworth Engineering and even more wins on the track.
Even the '70s, a decade in which automotive performance saw an ebb in the U.S., Ford was active with the De Tomaso Pantera. That mid-level sports car featured Ford power and was sold and serviced through Lincoln Mercury dealers.
When performance came back in force in the '80s, Ford established a new department to dole it out. The Special Vehicles Operation gave us the SVO Mustang, which was the marque's pony car interpretation of the BMW M3. It was pretty good too.
That group's operation was supplanted by a team in the '90s giving us the Special Vehicle Team and vehicles like the SVT Lightning and this Focus SVT.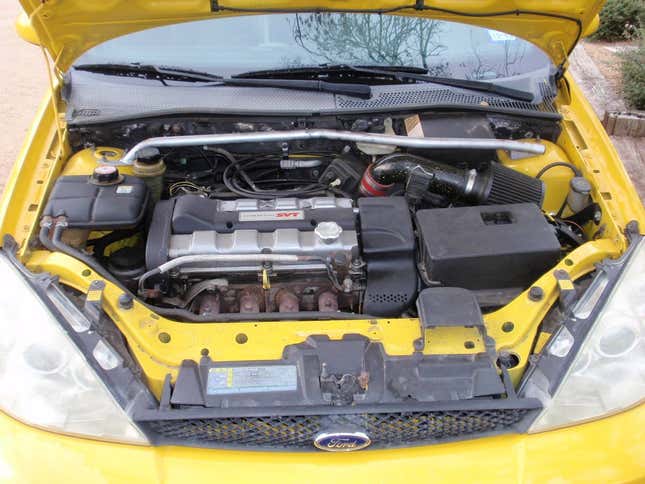 The SVT took the Focus's already well respected, European-developed platform and added an angry hive of bees under the hood in the form of a 167 horsepower DOHC 2-litre four. The Zetec-R is imbued with a higher compression ratio than its lesser siblings, along with remapped cams and a two-stage intake to flatten that power band. In place of the regular Focus' five speed or available automatic, the SVT team anointed the fast Focus with a close ratio Getrag six-speed. Bigger front discs and discs in place of drums in back help the SVT stop as well as it went.
This 2003 SVT comes in Screaming Yellow which is apparently one of the rarest color choices there is. The seller notes the car has a clear title and 173,000 miles on the clock so there's some good and some bad to be had. The bodywork looks to be unmarred by damage or age, but the car does sport numerous stickers that make it look like a tatted barista.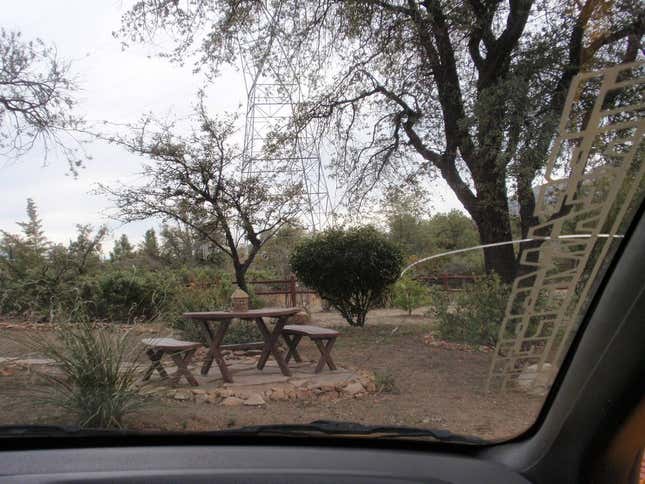 Those would be easy to remove and save for the flags on the door skins are all on the glass and hence shouldn't have damaged anything beneath. SVT alloy wheels underpin and all look to be in reasonably good shape. The ad notes some clear coat peel on the front bumper which is pretty common on Fords of this age. There's also a crack in the windscreen which should be an easy and not too expensive fix.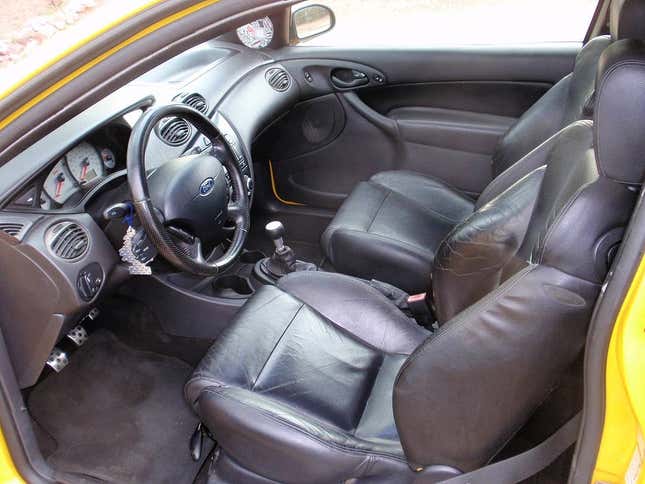 The interior is a leather affair and looks pretty cozy with the big Recaro chairs up front. The back bench looks like it's seen little use, however the hatch area has staining in the carpet like something nasty was spilled back there. Fortunately that's standard Focus fare and could be easily replaced.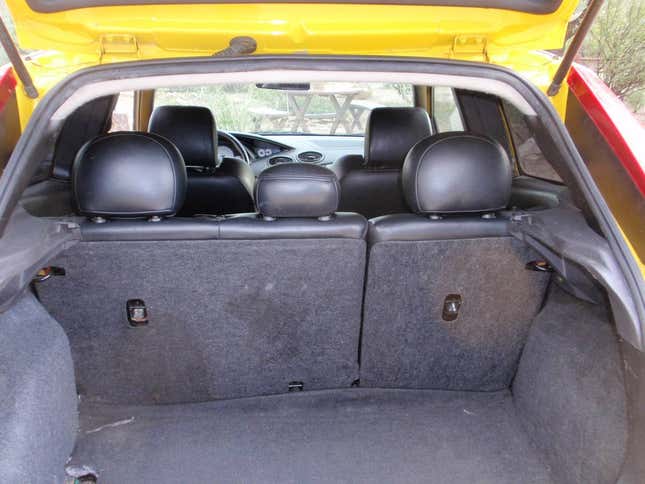 Mechanical updates include a new clutch, intake re-gasketing, brake calipers and a timing belt refresh. Those are all pretty significant and bode well for future enjoyment. The question is, could that enjoyment be worth $3,000?
That's the asking price and while it's not a ton of money it is an amount where there are lots of options. That brings us back to the notion that the SVT Focus is a car that doesn't get much traction in the market. There just aren't that many people out there thinking "gotta' get me some of that sweet SVT stuff."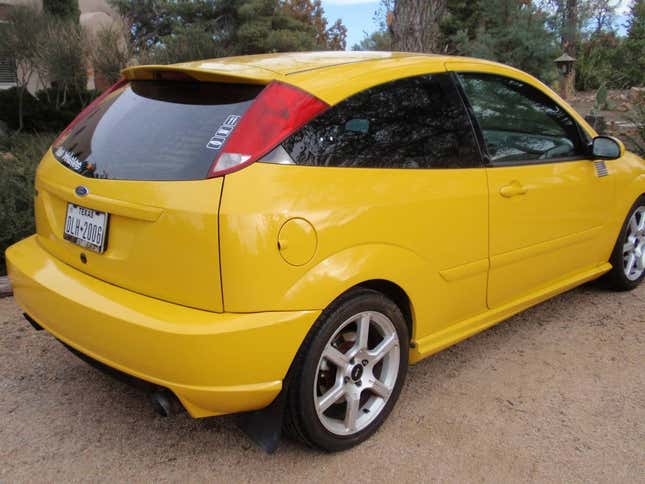 That's perhaps too bad and hence raises the question of whether or not the seller of this one should reasonably expect to get his asking. The car is presented honestly, and is, again, an honestly pretty cool little ride for the right buyer.
What do you think, could this SVT command that $3,300 asking? Or, is this a Focus that has a future that's a blur?

You decide!
Prescott, AZ Craigslist, or go here if the ad disappears.
Help me out with NPOCP. Hit me up at rob@jalopnik.com and send me a fixed-price tip. Remember to include your Kinja handle.