The claim made for today's Nice Price or Crack Pipe ZO6 is that it puts out over five hundred ponies at the wheels. That's by way of a Lingenfelter supercharger and a lot of other work, but is it enough to lift twenty-five grand from your wallet?
'Begrudgingly given' is how I would describe the 66-percent Nice Price win offered to yesterday's 1992 Infiniti M30 convertible. Other terms that might apply to the car might include 'dull,' 'unwanted,' or 'and you are whom, now?' It's effectively the Ann Veal of Japanese near-luxury convertibles. Still, at just $4,990, most of you would allow it.
If you're looking for something with a little more bite—say a car that could never be considered dull by any standard—then a good choice might be this 2003 Chevy Corvette Z06 with its Lingenfelter blower nestled in its V8's cleavage.
G/O Media may get a commission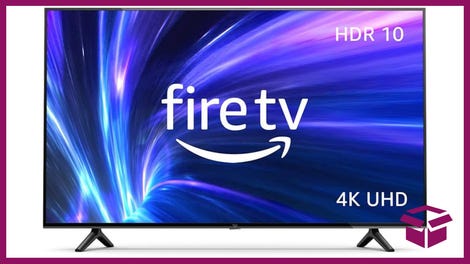 42% Off
Amazon Fire TV 50" 4K Smart TV
I've always been a little iffy about the C5 Corvette, feeling as I do that its styling is a little to Pontiac for my tastes. That doesn't overide the fact that that this generation is by almost every measure a better car than almost all its predecessors. This was after all the first edition to offer a hydroformed frame. That provided a substantially stiffer chassis without the penalty of significant weight gain. This was also the first generation of Corvette to use a rear-mounted transaxle for weight balance. Finally, it was the first to offer a third 'coupe' body style.
That Fixed-Roof Coupe, or 'FRC' was the only one offered on the performance aimed Z06 model as it was both the lightest and stiffest of all C5 models. Add to that a recalibrated suspension, high-output LS6 V8, and unique brake ducts, and the Z06 looked like a rightful heir to the Corvette performance crown.
Of course for some people, being a king isn't enough. That's where tuners like Lingenfelter come in. This 'Vette has that company's blower and a good bit more than its factory 400 horses under the hood as a result.
The Magnuson MP112 supercharger on this LS6 is interesting as it uses a drive shaft to transfer power from the front of the twin scroll blower to its ass-end where the screws turn. This allows for the intake to be front and center and provide for a low-ish hood line. I say 'ish' as the blower still rides higher than the factory intake, requiring another Lingenfelter part, a blistered cowl hood.
The blower is as nice to look at as it likely is to use as it's been polished and sits cradled between red Lingenfelter branded valve cover covers. The seller claims over five-hundred horses at the rear wheels, and those are corralled by an upgraded LS7 clutch and T56 six-speed manual gearbox. All of the mechanical work is claimed to have been completed by a pro-shop.
The rest of the car looks to be in decent shape. The Millennium Yellow paint appears without flaw, and is matched on the aftermarket hood. Factory wheels carry a chrome finish (yuck) and mask upgraded brake rotors.
Inside, the 63,000-mile car shows its age. Not in wear and tear mind you, just in style. This was an era when GM simply gave up on doing quality interiors and the halo 'Vette was no exception. It's very plasticky in here, and all the switch gear from GMs of this era feels like it was taken directly from a Little Tykes Cozy Coupe. If you can get over that, it's probably not a bad place to play. Plus, A-pillar gauges! Who doesn't love those?
The title on the car is clean. The seller offers as reason for unloading it as that he now wants a Powerstroke 7.3 for his daily driver and hence must set his playtime toy free.
It's not free, but at $25,000 it might at least be construed as a bargain. That's where you all come in. What we need from you is a vote on this car and that price. You know, since that's what we do here.
What do you think, is this Lingenfelter helter-skelter Corvette worth that $25,000 asking? Or, did the seller of this blown Z06 also blow it with the price?
You decide!

Eastern North Carolina Craigslist, or go here if the ad disappears.