"Rode hard and put away wet" seems to be an apt description of today's Nice Price or Crack Pipe FJ80. You'll have to have to decide if its price makes the somewhat rough appearance excusable.
The Ford Taurus Is Reborn — But Only For the Middle East
You know, if instead of all-things-auto, this confluence of crazies focused exclusively on the products of Japan's second largest automaker we would most likely be known as 'Nismodo.' Of course we don't and so we're not. Nope, Jalopnik it is, although in consolation we did look yesterday at a 2013 Nissan 370Z Nismo.
That sports car was eerily similar in both form and and function to the BMW coupe that came just a day before, and at $27,995 it was in spitting distance of the Bimmer's asking. Just like Tuesday's Z4, it went down, although in the case of the Z with a slightly less atrocious 63-percent Crack Pipe vote. The more things change, the more they stay sorta the same.
G/O Media may get a commission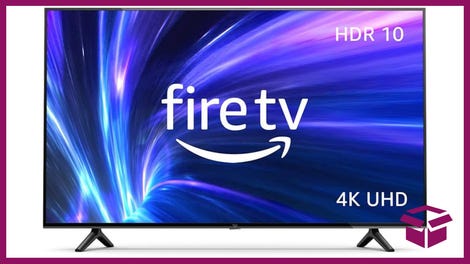 42% Off
Amazon Fire TV 50" 4K Smart TV
One thing that always seems a constant is the fact that the good girls tend to go for the bad boys. Yep, the ladies always like the rebel and invariably claim that when the thrill is gone, they can easily 'change him.' Um-hum.
Out of sorts, off the beaten path, middle finger to the establishment. It's not just women who gravitate to the attributes of the frondeur of conformity, we all admire those who play by their own rules and live life on their own terms.
You could live just such a life by driving this 1991 Toyota Land Cruiser FJ80.
Why, you say? Because it's kind of eff'd up, and while some average mook might scoff at its flaws, you'd most likely wear them like a badge of honor. Hell, even the seller seems to recognize the unique unicornish hen nature of this machine. Just check out this eclectic, stream of consciousness description:
The provenance and heritage of any vintage Toyota SUV is telling. We know this because vintage Toyota SUVs are our specialty — we sell too many to count. This Landcruiser, the KING of all Toyota SUVs —- is no exception. This FJ-80 Series single-axle fully in-tact Landcruiser FJ-80 is interesting and RARE — to say the least. We are quite pleased and honored to have it in stock. It's from Alaska — where Landcruisers are a necessity, not a luxury. The Landcruiser-loving State of Alaska does not use salt on the roads and, as a result, this Alaskan Landcruiser has a great frame — with no rust. We were shocked and pleased both. As any Landcruiser afficiondo knows. . . finding a 1991 FJ80 Series single-axle Landcruiser is near impossible. One can look their entire life only to get their hopes up and be let down time after time when they begin the enormous task of contemplating just how to find missing parts and/or juggling extensive repair & restoration options and costs. Often, experienced vintage Landcrusier buyers are keen collectors with deep pockets and usually they do it for the love of Landcruiser's heritage and hope of owning one of the GREATEST SUVs on the PLANET: A VINTAGE LANDCRUISER. Its true: More often than not keen collectors just want them for their collection and rarely are their Landcruisers not sold —— Rather, they are passed down from generation to generation as would be any priceless family heirloom. Unless one has deep pockets — one can quickly encounter a diminishing point of return on their investment right out the starting gate with the enormous task of looking for parts and paying for extensive labor just to get their Landcruiser to the stage this one is now. All that said —— finding one with all it's parts, running, driving, with no rust on the frame and minor and easily repaired rust spots in only a few places on the body is an absolute Landcruiser collector's dream and it opens up new possibilities for those collectors with less deep pockets who just want a chance to own one too. If you have been looking for a 'good' clean canvas to either just drive in it's simplest Landcruiser elegance (which is what Landcruiser is known for: a SIMPLE YET POWERFUL LAND MACHINE THAT CAN GO 'ANYWHERE") or one to modify a bit or even a lot (And, we are all 'ears'.....that's what we do)—— Look no further. . . .you would be hard-pressed to find one with this great of a clean bone stock canvas anywhere else for this price.
Damn, now I'm kind thinking I want to get this red over grey wagon immortalized in neck tattoo form. Better yet, I might want to buy this ex-pat Alaskan. Yeah, it does have 330,000 miles on the clock. That's because these things will generally run forever. Also, Alaska is admittedly vey far away.
The interior—at least the front half—is in rough shape. The driver's seat looks like one of those aliens from Alien took an acidic dump in there. I don't know if I'd sit on that. There's also some weird woodgrain drawer liner-like material on the console that I also don't wish to touch. The back seat on the other hand looks great, so maybe we should choose to sit back there.
The bodywork is tough as well, looking as rough as Mickey Rourke at closing time. According to the ad it's still respectably solid. The dealer, which seems to specialize in 4X4 Toyotas, says it's 'ALL THERE' and claims that everything works as it should. The tires seem to have enough tread on them, and the title is clean. That latter factor is good since even rebels need to abide by the DMV's rules.
The seller says that they can even fix all the niggling visual issues the truck expresses. But then, you're a rebel remember, so why would you want them to? Hell, throw an old pillow on that driver's seat, pull on some gloves, and start piling on more miles. Yeah the truck might need some occasional tending to, but you're up for that, right?
The best part of this opportunity to live outside if the mainstream is the price. That's a mere $2,950, and the seller says it will go up if they no longer need to move the truck to make space for other, less rebellious machinery.
What's your take on this formerly Alaskan Land Cruiser and that $2,950 price? Does that make it a member of the rebellion? Or, is it too far gone to save, even at that modest asking?
You decide!
Boston, MA Craigslist, or go here if the ad disappears.
Help me out with NPOCP. Click here to send a me a fixed-price tip, and remember to include your Kinja handle.