The Suburban is Chevy's longest running nameplate. With more than 276,000 miles, today's Nice Price or Crack Pipe competing ¾-ton is pretty long-running on its own. Let's see if its price has you running to buy it.
This little piggie may have gone to market, but based on the 65 percent Crack Pipe vote given to yesterday's 1983 Jeep CJ-8 Scrambler and its $14,500 price, the market for the long wheelbase CJ is vastly unexplored. These trucklets have a following and their asking prices reflect that. Still, the people hove spoken and we're not getting any younger so let's just move on, shall we?
Hey, is there any more incongruous name than the Chevy "Suburban?" I mean, really.
When you think of the suburbs, you no doubt picture a landscape filled with private homes, narrow driveways and two-car garages. The Suburban, with its massive presence, feels strangely at odds with that notion, and hence its name.
Whatever, the Suburban has found its niche as it has achieved the honor of being Chevy's longest running nameplate, and today, one the company's largest consumer offerings.
G/O Media may get a commission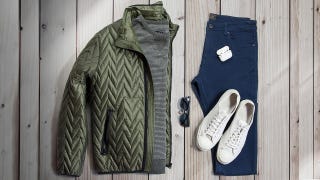 60% off
Jachs NY Fall Sale 60% Off
The Suburban's evolution to its present form was an excruciatingly slow process. Introduced in 1935 as a two-door wagon on Chevy's half-ton truck chassis, the truck would morph through two, three and four door body styles over the course of the next 38 years. It was the seventh generation, introduced in 1973, that finally settled on the four-doors and no-holds-bared long-ass wheelbase that we know and love today. That amazingly has carried through four more refreshes with few deviations to form or style along the way.
This 1999 Suburban 2500 represents from the eighth generation, which is arguably one of the best looking of the modern era. It comes fully kitted and packs a fuel injected 7.5-litre (454 cubic inch) L19 V8 under its impressively proportioned hood. That massive mill was good from the factory for a solid 290 horsepower and hefty 410 lb-ft of torque. With those tools available, the 4X4 2500 was capable of towing over 7,000 pounds, albeit while offering fuel economy stuck solidly in the teens.
Behind the big block sits an 4L80 four-speed automatic and 4-wheel drive with independent axles on torsion bars in front, and a live unit on semi ecliptics in the back.
The truck comes in Dark Carmine Red over a grey leather interior. In fact, there's a lot of leather in here. Probably like an entire herd of it owing to the three rows and nine seats that are covered in the former cow suits.
Overall, the interior looks to be in pretty good shape, with just some staining of the carpet and splitting of the leather on the outer end of the front bench to detract. Style wise, these were not the best interiors GM ever did, but it should remain serviceable and parts shouldn't be an issue should something break.
The exterior is likewise decent looking, with a mono-tone paint job that's a bit plain jane but does get accented by large black plastic fender flares and some nice steel wheels. It also has the popular barn doors in back for all your loading and unloading pleasure.
The truck comes fully loaded with front and rear A/C, plus power windows, locks, mirrors and front seats. It also comes with an impressive 276,000 miles on the clock. Now, that may scare off some of you but I figure if anything was going to go wrong on this truck, it would have done so about 130K ago. That mileage is probably what's driving the truck's $2,500 price, and it's now incumbent upon you to decide if that's worth paying to drive the truck yourself.
What do you think, is this massive Suburban a bargain at that $2,500 asking? Or, is that still too much, even when considered by the foot?
You decide!

Seattle, WA Craigslist, or go here if the ad disappears.
H/T to EdHelmsBakery for the hookup!
Help me out with NPOCP. Hit me up at rob@jalopnik.com and send me a fixed-price tip. Remember to include your Kinja handle.