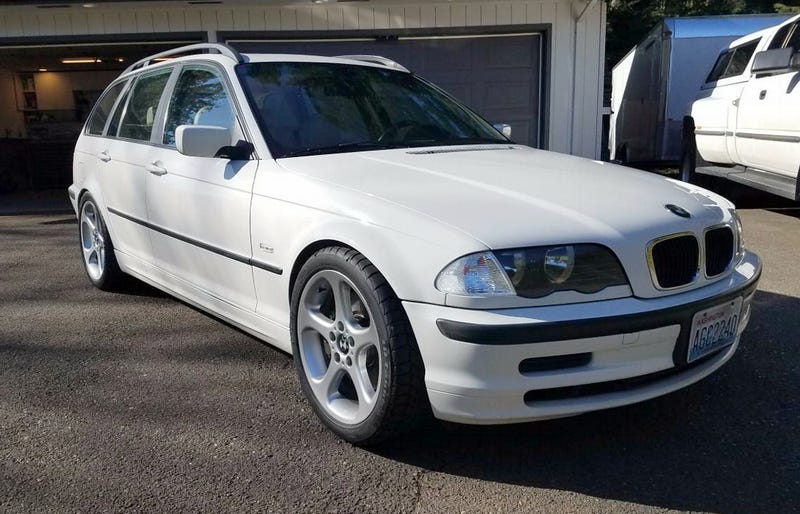 Nice Price Or Crack Pipe
Is this used car a good deal? You decide!
Salivating over the description of the work done to today's Nice Price or Crack Pipe E46 is like reading Penthouse Forum—it's almost to good to be true. Let's see if this M wagon's price also has you frothing.
O, be some other name! What's in a name? That which we call a rose, by any other name would smell as sweet. When Shakespeare wrote those immortal words at the dawn of the seventeenth century, he had no idea that here, four centuries later, I would be quoting them in the effort to make a correlation with a 2008 Saturn Astra XR.
The justification for using Juliet's lament about the meaningfulness of names is owed to the fact that the seller of that Saturn had, for some reason, rebadged it as its British cousin. Now going by Vauxhall Astra, it was asking a premium price of $8,000 for the effort.
We weren't having any of it however, and that Astra fell in a massive 90 percent Crack Pipe loss. There may never have been a story of more woe than that of Juliet and her Romeo, but that of this Astra comes a close second.
Hey, speaking of pecking order, what would be your top banana when it comes to BMW automobiles? If you said a 2000 323i wagon with the mechanicals out of its M3 brother then have a hearty high five my friend. If you said anything else, well… you'll probably like this badass longroof too.
Now, let me first apologize for featuring two 3-series hatchbacks this week. I try and give us all a good mix of cars, trucks and bikes each week as I have heard the old maxim about variety being the spice of life.
Sometimes however, life comes at you all too fast and you've just got to roll with it. When I saw this car and read its description, I got so excited I started humping the arm of the living room sofa. My wife had to hit me with the broom to get me to stop. I knew that I just had to share this E46 with you, and see if it elicits similar perturbations in your loins.
Let's get down to the basics first. This car apparently started life as your run of the mill 323i with an automatic (cue sad trombone.) It is a wagon, so it does have that going for it. What else it has is the full drivetrain and other kibbles and bits out of a wrecked 2003 M3. That includes the 333 horsepower/262 lb ft of torque S54B32 3.2-litre straight six and six-speed manual. Oh, and the M3 giubo, we mustn't forget the giubo.
Steering and front suspension has also been M-ized as has the rearend and diff. Hell, even the fuel system with its pumpier pumps has made the transition from M3 to wagon. Wheels are off of an X5, but if they don't work for you aesthetically, the seller is including a set of aftermarket APEX wheels in the deal too.
The body has 180,000 miles under the belt while the donor M3 had only done 107K before it met its maker.
Luckily for us, it seems all the good bits off that M3 seemingly escaped damage. The sport seats and steering wheel, along with the shifter have made the trip. Those seats have been recovered in leather to match the rest of the interior, with M3 embroidery on the backs The wood trim has been wrapped in black vinyl because the builder doesn't like wood trim. As always, YMMV.
What he does apparently like is BMWs. That seems to have led to an understanding of many of the E46's weak spots, and he has attempted to address those on this car. You can read the litany of fixes and preventative measures taken in the ad, but suffice to say, this car is all kinds of future proofed against failure.
The engine is said to be strong and to have had a recent valve adjustment along with new coil packs and a check up on the VANOS. Nicely, all the M3 emissions controls are still intact so the car should pass smog no matter where you are.
Aesthetically, there's nothing much to indicate the ponies that live under this longroof's hood. The Alpine White paint is innocuous but clean, while the beige interior comes across as light and airy, if perhaps not as business-like as a black workspace. Overall, it seems to be a nice package, and one into which a lot of care and consideration has been poured. Props to the seller for the work and for the ad which doesn't hold back on the description. The reason for the sale is that the builder is ready for his next project.
Okay, now I know you are probably already enamored with this car. It is after all a chimera, a wagon that can haul ass. It's also $17,000. That gets you the hot hauler, its clean title, the title for the donor car in case future registration proves an issue, the extra wheels, some spare parts, and the quiet satisfaction of driving what is essentially an M3 wagon.
What do you think, does that all seem like it's worth that $17,000 asking? Or, for that much is this tossed salad of an E46 just not your bag.
You decide!
Portland, OR Craigslist, or go here if the ad disappears.
HT to windadvisory and hethoughtofcars for the hookup! Also, shoutout to the diecast forum!
Help me out with NPOCP. Click here to send a me a fixed-price tip, and remember to include your Kinja handle.