Hurst and Cadillac may be an unexpected combo, but as today's Nice Price or Crack Pipe hot CTS shows, they needn't be mutually exclusive. Just how exclusive is their combined price, however?
While yesterday's 1989 Ford Mustang 5.0 'Trooper Tribute' car may have been a rare opportunity for you to experience a cop ride from the front seat for once, it proved to be just too expensive an option for most of you to do so. Its $16,900 price engendered NWA-levels of animosity, ending up with an overwhelming 92-percent Crack Pipe loss. Oh well, looks like we'll still be relegated to the back seat.
The thing about back seats is that if you're rocking a two-door then it's most often a literal pain in the neck to get down into them. Sure you can flip the passenger seat forward and clamber back there, but then you've folded grandma nearly in half in the front seat, and the lack of easy egress isn't doing your claustrophobia any good either.
That's why sport sedans are the best option when you need to transport a bevy of friends and you want to have fun while you're doing it. This 2006 Cadillac CTS-V is just such a ride, and it sure looks like it just could be a hoot and a half to pilot. With its four doors and reasonably ample boot, it's probably equally fun for the whole family too.
G/O Media may get a commission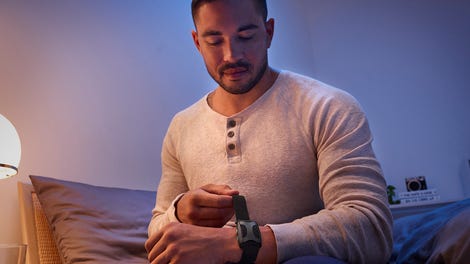 Now, we're all pretty familiar with the CTS, Cadillac's RWD Sigma platform sport sedan that debuted in the early Aughts. Here's a funny little factoid that'll blow your socks off however: the CTS was the direct replacement for the Cadillac Catera which took its final bow at the end of the 2001 model year. You can just imagine my reaction to that.
The CTS not only took the baton from the flagging Opellac, but it ushered in a while new design language dubbed "Art and Science" that featured angles, creases and a modern take on Caddy's famous fins.
In retrospect it was a bold move, and the designs, in my humble bumble opinion, have aged reasonably well. Of course looks are secondary in the CTS-V. That model's all about making your troubles melt away in a cloud of tire smoke and a thunderclap of exhaust.
The CTS-V was in fact another bold move by the then newly resurgent Cadillac. Marrying the smallish sedan with a 400-bhp LS2 V8 borrowed from the Corvette gave Caddy a new toy to play with, and an audience outside of the traditional blue haired retirees and New Jersey gangsters who just can't fugetabout their stereotypes.
This '06 comes in silver over black, and with a Hurst short shifter mated to its slick Tremec T56 six-speed stick. A cue ball shifter may feel incongruous in a car wearing the Cadillac wreath, but I think it fits right in with the V's waffle grille, deep aero aids, and its overall badass presence.
If the CTS-V were a person, it would be the type who's impeccably dressed and yet nonetheless farts loudly in a crowded elevator and then attempts to high-five everyone else before the door opens.
There's a lot to like with this 137,000-mile V. The body and paint seem to be in decent shape, and the headlight covers remain un-fogged. The seller notes that the wheels suffer a bit of curb rash and in a close up, yeah they do. That might warrant a trip to get the alignment checked, just as a precaution. On the plus side, the tires—Sumitomo HTR ZIIIs—have less than 2K under them.
The interior is likewise lightly worn, sort of like the stuff you get at a vintage store rather than going all grunge at like the Salvation Army. The driver's seat shows some cracking around the seatbelt mount, but other than that it all seems appreciably well sorted. Plus, you'd likely be focusing on that Hurst shifter more than anything else in here.
That shifter is connected to the T56 which is in turn bolted to the LS6 which has been, as the seller says 'tastefully modified.' According to the ad that entailed upgraded valve gear by way of BTR, a mild cam and hardened pushrods, fatter exhaust, and a tune by Phil Hoeffller, otherwise known as the other Dr. Phil.
All that is supposed to add up to 418 bhp at the wheels Most all of the mounts and bushings have been upgraded to poly to play nice with those extra ponies. Freshened Brembo brakes rein it all in.
The title is clear and the car is described as being accident free. It's said to 'work and function perfectly' and to have been garaged in the winter by its current owner. The asking price is $13,900, and should you compare that to a similarly spec'd BMW M5 or Mercedes AMG of the era, I think you'd find that competitive. Of course, we're not about any competition other than the vote below, so here's where you've got to get off the bench.
What's your take on this hot Caddy and that $13,900 price? Does that seem lip smackingly good for a 'tastefully modified V? Or, for that much is this a CTS that's SOL?
You decide!

Detroit, MI Craigslist, or go here if the ad disappears.
H/T to THEPDK for the hookup!
Help me out with NPOCP. Click here to send a me a fixed-price tip, and remember to include your Kinja handle.