Jeep sourced the diesel engine in today's Nice Price or Crack Pipe Grand Cherokee from then daddy Benz. That makes it relatively unique, as do the owner-added mods. Could it's price make it both unique and special?
Some scientists believe that the practice of risky behavior in humans arises from a need to cast aside social conventions, the compulsion to be different. They categorize it as 'innovative deviance' and a primary identifier of an adherent is the tendency to eschew the risky behavior label.
This risk denial was evident in the comments on yesterday's 1998 Land Rover Discovery LE. Yes, it was only $3000, and darn if it didn't look sexy in an English hot mess kind of a way. However, every single one of us knows that a Land Rover Disco can bring both happiness and grief. For realists, that balance tips to the negative. For the rest, well… come on down! That's most likely why, despite numerous warnings in the comments, that Disco captured an impressive 74-percent Nice Price win.
Okay, as we know, sometimes the cheapest cars actually end up costing the most. Yesterday's Land Rover was mad money cheap, but it was kind of clapped out and had some issues to boot. In the end, it could easily cost you four times as much just to keep on the road (or off it.)
What if you were to just spend that amount up front, and get yourself a mud slinger that might just give you a little piece of mind along with legendary off-road capabilities? And what if maybe it even some cool baseball glove leather seats as well? What about that?
G/O Media may get a commission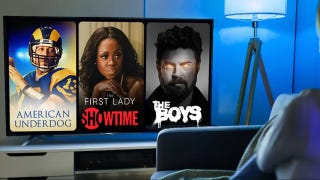 UNDER $1
99¢ Prime Video Channels
Here we have a bit of a rare bird, a 2008 Jeep Grand Cherokee Overland with the Daimler 3-litre Common Rail Diesel (CRD) V6. The truck also comes with two sets of wheels/tires, and some pretty cool upholstery.
Jeep offered the 3.0 CRD in the Grand Cherokee in 2007 and 2008, although not in California where emissions standards proved a mountain too high for the engine to climb. Slotting the OM642 in the third generation WK Grand Cherokee wasn't all that tough seeing as the car's design shared a lot of the under the skirt bits with the Mercedes ML.
That design imbued the WK with drivability that felt far heavier than its predecessors, and at 4,900 pounds, the five door wagon was in fact pretty dang stout. Still, the 215-horsepower/375 lb ft of torque turbo diesel was able to move the Jeep reasonably well, and it got decent fuel economy to boot. Highway driving in the CRD WK is still a bit of a chore since apparently the five-speed transmission was left geared for the gas engine editions and at cruising speed it overshoots the diesel's torque peak by several hundred RPM. If you want to learn the ins and outs of the CRD WK, take a gander at this.
Okay, enough of my blathering, let's look at this truck!
This WK comes in black over chrome alloys sporting winter tires. Summer meats on black wheels come with the sale. The paint is okay, however the seller notes some chipped areas in the nose, as well as some bubbles (great stripper name BTW) oan the hatch and near the top of the windscreen.
That seems reasonable for a car that's ten years old, sports 186,000 miles on the odo, and wears Wisconsin plates. A repaired tear in the driver's seat bolster is also a sign of the times, and miles. That's about the only issue inside this Overland optioned WK. That package give you power everything, Nav, and a really handsome color scheme in here. Because of that, you might want to cut the car some slack.
While both the exterior and interior may look stock, the engine is anything but. The OM642 has seen a number of updates and replacements, all of which are detailed in the ad. The major players here are a remapped ECU, bigger intercooler, and a whole lot of EGR delete. It's enough that the engine's plastic cover has had to go away to make way for the larger turbo intake pipe. Al together, the seller says the Jeep still gets 26 mpg on the highway. It also comes with a 7,400 tow package which the seller says was used to trailer around an 18-foot fishing boat back in the day.
Now it's available to tow whatever you've got—up to that appreciably high 7,400 pound limit.
The price is $12,000—or $11,000 if the seller keeps the summer tires and wheels. I say we go for the whole package, okay?
What do you think, is this diesel WK worth that $12,000 asking price, based on how it comes across in the ad? Or, is this a Grand Cherokee that's just asking for a few grand too many?
You decide!
Milwaukee, WI Craigslist, or go here if the ad disappears.
H/T to Fauxshizzle for the hookup!
Help me out with NPOCP. Click here to send a me a fixed-price tip, and remember to include your Kinja handle.