We all have our favorite drivers. Mine has always been 2000 and 2001 CART Champion and 2003 Indy 500 Winner Gil de Ferran. And holy crap he's sitting next to me right now waiting to take your questions. Ask away!
Don't let the name fool you, Gil is a Brazilian driver who was born in France. That makes him all sorts of multi-cultural. He burst onto the American scene after running junior formula in Europe, like F3000.
In 1995, de Ferran ran his first season of big league American open wheel competition with Jim Hall/VDS Racing and scored his first win at Laguna Seca. He ran for Hall again in 1996, scoring a win in cleveland.
From 1997 until 1999, he drove for Walker Racing, although rumors had him going back to F1 to run with Stewart Grand Prix. Those were de Ferran's lean years, and he didn't win again until 1999. But that's when Roger Penske came calling. He wanted to reignite his operation that was in a slump, and Gil joined the team for the 2000.
The Penske cars came alive, with de Ferran capturing the 2000 and 2001 championships and setting the world closed course record at 241.426 MPH. He won the Indy 500 for Penske in 2003, and retired from active open wheel competition at the end of that season.
G/O Media may get a commission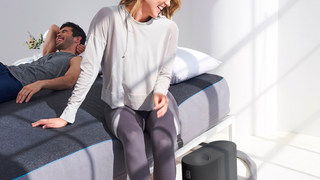 Eight Sleep Pod Cover
After his retirement, he spent time as the Sporting Director at the BAR-Honda F1 Team, and then in 2008 started his own sports car team, which also won.
de Ferran has a reputation as an Alain Prost-esque professor in racing. He's methodical and thinking, not a spur of the moment guy. He always got the best out of his car possible without damaging the equipment, which is what I really appreciated. Gil was also kind enough to sign an autograph for me when I was but a young lad, which meant a lot to a kid like me.
Gil will be here at 2 PM EST, but I'm opening up questions now because I'm not sure how late he'll be available, so ask away and he'll start answering as soon as he's here.
Get on it! (Oh, and the Indy 500 is Sunday at 11 AM EST. Watch it.)