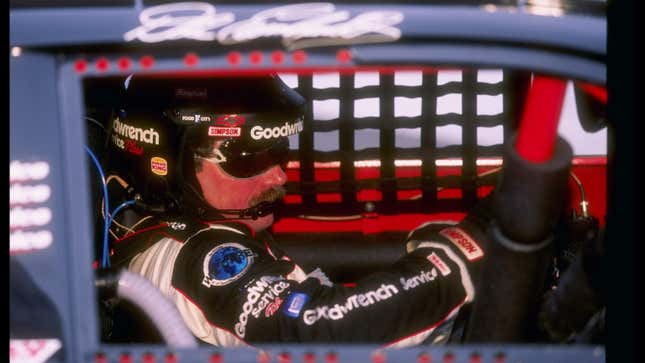 Yesterday, Apple CEO Tim Cook unveiled a $3,500 pair of goggles. Okay, so I guess they're more than just goggles: The Apple Vision Pro is a virtual reality headset that can either immerse you in a digital world, or it can superimpose digital images onto your reality, and it'll probably continue to develop into some super-cool piece of technology that we all fall in love with, like the notoriously successful Google Glass. But us race car fans have seen this exact design before. These are the goggles that iconic NASCAR driver Dale Earnhardt used to wear with his open-faced helmet.
The bubble goggles were manufactured by a safety company called Paulson Manufacturing. The design was born when company founder Tom Paulson decided he needed better eye protection while fighting in the Pacific Theater in World War II. He and his fellow soldiers struggled with sand being kicked up into their eyes. After the war ended, he founded Paulson Manufacturing Corp. and put the bubble goggles into production. Funnily enough, after they were produced, the goggles were primarily marketed as a space cadet goggle prize in Kellogg's cereal. The interest spread to parents, the bubble visor made its way to motorcycle helmets, and the racing community got interested.
In the days of open-face helmets, they were a popular choice. Earnhardt, though, is easily the most recognizable face to ever wear them due to his insistence on sticking with open-face rather than the safer closed-face helmets. That decision ultimately contributed to Earnhardt's fatal accident at the 2001 Daytona 500.
The Apple Vision Pro is not actually designed for racing — but if you're looking for a VR simulation to accompany your Earnhardt cosplay, you can slap these bad boys on and pretend you're The Intimidator, too. As long as you're not intimidated by the price.