Driving a Mini Cooper S brings up different conversations depending on where I am. Around the mechanics at work, it's all questions about reliability. To which I get to explain the joy that of owning basically a high mileage BMW, but with none of the badge or prestige. You can see the commiserating nods over oil consumption and premature failing components. Replacing thermostat assemblies every 40,000 miles? Totally reasonable.

Amongst the larger populace, it goes more like this:
"Is that a Mini? It's so cute!"
"Yeah, it is."
"Do you like it? My mom loves hers!"
And then there's some talk about going to a cruise-in at Sonic, and checkerboard accessories.
But then there are certain circles where showing up with it leads to inevitable questions about whether I take it to any SCCA events. At first, I think they said SCA, which is super confusing. I mean, it could probably carry a bunch of broadswords in the back, but I don't really think that it's appropriate. After a few slaps, I stop trying to pretending I'm funny, and then I'm stuck with coming up with reasons that I don't race it. It's my daily driver, so I don't want to put wear and tear on it. Or my schedule is really heavy, and doesn't allow for a Saturday off. Or I would, but the locations are too far away.
The real reason, though, is that I'm a lazy, feckless bum, who hates waking up, or leaving the house, or interacting with anyone beyond the half dozen people who tolerate my shenanigans. But for 2018, I'm on this kick of "trying to be less of a pessimistic slacker," although that's probably pointless because the world is a festering garbage pile, and eventually we'll all die.
G/O Media may get a commission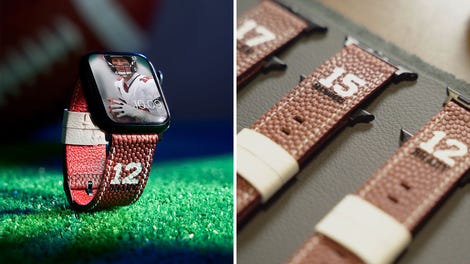 Official NFL PRODUCTS
Official NFL Apple Watch Bands
So what to do with the Mini then? Autocross is the obvious choice. There is a wide network of knowledge out there for that. But I've done autocross once, in a Porsche 944 of all things, and wanted to try something new. Rallycross might be the answer, I thought.
Plus, I hadn't made a questionable vehicular decision in a while, and the Mini did have a new set of Bilstein shocks. Could I pretend to be a rally driver, just without the speed, or cage, or co-driver, or anti-lag, or dirt tires, or undertray, or knowledge, or talent? Really, the idea of chucking a tiny hatchback around in the dirt just seemed so hilariously pointless that I knew it needed to happen.
For a little background, in autocross, you set up a course using traffic cones, and run one at a time, against the clock. This is usually done in a large parking lot, although in Kansas City, we're lucky enough to run at at a "precision driving center" at one of the community colleges, which is basically a grid of four way intersections that can be ran in different configurations. Rallycross is very similar in structure, running one at a time through a coned course, but is set in a field instead of on pavement

First thing first was to ask my resident BMW/Mini gurus at 515 Motorsport if this was even reasonable. Happily, they also run a Rally America car, so theoretically they should be able to help. The Cooper S isn't exactly known for having an abundance of ground clearance or suspension travel. I kept picturing the entire chassis grenading itself on the first bump, wherein I would understeer into a tree, after which whatever oil hadn't leaked out on the drive there would spray into the air and ignite, which would destroy both me and any remaining evidence of my stupidity.
But happily they said I'd be fine, and that I wouldn't have the traction to get going fast enough to get myself into real trouble. Oh. Well... okay then.
But because I'm me, and have a habit of never really believing what people tell me, because I most certainly don't have trust issues, I decided to do some field testing of my own. Now, I don't have a big dirt field to play in, but living in Missouri, I do have access to plenty of gravel roads that go absolutely nowhere. I know that rallycross is usually ran on dirt, not gravel, but I figured it would at least give me an approximation. If a gravel road was too rough, a muddy field would be out of the question.
Shockingly, the Mini handled a medium pace on gravel farm roads with almost zero issues. Granted, the short wheelbase meant that it got a bit twitchy on occasion, but that's what we like to consider a feature, not a bug. It also threw up a hilariously massive dust trail, which was a slight issue when I ran out of road and had to turn around and head back. The one issue I did have came from that same dust. A brake warning light came on at some point, but went away after I'd been back on pavement for a few miles. So I assume that some sensor got covered in dust, and got confused. Apparently the electronics don't expect you to spend a lot of time on gravel. Which is a staggering oversight.

Facebook is a cesspool of scum and villainy, but is occasionally useful for things like this. I found the page for Kansas City Region SCCA RallyCross, and expressed my desire to get silly in the dirt. Yes, the SCCA website has all of the requisite rulebooks, but I felt it was better to pester the people who would be running this specific event. I'd hate to get all the way out to the course, just to find out that I'd misread some rule, and waste a whole day. Better to just get it all out of the way up front.
They were happy enough to answer my questions. Luckily, a lot of the overall structure is basically the same as autocross. Every vehicle has to pass a tech inspection, which is basically just to make sure no major parts fall off, and that you've emptied out any loose items. No extra safety items are required for your car, and you just need a Snell rated helmet.
Granted, they do have loaner helmets, but I highly recommend bringing your own if at all possible. Having a helmet that's had lord-knows-how-many different people sweat in it pressed against my skin just makes me squirm.
Registration for the race was done through Motorsport Reg, which also has a calendar of events. While it is possible to register at the gate, it's best to do it in advance, just to make everyone's life easier. For one, it takes stress off you, so you just need to show up and drive. But it also helps the organizers plan better. Knowing the number of cars, and their respective abilities, helps them structure the day better. Trying to shuffle people around last minute just sucks, so do it early. When you register, you pay your $35, select your class, and pick your car number.

For classing, you can of course consult the SCCA rulebook, but again I just asked the organizers. For my 2010 Mini Cooper S, my simple addition of a K&N intake wasn't enough to bump me out of the Stock Front-Wheel Drive class for this event.
The rulebook specifies what all you can do to stay within your class, including catback exhausts, running snow tires for extra grip, changing alignment settings, and even modifying a sway bar. But I opted to go full tabula rasa on this. No point in changing things when I don't have a base reading to go off of.
So I checked my oil to see how much had burned off and/or leaked out since my last fuel fill-up (hint: it was a lot), and made sure I still had four wheels. Yep. All good. Totally prepared to race. If that seems like a pitiful amount of preparation, you'd be right. But that's why we're here. To see what happens when you take an everyday hatchback with 130,000 miles, no prep, and take it racing.
The night before, I emptied my car of everything except a basic roadside kit, jumper cables, and some simple camera gear. The day of the race I added a cooler full of drinks and snacks lovingly provided by my girlfriend. Which wound up being a very bizarre scene of domesticity. "Here's your snacks, make sure you drink plenty of water, have fun racing!" Life is neat.

Because summer in the Midwest has an unpleasant sense of humor, the 20 percent chance of rain forecasted on race day turned into intense thunderstorms. My friend Chris, who was coming along to manage camera duties asked if we were calling it off. Which I debated, because a Mini on all season tires, in mud, was not a promising combination. But I carried on, because I'd already come this far. Plus, the clouds and mud would definitely make photos look better.
Also, the number I was running, 265, was the number of an old friend who had hit some hard times. And if he could run a CRX with 30 PSI of boost through an engine rebuilt in a parking lot and send it up Pikes Peak, I could drive a Mini in the mud.
Luckily, the rain stopped before I got to the event, so it was just damp, instead of soaked. However, because this was Kansas, the wet dirt (or mud, I guess) was clay. I'm not sure if you've ever been on wet clay, but it has a hilarious lack of traction, and clings to everything. This lead to the first lesson learned the hard way about rallycross: bring other shoes.
Rallycross involves a lot of walking around, from course walks, to toilets, to working the course. All of that means that my shoes accumulated approximately 37 pounds of mud each. So then I was stuck trying to scrape, shake, and kick that mud off before getting back in the car. Not because I need to keep my car clean, because honestly, it's rallycross. But because driving aggressively with muddy shoes is a recipe for disaster. A lot of the other drivers either wore galoshes over their shoes, or kept a separate clean pair of driving shoes to change into. Be smart like them, not dumb like me.
Upon arriving at the location, which was just a field in the middle of nowhere in Eastern Kansas, you check in, sign your life away, and collect a wrist band. Because I'd registered in advance, this was extremely straightforward. I just gave my name at the registration tent, signed some papers, and they told me I'd be in the first running group, and where I should park for tech inspection. So the car got emptied out of everything except a helmet and a GoPro, and moved to the staging area. This is also when I applied my super-sweet racecar numbers.
After registration and tech comes the course walk. That's where a man who knows much more than me walks us through the whole cours, explaining the course. One thing that was stressed was that in rallycross, you tend to take a wider line around cones, due to the low grip. In autocross, you want to be almost tagging each cone, but we were told to run it out a bit farther.

Due to how sloppy the course was, our first group was told to run two parade laps to hopefully pack the mud down a little bit. So that meant two slow laps, all in one long conga line to help you learn the layout. In retrospect, I should have paid more attention here. That will come back later.

Once the actual runs began I realized the impact of a relatively minor rule change from autocross. In autocross, it's lower overall lap time. In rallycross, it's cumulative time. That means all of your lap times are added together. Which seems like a fairly inconsequential difference, but it really isn't. For example, on my first run, I missed one "gate" of cones, due to a combination of low grip, poor situational awareness, and limited intellectual capacity. So that counts as a DNF, or Did Not Finish. In the world of rallycross, a DNF means you take a 10 second penalty. So from step one, I was operating at a 10 second deficit. Clawing back that big of a gap was just not going to happen. At least I'm earning my name.
That's a bit crushing to realize that you're going to be dead last after just one run, and you're never really going to get back. As the day went on, and the track dried out, times continued to plummet, making those early issues that much more insurmountable. So instead, I stopped focusing on overall standing, and just concentrated on driving down my individual lap times.
We ran four laps in the morning, and then swapped places with the corner workers, letting them get in four laps. After lunch, we headed back out, and I promptly scared the shit out of myself. My last lap before lunch was 55 seconds flat. My first lap after lunch was 43.15 seconds. Dropping 12 seconds on a sub one minute lap is such a surreal experience that your brain doesn't know how to process it. Just all of a sudden I realized I was coming in way hotter than I was mentally prepared for.
That's the other giant difference between autocross and rallycross: the course is constantly evolving. As the temperature continued to climb, the track continued to dry, and speed continued to climb. But that also meant that the bumps that had been relatively soft in the morning became sun baked brick by the end of the day. The ride got more punishing as the day progressed.
It got to the point that some of the Subarus were getting tire squeal in the corners, and other cars were leaving rubber at the start. Tire squeal on dirt is something that normally only happens in bad tv shows, not in real life.
Eventually the course started to develop some pretty severe ruts. I blame that on the Prepared All Wheel drive folks. The amount of dirt than a rally prepped STI can throw is spectacular to behold. But the other vehicles don't handle that too well. So eventually some corners were redesigned to bypass some of the worst damage. But that also means that the track layout changes mid-day. Again, rallycross is all about evolving and adapting. Oh, you figured out a perfect line through that slalom? Too bad, now it's a high speed chicane. Oh, you've got that right hand sweeper down pat? Well now there's a nice hump in the middle of it to bounce you sideways.

Instead of just trying to nail that one perfect lap, it's all about managing your average. For example, on our respective fastest laps, I was only four seconds behind the fastest car of the day. Think about that: between the fastest and slowest cars, there was only a four second window for that one lap. That shows how tight the racing is, across all levels. Granted, over the course of the entire day, there was about a minute and a half between us. All about that average time, and banking it early.
At the end of the day, I sat basically dead last. But honestly, I didn't care much. My times continued to improve over the course of the day, and I was usually within a second or two per lap of my competitors. But a second a lap, over 11 laps, really adds up. I realized as time went on that while the clock is important, focusing just on that is kind of missing the point.
While other racers did occasionally ask me how I was doing, or what my times were, the most common question was "are you having fun?" That seemed to be the biggest difference between rallycross and autocross. While autocross is fun, a lot of the competitors take themselves incredibly seriously. Here, it seemed like everyone at rallycross was aware of how profoundly ridiculous it is to race street cars in the dirt. Even while working on the course, I'd regularly be laughing at how silly the whole thing was. Sure, there were people that would switch from street tires to winter tires for grip, and a little bit of discussion about tire pressure as the conditions changed, but it was more about fighting the track, and just fucking sending it.
There was a little bit of everything out there, from the expected Subarus, to a lowered GTI, to a Miata with a wing, to the loudest goddamn Hyundai I've ever seen. At the end of the day, the only mechanical malady was an S10 who died part way through a lap due to what I assume was a fuel issue.
So whatever you've got, load it up with some bottled water and galoshes, and go get weird. Hell, more than likely you'll at least be faster than me.
Andrew Fails is a freelance photographer who sometimes pretends to be literate. You can see his portfolio at www.failsphotography.com.