Late yesterday, we received word that Professor Sid Watkins, F1's top doctor from 1978 until 2005, passed away from a heart attack at age 84.
He was a friend to many in the motorsports community, but more than that, he was the man that made driver safety paramount.
Professor Watkins joined the F1 circus in 1978 after meeting with Bernie Ecclestone. He was a renowned neurosurgeon, but gave it all up to travel the world with the premiere racing series.
Watkins was a fixture on the F1 grid, as he would be the man following the field on the first lap in the medical car at the rear of the field. Famously, he was good friends with Ayrton Senna.
For Watkins, getting close to a driver was probably not the best idea since there was always the chance that he'd see one of them hurt or killed. But he saw these drivers week in and week out. Many drivers also stated that as soon as they were in a crash, Prof. Watkins was the one person they wanted to see standing over them.
G/O Media may get a commission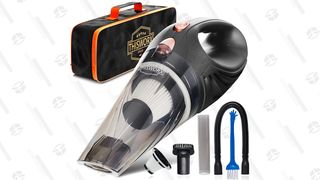 Save 50%
ThisWorx Car Vacuum Cleaner
Watkins saved innumerable drivers, including Mika Hakkinen, Gerhard Berger, Rubens Barrichello, and Martin Donnelly, after terrible accidents nearly claimed their lives.
In 1994, he faced his darkest weekend ever at Imola. Roland Ratzenberger and Watkins' close friend Senna were killed in horrific accidents. It was devastating.
But after much grieving, something positive came out of it. Before these accidents, Watkins had improved the safety of hospitals on the F1 circuit. But afterwards, the FIA Expert Advisory Safety Committee was established, which led to a number of other safety improvements and a vastly increased focus on driver safety.
And the record speaks for itself. Since that dark weekend in 1994, there hasn't been one fatality in an F1 race weekend. That's simply stunning.
Now, famously after Roland Ratzenberger's accident, Ayrton Senna came to Prof. Watkins distraught. He was wondering why he raced. This is what Watkins said to him:
What else do you need to do? You've been world champion three times. You are obviously the quickest driver. Give it up and let's go fishing.
Senna said he had to go on racing, and one day later he died just as Prof. Watkins arrived to his stricken car.
Hopefully Prof. Watkins and Senna are going fishing together right now. Rest in peace.
Photo Credit: Getty Images