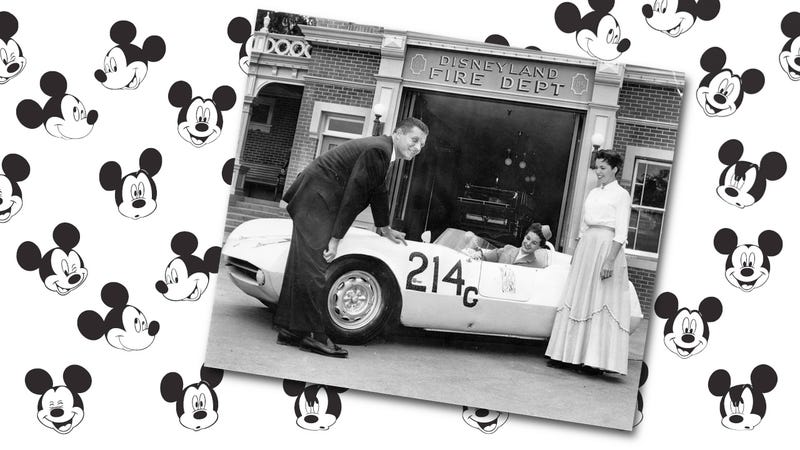 Think of cars and Southern California and 1956, and the first thing that comes to mind is definitely not an infinitesimal Italian road racer. The photo archives of Orange County tell a different story. In those years of wild pastel paintjobs, one Abarth 207A Spyder made it all the way to Anaheim, California.
Like all Abarths, the 207A is a small, violent exercise in turning stock Fiat parts into a taut racer. Weighing all of 1150 pounds, the car had a 1.1-liter Fiat inline four good for 66 hp at 6000 rpm, which is rather microscopic when you compare it to period American cars, but consider that the motor made 36 hp before Carlo Abarth worked his exhaust-driven magic. It was three inches lower than a Ford GT40, had a Perspex windshield, 300SLR-style sidepipes, an asymmetrical, Jaguar D-Type-style vertical fin, and generally looked like a precursor to the crazy Italian prototypes which would swarm motor shows 15 years later.
Parked in front of Disneyland's Fire Department, the car looks like a toy car with its knee-high fenders, but it was no toy car: the screaming Fiat engine and the low weight combined for a top speed of 100 mph. Not particularly fast in modern terms of sterile speed, but imagine 100 mph in a tiny, tiny steel chassis, the wind creating vortices off the Perspex, the pillbox hat and the permanent waves long gone from the driver's head. It's fast enough.
Photo Credit: Orange County Archives, Abarth