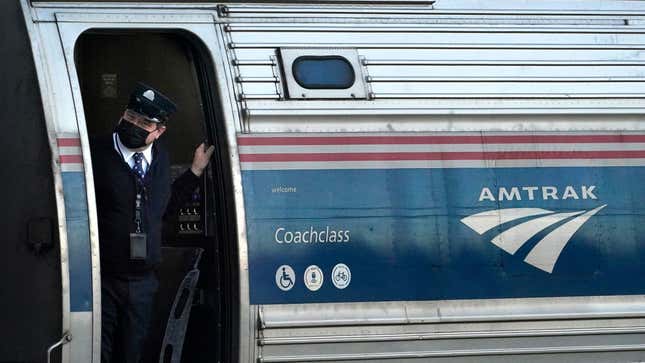 Yesterday, we shared the news that the Amtrak Downeaster would no longer be allowed to serve alcohol to passengers while the train was within the state of New Hampshire. Passengers would still be able to buy alcohol while in other states, but since the alcohol served on the train was purchased in Maine, a New Hampshire tax law meant cocktail service would have to pause along the 35-mile stretch of track that goes through New Hampshire. Would it be the biggest inconvenience in the world? Not really. But it still felt unnecessary. Apparently, others agree, and Amtrak's Downeaster now has an official exemption.

The Ford Taurus Is Reborn — But Only For the Middle East
According to the Portland Press Herald, a spokesperson for the New Hampshire Liquor Commission said it's okay for the Downeaster to serve alcohol while it's in the state. The commission is looking to change the law to give passenger trains an exemption from the state's ban on serving liquor purchased in neighboring states. It's not clear how long it will take for the state legislature to change the law, but until it does, the Downeaster's exemption will remain in place.
From what we can tell, it appears the Northern New England Passenger Rail Authority is the party that jumped the gun and told Amtrak on Monday that its vendor NexDine couldn't serve alcohol while the Downeaster was in New Hampshire. As E.J. Powers, the NHLC's spokesperson, told Jalopnik:
In the process of renewing NexDine's license to serve alcohol on Amtrak's Downeaster, some confusion related to state statute was identified. Given the history of the relationship and using common sense, the NH Liquor Commission (NHLC) renewed NexDine's license on January 24, 2023 and instructed them to proceed with business as usual. Nothing has changed for NexDine nor will it. They can serve alcohol on Amtrak service. We reiterated that "business as usual" instruction again this week. NHLC will initiate a simple clarifying change in statute to ensure there is no further confusion.
While changing the law might not sound like it would be the highest priority for state lawmakers, it already has the support of New Hampshire Governor Chris Sununu. After the story was picked up by a number of news outlets, the governor tweeted a reaction and said, "Not happening. First drinks are on me."
We appreciate Sununu's support on this incredibly important issue, but that tweet does raise a few questions. Most importantly, when will he be buying drinks, and how can we make sure we're on that train when he does? But also, will it be an open bar? One drink per passenger? Will the money come from the state budget or his personal account?
We've reached out to his office for a comment on the situation, but we have yet to receive a response. If we do, we'll update this post accordingly.