Good Morning! Welcome to The Morning Shift, your roundup of the auto news you crave, all in one place every weekday morning. Here are the important stories you need to know.
1st Gear: Oh NHTSA, My NHTSA
While General Motors continues to feel the fallout from the ignition switch defect now blamed for more than 100 deaths, you may be wondering how the defect went undiscovered for so long despite complaints about the switch being known to the National Highway Traffic Safety Administration since the early 2000s.
That's because, according to a scathing U.S. Department of Transportation audit set to be made public today, NHTSA is a hot mess. They've received their share of criticism from Congress since last year, but they're set to get even more with the release of the audit. The Detroit News saw it early on Friday night and here's what they reported:
The inspector general's report suggests NHTSA has suffered severe systemic problems for years in how it trains staff, and in deciding when and how to investigate defects. It said NHTSA's investigation decisions "lack transparency and accountability. Specifically, ODI does not always document the justifications for its decisions not to investigate potential safety issues and does not always make timely decisions on opening investigations."

Furthermore, the audit says NHTSA ignores 90 percent of consumer complaints that arrive daily. A single reviewer spends just "seconds" reading each. Last year, NHTSA had a screener initially review 78,000 complaints — roughly 330 complaints each day. And that person had to spend half the workday on other duties.
G/O Media may get a commission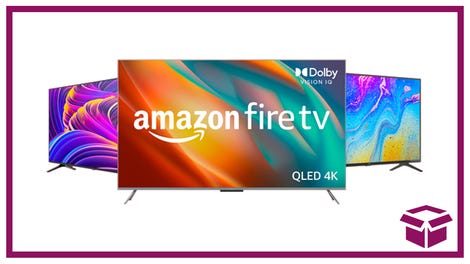 Ooh. stunning.
New Amazon Fire TVs
Emphasis mine. NHTSA has been trying to sharpen their regulatory teeth lately, but they need to get their own shit together first.
2nd Gear: The Alfa Romeo Giulia Is Coming And It's A Big Deal
Alfa Romeo's new BMW 3-Series fighting sedan is set to be unveiled this week, and it looks like it will be called the Giulia after all. (Kudos to them for not going with an alphanumeric like every other luxury brand.) A midsize SUV and a large flagship sedan are coming next for Alfa.
Here's Automotive News to remind us why it's so important for Alfa Romeo and Fiat Chrysler as a whole:
The products are the opening salvos in an effort to overhaul Alfa and increase its global sales from 70,000 vehicles last year to 400,000 by 2018. About 150,000 of the sales goal are expected in North America.

The Giulia will debut in Europe early next year and will arrive in U.S. showrooms between April and June, sources say. It will be followed by a midsize SUV in late 2016 and a flagship sedan in 2017.

The challenge is enormous, and so are the risks for Marchionne. FCA's CEO is counting on Alfa's relaunch to move the group out of Europe's fiercely competitive mass-volume market and gain a foothold in the fast-growing American luxury market.
We look forward to meeting Giulia!
3rd Gear: The Crossover Continues To Kill The Sedan
GM is taking a "kitchen sink" approach to the next-generation Chevrolet Malibu, with features like auto braking and a fuel-sipping hybrid system, in hopes of upping their profit margins on the midsize sedan. That's getting harder and harder to do as buyers migrate away from sedans to crossovers. One more from Automotive News:
The deteriorating outlook for car sales will make it tougher for GM and other automakers to achieve the returns they once envisioned for their car lines. And they may need to get used to it.
Analysts increasingly see the malaise in car demand not as a cyclical blip caused by lower fuel prices but as a long-term consumer migration toward the utility that crossovers offer. The trend has implications for everything from financial forecasting to brand positioning and the cadence of future vehicles, analysts say.

[...] But the surging popularity of crossovers is changing the equation. Compact crossovers — led by the Honda CR-V, Chevy Equinox and Ford Escape — were neck-and-neck with midsize sedans through May, threatening to become the industry's top-selling segment.
Midsize sedan sales these days are often driven by incentives — on average $3,271, the highest since 2010 — which cut into profit margins. But can you blame buyers? Lots of people like to ride higher and crossovers give a level of practicality sedans can't offer.
4th Gear: Trucks Next On The Emissions Chopping Block
Speaking of NHTSA, on Friday they and the EPA announced a proposed rule that would slice into medium and heavy-duty truck emissions by 1 billion metric tons, aimed at reducing fuel costs by about $170 billion by next decade. From The Detroit Free Press:
The U.S. Environmental Protection Agency and the National Highway Traffic Safety Administration (NHTSA) established the standards that will now face a period during which industry and environment groups will comment. The standards could be revised.

The agencies are asking for a cut in carbon emissions between 2021 and 2027 that would be nearly equal to the greenhouse gas emissions from all U.S. residences in one year. The fuel-efficiency targets would save more oil than what the U.S. currently imports annually from the Organization of Petroleum Exporting Countries.
The rule would target more than 7 million tractor trailers and other vehicles that haul our goods. They make up 20 percent of greenhouse gas emissions but constitute just five percent of vehicles on the road.
5th Gear: Hang In There, Baby
Despite surprisingly good sales of the excellent new Volkswagen Golf, VW in the U.S. has long been suffering from a lack of competitive products that Americans want. Namely, huge, cheap crossovers and competent sedans. That SUV is coming, but not for a couple years, and until then VW's U.S. chief has said they expect "limited growth." From Reuters:

"There will be a phase until 2017 where we have limited growth ... and where we need to defend our position," Horn said in an interview this month at the company's U.S. headquarters in suburban Washington.

The VW brand's current U.S. lineup is heavy on compact cars and midsize sedans at a time when consumers favor sport utility vehicles of all sizes. The brand will get a new mid-sized SUV and a redesigned Tiguan crossover in 2017 and other new models, including eventually a $20,000 compact SUV, will follow at a faster pace than before, Horn said.

Volkswagen brand sales in the United States have been sliding since 2012, when they reached nearly 440,000 vehicles. U.S. sales fell to 367,000 vehicles last year and are down another 4 percent this year. The VW brand sold almost 570,000 vehicles in 1970, its U.S. peak year.
That SUV can't come fast enough.
Reverse: A Quarter Mile At A Time
On this day in 2001, "The Fast and the Furious," a crime drama based in the underground world of street racing in Southern California, debuts in theaters across the United States.
Neutral: How Does NHTSA Get Its Shit Together?
NHTSA has an important job but they haven't been doing it especially well. How does the agency fix that?
---
Contact the author at patrick@jalopnik.com.