Good Morning! Welcome to The Morning Shift, your roundup of the auto news you crave, all in one place every weekday morning. Here are the important stories you need to know.
1st Gear: You Would Think Everyone Bought All The Jeeps By Now, But No
One of the biggest winners in this cheap gas/low interest rates/recovering economy new car sales-a-palooza has consistently been Jeep. And guess what? Jeep did even better, somehow, in November! Via Reuters:
Fiat Chrysler stretched its streak of consecutive months of year-over-year sales gains, reporting a 3 percent rise in November, based on the strength of its SUV brand Jeep, which jumped 20 percent, the company said.

Reid Bigland, head of U.S. sales for Fiat Chrysler, cited low interest rates, cheaper gasoline and higher employment as reasons for the strong showing of the company and the industry in November.
The Jeep brand increased consumer incentives by 44 percent in November from the previous year, one of the most generous in the industry, according to TrueCar Inc.
One day in America, all new cars on the road will be Jeeps.
2nd Gear: Justice Department, VW Want Dieselgate Lawsuits Heard In Detroit
As with any major product scandal, the Dieselgate lawsuits are a-comin'! There are actually HUNDREDS of them at the moment, according to Reuters, and both the U.S. Department of Justice and Volkswagen want them heard in Detroit.
The U.S. Multi-District Litigation panel will hold a hearing Dec. 3 in New Orleans to determine if and where to consolidate more than 350 lawsuits that stem from the automaker's admission in September that it installed illegal software in nearly 500,000 vehicles to circumvent U.S. diesel emission tests.

Lawsuits have been filed in more than 40 U.S. states. Earlier this month, U.S. regulators also said VW installed "defeat devices" to cheat emission standards in 85,000 larger cars and SUVs.

The judicial panel routinely consolidates major civil litigation in order to speed cases and avoid duplication of efforts. Consolidating cases allows for joint document requests and witness depositions.
G/O Media may get a commission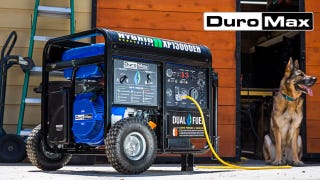 Black Friday Sale
DuroMax Generator Sale
This is because VW's engineering facilities and government testing labs are located in Michigan.
3rd Gear: Nissan Up Too
Consumer Reports survey-takers may hate their Nissans, but that isn't stopping people from buying them. The automaker's sales jumped four percent in November, according to Automotive News:
Nissan Motor Co., meanwhile, said November U.S. sales gained 4 percent to 107,083 vehicles. Nissan division sales increased 4 percent to 95,389 while Infiniti posted a 3 percent bump to 11,694 vehicles. Sales of the new Nissan Rogue crossover surged 50 percent over last year to 22,565 units.

Spurred by rising incentives, record leasing rates, pent-up demand, and favorable financing and credit availability, U.S. auto sales are on track to reach or surpass the record 17.4 million set in 2000. Deliveries across the industry rose 5.8 percent to 14.5 million through October, with light trucks setting the pace.
4th Gear: Incentives Are Crazy Right Now
Let's talk more about those rising incentives. Here's Bloomberg to do so:
GM raised its average incentive per vehicle 6 percent in November, in line with the industry's increase, according to TrueCar. Other increases from a year earlier included 14 percent for Toyota Motor Corp., which has deals including zero-percent financing on its Camry sedan, and 13 percent each for Hyundai Motor Co. and Fiat Chrysler, TrueCar said.

The industry average in November was more than $3,000 a vehicle, according to TrueCar. "There are still many old cars on the road so there will be continued strong demand," Batey said in an interview at the Los Angeles Auto Show. "We want to maintain discipline but some competitors have dialed incentives up."
Get those deals, y'all!
5th Gear: Super Duty Plant Upgrades
No doubt emboldened by strong truck demand, Ford is throwing a bunch of money into the Kentucky plant where it builds the 2017 Super Duty truck. From The Detroit Free Press:
Ford Motor Co. said Tuesday it will invest $1.3 billion and create 2,000 new hourly jobs at its Kentucky Truck Plant to support the all-new aluminum 2017 Ford Super Duty heavy-duty pickup.

The money will be spent on an all-new body shop, facility upgrades and retooling to the 6 million-square-foot plant. Kentucky Truck currently employs about 4,400 workers who also build the Expedition and Lincoln Navigator.
Reverse: Ford!
Neutral: What New Car Would You Consider Right Now?
Or, what new car are you considering?
---
Contact the author at patrick@jalopnik.com.