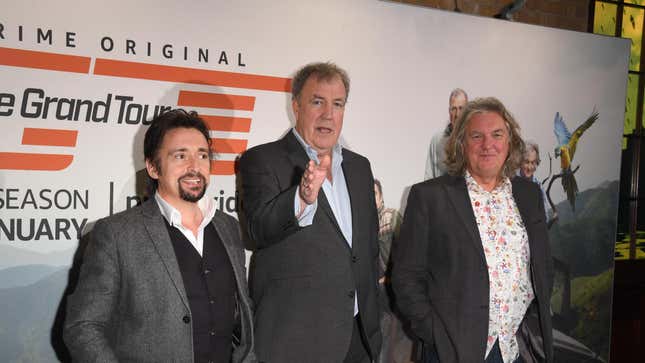 On Monday, Variety published a report that claims Jeremy Clarkson's time on Amazon Prime Video will come to an end after he wrote a deranged column attacking Meghan Markle. Clarkson has since apologized and asked The Sun to take down his column, but he still wrote what he wrote. As the saying goes, the toothpaste is already out of the tube. Or perhaps more appropriate for Clarkson, the sheep's already been fucked.
But assuming the report is true, it doesn't mean The Grand Tour and Clarkson's Farm have been canceled. According to unnamed sources, Amazon will still air episodes it's already commissioned. But once those are done, Clarkson's on his own. How he will ever financially recover from continuing to make tons of money through 2024, we don't yet know. Perhaps he'll get his own talk show with Piers Morgan and JK Rowling?
Prime Video declined when asked for a comment by Variety. We also reached out for a comment, to which Amazon replied, "We aren't commenting on this and have nothing further to add."
But while the original report is still not officially confirmed, a Tuesday morning virtual press conference for Clarkson's Farm was canceled Monday night after Clarkson posted a second apology for writing his garbage-ass column. Among other things, Clarkson's latest apology said, "I really am sorry. All the way from the balls of my feet to the follicles on my head. This is me putting my hands up. It's a mea culpa with bells on."
The Duke and Duchess of Sussex (aka Harry and Meghan) released a statement following Clarkson's second apology that read:
On Dec. 25, 2022, Mr. Clarkson wrote solely to Prince Harry, the Duke of Sussex. The contents of his correspondence were marked Private and Confidential. While a new public apology has been issued today by Mr. Clarkson, what remains to be addressed is his long-standing pattern of writing articles that spread hate rhetoric, dangerous conspiracy theories, and misogyny. Unless each of his other pieces were also written 'in a hurry,' as he states, it is clear that this is not an isolated incident shared in haste, but rather a series of articles shared in hate.
Well said, Harry and Meghan. Well said. And in addition to what he's said and written in the past, remember, this is a man who got fired from Top Gear because he punched a fellow employee over a sandwich. You may like his character on TV, but come on. The things he wrote about Markle may have been shocking, but they weren't surprising.
Even in Clarkson's own words, it sounds like he's just upset he's actually had to face consequences for his own actions:
It was a slow rumble to start with and I ignored it. But then the rumble got louder. So I picked up a copy of The Sun to see what all the fuss was about. We've all been there, I guess. In that precise moment when we suddenly realise we've completely messed up. You are sweaty and cold at the same time. And your head pounds. And you feel sick. I couldn't believe what I was reading. Had I really said that? It was horrible.

Seriously. Come on, Jeremy. Even if you wrote the column while blackout drunk, you still wrote it. Should an editor have probably sent it back to you without publishing it? Sure. But it's The Sun. You knew you weren't going to get any actual editorial feedback on what you wrote back when you voluntarily decided to start writing for them.
And before the Clarkson Defenders inevitably show up to explain the controversy away by explaining that their hero simply made a poorly received Game of Thrones reference, it's important to point out that Clarkson also said, "I hate her. Not like I hate [Scottish National Party leader] Nicola Sturgeon or [British serial killer] Rose West. I hate her on a cellular level." The column even started out by claiming Markle "obviously used some vivid bedroom promises to turn [Harry] into a warrior of woke."
It's just gross. There's no defending it. And it's far from the first time Clarkson's shown himself to be a disgusting human being. Sure, he made a fun car show a bunch of years ago, but who cares? It's past time for Jeremy Clarkson to go. Hopefully, another two years of Amazon paying him millions of dollars teaches him his lesson.