In obvious attempts to fill the world's huge void for car-centric video games, Amazon said Tuesday it's making the former Top Gear trio's show, The Grand Tour, into one. Amazon made it sound like Mario Kart with characters who do their own trash talking, with "cheeky power-ups like High Tea, which spills tire-shredding cups and saucers."

I've always wanted to pretend to be an old white dude driving a supercar, so this sounds like a smash hit already. Perhaps then everyone would stop asking me if I'm a lifestyle blogger.
Now that I'm back from adding it to my birthday list, here's a little more about this upcoming game: The press release said it's for PlayStation 4 and Xbox One, and that it'll follow storylines from the show starting with the upcoming third season. It seems like a real-time, interactive supplement to the show, with new "episodes" of the game coming out weekly with new episodes of the show. Each game release is based on that week of the show, according to the release.
The game looks cool in its first YouTube trailer, and will probably be a pretty natural extension for faithfuls who can't get enough of hosts Jeremy Clarkson, Richard Hammond and James May. (You know who you are.)
The game will go to the various locations featured each episode and allow players to drive the cars featured on the show. The game will also include "hours of original voice acting" from Clarkson, Hammond and May—in other words, some good stuff and some corny scripted lines. But you know, scripted is probably better.
G/O Media may get a commission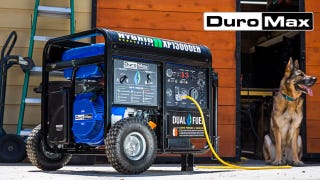 Black Friday Sale
DuroMax Generator Sale
The press release didn't say what the goals of episodes or the game in general would be, but, like the show, it probably has a lot to do with winning challenges. There are also multiplayer modes, and power ups. From the release:
In The Grand Tour Game, players can not only follow in the guys' tire tracks, but race and challenge each other face-to-face. The Grand Tour Game features four-player splitscreen, so players can race against each other—and hurl their best insults—in-person. Cheeky power-ups like High Tea, which spills tire-shredding cups and saucers, and More Horsepowers, which lets you blow past the competition, help make the action unpredictable, and keep racers on their toes.

Clarkson said the new game is "a video game featuring [him], the crashy one and the slow one" and that "that's all you need to know." He also said it's "as close as you'll ever get" to going on the road with the three of them, in his usual kind and inviting manner.