Did you watch the Michigan-Louisville game the other night? How good were those Wolverines, huh? Fab Five 2013! What a great time for the region, with the pride back in Detroit and now the pride back for the whole state! Go Michigan!
Except, no — Louisville won and the Wolverines set fires. All of the above text, however, is probably scribbled somewhere in an available-until-further-notice-on-Amazon title, "Blue Heaven: The A-Maize-Ing Story of the Michigan Wolverines' Return to Glory—and Their Second NCAA Title!"
Exclamation points in book titles. I guess you've got my attention now.
The book is printed by the Detroit Free Press, which had obviously predicted a U-M win Monday night — which would have been their first NCAA championship in more than 20 years — and had the book ready to go for orders through some kind of Amazon deal.
We understand the mistake, but can't help to be reminded of that one time when Freep columnist Mitch Albom penned a heartfelt column about two former Michigan State players cheering on their team to victory — except those players weren't actually there.
Here's the Romeneskian question, though: How far in advance was this book put together, and how much pre-writing can you do on a completely unpredictable title run?
G/O Media may get a commission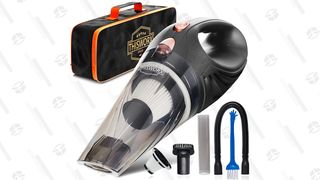 Save 50%
ThisWorx Car Vacuum Cleaner
Right now the book is only pre-order so we'll give the Freep or Amazon until the end of the day to figure out what to do at this point.
UPDATE: A Freep editor apologizes in the Amazon comments for the error, and promises the newspaper will print "either a book on Michigan or Michigan State winning the 2014 national title!" So sad for those underdogs at Oakland U, or any of the other state's colleges apparently incapable of pulling off FGCU-style upsets.